Hi there friends! Today I am talking about a rug. A rug that I wasn't sure I was committed to. For about six months now our family room has been rug free. Although, in the beginning both my husband and I liked it that way. Then over time, I started to feel the room really lacking warmth. It's a spacious family room with high ceilings, and massive windows. The draperies sort of make the room, yet break it in a sense.
Fourteen years ago they were a must have for the room. I found a local custom draperies business that helped me design them, pick out the fabric and then install them. Funny story is, at that time I wound up working with that company for a while. The woman helping me was so impressed with my decorating skills, she asked me to come and help her. It was fun, but ended after about six months. The lady was a scatter brain, and lived like Sanford and Son out of her car with swatches galore and just a hot mess. I couldn't work with someone like that.
Anyhoot, onto the rug.
I also want to touch briefly on the new term Farmheimian style, better known as a Free-spirited Farmhemian Home. A touch of wood, texture, vintage, some industrial elements, and of course color! This is the new term coined to today's current trend. It is a touch of Boho, all mixed and not necessarily matched.
As you can see back at Christmas time, no rug. The floors sure look shiny and clean though:)
Year prior, with rug. That rug was pretty, but way too many colors and hard to decorate around it. I wanted something more neutral and bright.
I scoured Amazon and came across this pretty, light colored cream rug with tones of blue, brown, gray, and a little bit of teal. You already know, I am huge fan of blue. I love to have it in every room in the house. Some form or another.
I finally finished painting the couch too. If you missed that post, how to bring back to life your leather couch, you can check that out HERE
I also painted our dog bed using the black leather cream. Her bed used to be red. I had to balance everything out once I finished the couch and added the rug. One project ALWAYS leads to another.
I have added just a touch of Spring here and there. I will probably add more later in March.
Did you know there is a name for this new Boho, rustic, farmhouse, style? Yes it is called Farmhemian. It's a thing and new trend. I was getting into the BOHO style again before it was becoming a thing. I'm always one step ahead HA! without even knowing. Trutfully, I love Boho style and have always been into it. What is Boho style? you can read more of that topic as well.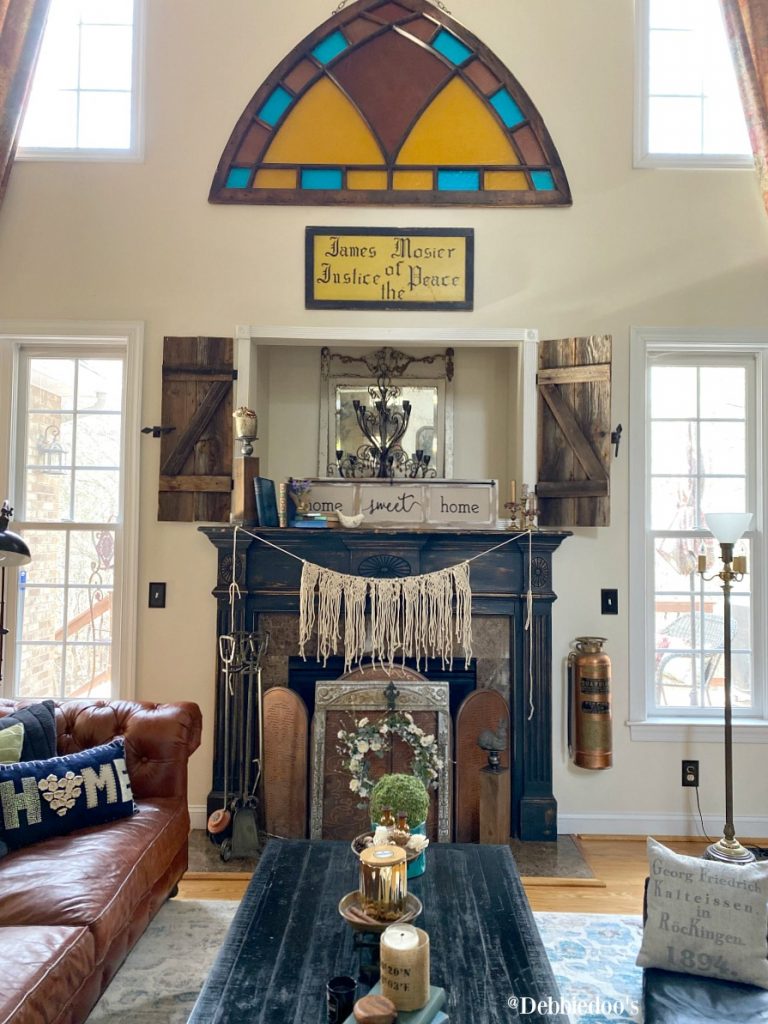 The Macrame swag is awesome and I love it. It adds just a touch of texture, and a little bit of fun. It will stay up until the fall season, which is a plus. I didn't want to to any faux greenery this year. I get tired of that look. The Home sweet Home sign came from Kirklands. It was marked down to $20.00 so I grabbed it.
So how can a rug change a room? A rug can actually make or break a room. It adds an extra layer of texture, warmth, and style. It's actually like a piece of art work, that can be a focal point, and make the entire room. That is why I wasn't committed to another rug for some time now. A rug can add just the bit of color to most any room. Choose carefully though, as they can also change how the room "feels". As I mentioned, the before rug was dark, and hard to work around the room with the color scheme. I think the lighter and brighter will give me more options per season.
I since even changed out the blue pillow covers and found two that are more in keeping with the season and texture. The other blue fuzzy ones will be for winter.
I did my best to marry every single color that was in the curtains, and the church window and bring them all together as unified, and cohesive, yet not matchy matchy to a point of boring (to me)
In the end, I am happy with the rug, and will be keeping it. Did I mention it was only $106.00?! I think the price is back up to $139.00, but still is a fantastic deal. I will source some of my new finds down below. Thanks for stopping by friends. See you back soon.
>>>>>>CHECK out my recent opening on ETSY Farmhemian BOHO store
How a rug can change a room, Pin it, save it for later:
Debbie Manno (Debbiedoo's) is a participant in the Amazon Services LLC Associates Program, an affiliate advertising program designed to provide a means for sites to earn advertising fees by advertising and linking to (Debbiedoo's) (amazon.com).