Hi there friends! Well, the time has come that I don't feel it is too soon to share the Christmas tree.
This year I lugged out my Flocked Christmas tree and adorned it in reds and traditional ornaments.
Last years tree….yea pretty pathetic.
Charlie Brown is on the porch this year.
I absolutely LOVE our flocked tree.  I bought it at Walmart a few years ago and I only put it up once. I am so happy I put it up early so we can enjoy the season a little longer.  I have to say it was cozy having the tree up for Thanksgiving this year.  After we ate we all sat in the family room and watched old slides that my husband was recently passed down from his Grampa who passed away in March.  My husband was thrilled to get these and even went ahead and bought the slide projector and screen.  The boys got a kick out of it. It was so nice having my Mom and sister here as well to enjoy the memories with us.
Most of my ornaments are either hand made or bought from the dollar tree or Walmart.
Except for the few sprigs and twigs you see which I purchased from Michaels
I won't do a whole lot of jibber jabber in this post. Just enjoy our pretty  Christmas tree pictures.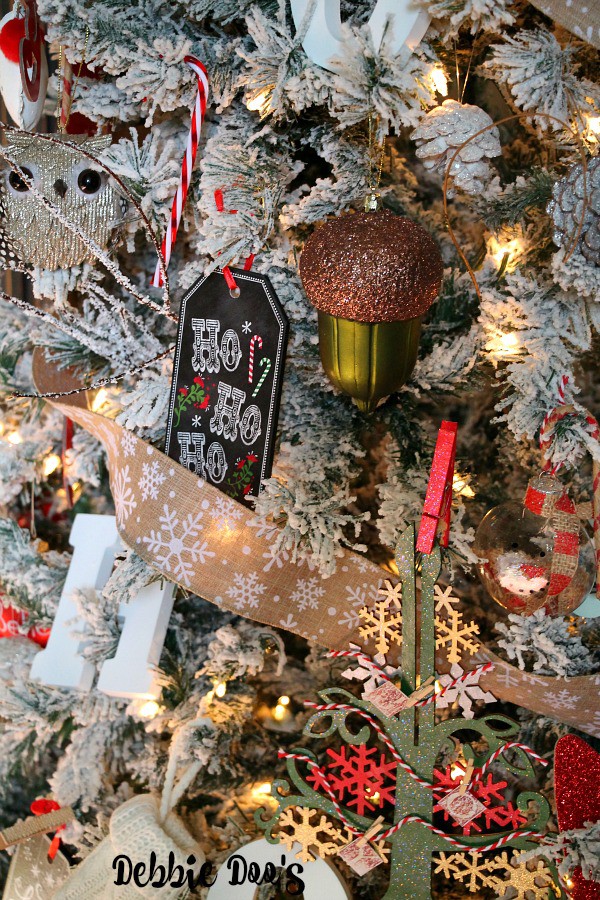 The tree I felt needed something large to stand out against all the flock.  I lucked out and found these pretty reindeer at the Dollar tree.  They look like they are flying on the tree. And then I made the Christmas tree ornament that was pretty large as well.
HO HO HO.  I just stuck large wooden letters on the tree
The black and red throw you see is actually a scarf I found at our local grocery store for $12.00.  Had to have it!
 Thank you so much for stopping by today!
If you are new to me…. Welcome.
I have lots of fun, budget friendly Christmas decor.
Don't forget our Dollar tree Christmas party is going on right up until Christmas.  Make something fun and festive and please join Shannon (Fox Hollow Cottage) and I.