Hey there friends! So I am back for Empty Nest syndrome part 3 of the Empty nest syndrome journey. If you missed Part 1 and Part 2 , click on the highlights to catch up.
It has been quite a hectic and slightly stressful week. Things were not going accordingly on the closing date. We are scheduled for Monday, March 4th. We have a U-haul in place, utilities set to be in our name, cable coming, and other appointments I have arranged while I am staying behind after closing.
Mike has to go back to work the day after and there are things that need to be taken care of. That's where I come in to hold down the fort.
I am really trying hard not to sweat the small stuff. It will all work out the way it is suppose to.
Anyhow, it will all work out in the end and I am just going with the flow at this point.
Today I am sharing some of the choices we have made for the condo renovations. We do plan on doing some DIY's along the way. Things like flooring, counter tops and cabinets, we just can't do at this point. I have a set budget and will stick to it! We aren't looking for fancy shmancy, or top of the line. Just newer, clean and updated.
Here is another angle of the kitchen that I did not share in my last post. As you can see a simple galley kitchen with a window over the sink. That is a HUGE yay for me. I am not sure why that has always been important to me, but it is and I am happy to have a window over the sink. It has a pretty view as well.
Let's start with the fun and funky faucet. Then the cabinets and rest to follow.
Definitely going lighter and brighter in this space. I typically like rustic and a little more warmer, but I don't feel that here in the condo.
I chose a pretty simple geometric pattern for the back splash. Again, keeping the hues lighter and brighter. I am hoping to bring in a cohesive look throughout the condo. I will be adding some textures in the same design print.
I chose this granite because it had a little bit of every hue in it that will be throughout the space. Hard to tell, but it does have a hint of light brown, gray, slate, white and black. I think it will be easy to decorate with most anything in the space.
Last but not least, the flooring. The new pergo flooring will be going in the living room and bedrooms. I don't plan on changing out the tile in the kitchen or bath areas. It is not in the budget, and they are all in pretty descent shape (I think).
Of course the condo has been inspected and there are some hair line cracks in the bathroom and entry tiles. I think I can throw a rug over it for now and not have it be a hindrance. OR, I may tackle a DIY of painting the tiles. Mike doesn't know that yet. THAT may be a good job to do while he is not there HA! Shhh..we won't tell him yet.
Just a visual down below of the carpet areas again. GONE, and replaced with the above Pergo choice.
That's all for today! Wish us luck for Monday:)
P.S. All the choices and goods can be found at Lowe's hardware. We have always been happy with our work and choices throughout the years we have purchased from Lowe's.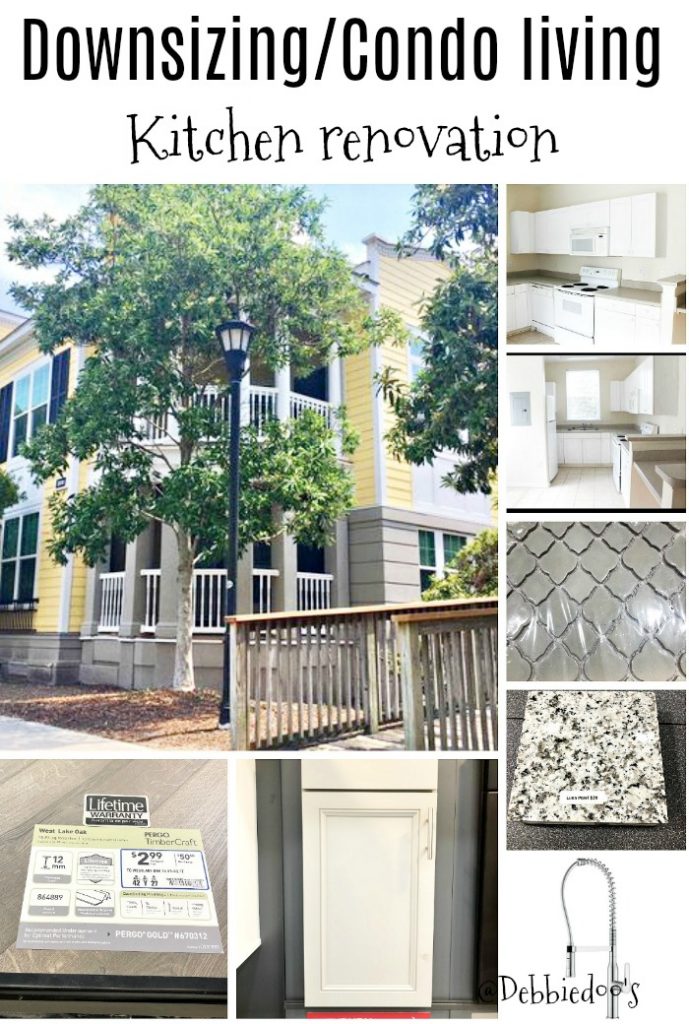 I will be going on Facebook live after closing. Initially, we were scheduled for 1:00 pm. We shall see.
See you back soon.
Sign up to my newsletter to keep up to date HERE
UPDATES on Part 4 HERE