Hi there friends! I didn't forget about you. It has been a bit of a crazy ride the past two weeks. The last I left off was Empty nest syndrome Part 3 HERE.
Today I will share how I decorated our condo with Mid Century Modern style, with a light BOHO flair to my decorating. I wanted this place to feel, fun, funky and comfortable. As always Mike and I manage to have a mix of old and new thrown in. A lot of our finds were through Craigslist, thrift stores, and even Ebay. A few of my subscribers have mentioned what a drastic change in style we went. It's fun to know that you can step outside the box, and be creative with most any decor style you have.
Mid Century Modern is defined broadly. The era began roughly in the 1930's and lasted to the later 1960's. It's a classic, understated look with clean lines, and not a whole lot of fuss! Exactly what we were wanting.
It was quite lovely to wake up, have my coffee and regroup for the day. Each day I had a to do list that I would check off. Some days the list was longer than others. I would take walks in between and enjoy my surroundings and nature.
In my last post I mentioned how I was concerned about the closing date going according to schedule. It did happen on the day it was scheduled for. HOWEVER, things did not go smoothly. The bank had wired our funds for closing to the wrong bank. I printed out the sheet of paper that the loan officer gave us to hand to the bank for the wire. The banker decided to take it upon himself to change the routing number, to the one that bumped back in their system. BAD MOVE! So there we were sitting at closing waiting for hours for the wire to go through. It was our realtor who helped trouble shoot the issue and determined the routing number must have been changed. There we were like the amazing race driving to the bank to get this rectified. It did in the end, but boy was that ever stressful.
Lucy, our pug of course showed no signs of stress in her life. She loves her new home away from home and acclimated quickly.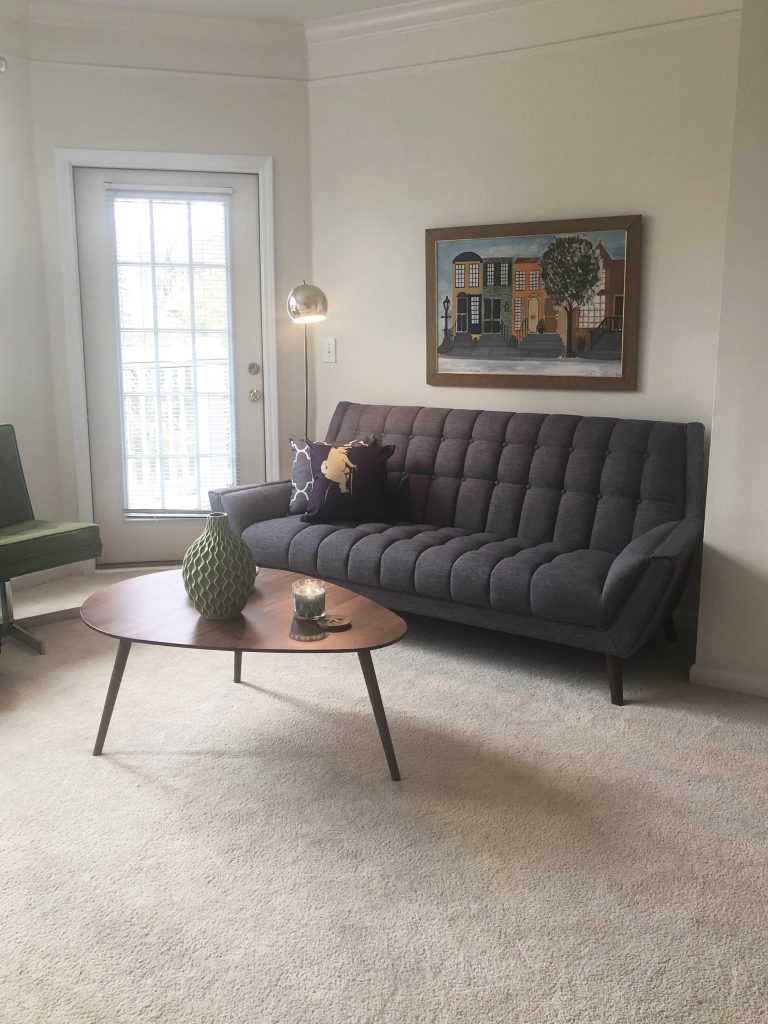 With a little soft music in the background, and cool lighting, life was as good as it gets.
I was in my usual element of decorating, and sprucing things up. The lighting came from Lowe's. I believe it may be discontinued. As cool as it looks, Mike said it was a complete nightmare to wire and hang. Thankfully, the price was right so it made up for the hours it took him, which typically he can tackle those projects in a jiffy.
Every door needed a fresh coat of paint. I decided to change up the pantry door and paint it a soft gray. I found the pantry vinyl on Amazon and this project was finished up in just a few hours.
I wanted a little breakfast nook for my coffee, or simply just chilling out. I found this outdoor garden set at Tuesday Morning. It reminded me of a set Mike's grandmother had in her kitchen for years. It's cozy and the perfect size.
I wasted no time burning my new candle gifted to us from the loan officer. By the end of the week this candle was burned down to almost nothing.
Every ceiling fan and light fixture was changed. My poor husband never stopped. Mike did say these were the best ceiling fans he ever installed. If we could give them 10 stars we would have. I will leave all the links and sources at the end of this post.
By the time 11:00 pm rolled around, I was ready to hit the sack. I slept sound every single night and couldn't wait to wake up in the morning to tackle another project.
I have no doubt family and friends will enjoy their stay with us when they come visit.
One of the most grueling projects was painting the guest bathroom white Formica. I would not recommend it, and will never do it again. I should have done my Giani countertop makeover, but I wanted a quick fix and was not patient enough to wait three days for a project to be complete. In the end the project turned out like I wanted it to. I was looking for a simple gray concrete look. The project not simple, but the look in the end, simple.
It's going to be nice to sit, relax and enjoy a nice family and friends dinner gathering.
With little left to do, but have the carpet removed and the kitchen renovated, we will be looking forward to our next adventure at the condo.
Cheers my friends! Thanks for stopping by today. I appreciate all your kind comments and coming along with us on our new adventure and phase of life.
RESOURCES and affiliate links to featured items.
Fuzzy fun pillow shams on beds HERE
High Quality print and lined Geometric curtain panels in living room HERE
Mid Century Modern entertainment center HERE
Ceiling Fan HERE
Italian Luxury Quatrefoil Sheet Set HERE
Boho Chic Bedding set HERE
Pantry Stencil HERE
Mid Century Modern Blue platform bed HERE
Nathan James side night table HERE
Industrial Modern Dining table HERE
Dandelion Tapestry HERE
Damask Shower Curtain HERE
Hand knit Pouf foot rest HERE
Hope to see you back again real soon!
Debbie