Clothespin wreaths are an unusual way to put a new spin on the traditional greenery-based wreath that you'll find in many homes.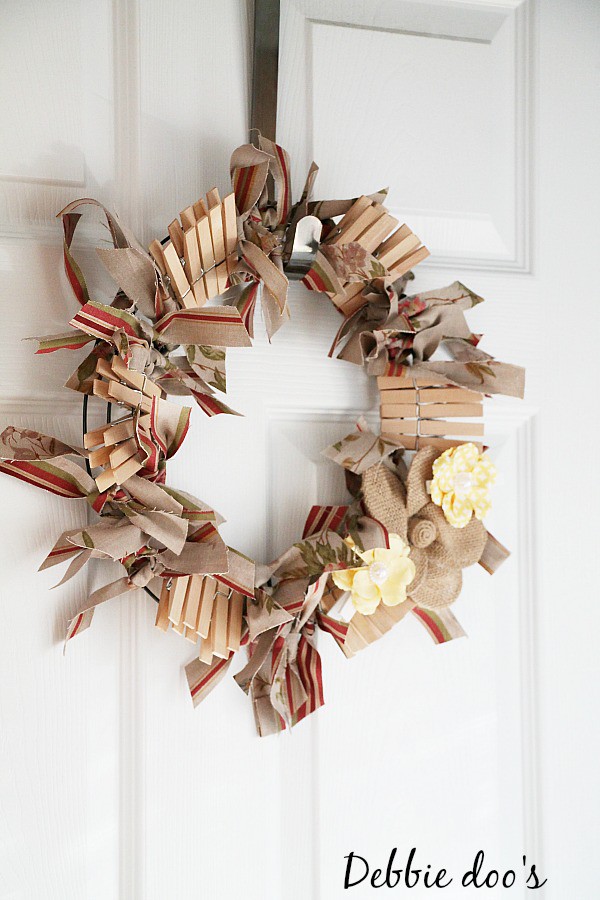 With a primitive farmhouse charm, these wreaths can be used for any holiday from Valentine's Day to Christmas. 
Why Make Your Own Clothespin Wreath?
Clothespin wreaths are cheap. A pack of a hundred clothespins can be picked up online for around fifteen dollars, making this one of the cheapest foundations you can use to build a holiday wreath. They are also cheap enough that they can be colored or customized without having to worry about reusing them in the home.

Clothespin wreaths are easy. A clothespin wreath can usually be constructed in around thirty minutes or less. Since clothespin wreaths aren't normally as decorated as other wreath types and have a more minimalist look, they tend to come together more quickly.

Clothespin wreaths are versatile. Just by adjusting the color of the clothespins and a few key focal point decorations, a clothespin wreath can be designed for any major or minor holiday.
How to Make a Dollar Tree Clothespin Wreath
Supplies
Wire wreath form: The wire wreath form is the foundation for the clothespin wreath, and can be found in a few different sizes. Wreath forms can also be found cheaply at Dollar Tree to help keep the cost of the project low.

Clothespins: Clothespins are usually sold in packs of 20-100. You'll need around sixty clothespins to decorate a 14-inch wire wreath form.

Hot glue and hot glue gun: Even though a hot glue gun and glue sticks can't be sourced from Dollar Tree, this piece of equipment is crucial to making sure your clothespins and wreath decorations stay fixed in one place on the wreath.

Paint (multiple colors optional): Craft paint and paintbrushes can be sourced at Dollar Tree, but these cheaper crafting materials might take several coats to paint the wreath evenly. Spray paint from the hardware store can result in a more long-lasting wreath with a more consistent look.

Finishing coat: A spray-on finishing coat or varnish can help increase the longevity of your clothespin wreath and help preserve its good looks from season to season.
Making a Dollar Tree Clothespin Wreath Step-By-Step Instructions
Step 1. Paint the clothespins
Before you attach your clothespins to the wire wreath form, you should go ahead and paint them.
At this point, you can also spray a coat of varnish on the clothespins to give them a more finished look. Allow the clothespins to dry and cure overnight before using.
Step 2. Attach clothespins to the wire form
With the convex (rounded) side of the wreath form facing towards the side where the wreath will be attached to the wall or door, start attaching clothespins to the outer ring of the wreath.
Once you have your design, hot glue the clothespins down as you go to keep the wreath form from shifting or pins from falling off.
Step 3. Add decorations
If you're planning on additional decor to the clothespin wreath such as faux flowers or signs, glue those on now. Once all the pins and decor have been glued on the wreath, it will need to be rested flat on a table overnight to cure.
Step 4. Mount the wreath
After the clothespin wreath has been given time to cure, it should be stable enough to mount. Using an adhesive wall hook, attach the wreath to the center of a door or wall.
10 Dollar Store Clothespin Wreaths
1. Easter Clothespin Wreat
A flamboyant central bow forms the focal point for this cheerful (and colorful!) spring Easter wreath design.
2. Fourth of July Clothespin Wreath
You'll need red, white, and blue paint for this patriotic clothespin wreath, as well as a few sizes of small wooden stars to form the stars on the flag design.
3. Clothespin Watermelon Wreath
Watermelons are associated with summer, so this seasonal watermelon wreath is a good choice to put up during a time of year that has few official holidays. 
4. Get Your Elf On Clothespin Wreath
Many Christmas wreaths can be covered with a clutter of decorations, but this elf-themed wreath is a lot more simple to throw together.
5. How to Make Clothespin Wreaths for Summertime
Summertime can be a hard time to find good decorations. This summer-themed wreath allows you to easily make your own.
6. Laundry Room Clothespin Wreath
Adding decor to your laundry room can make your whole house look more put-together. This laundry room wreath will remind you to wash, dry, fold, and repeat.
7. Sun Clothespin Wreath
Here's another summer-themed clothespin wreath that will add some tropical flair to any room of your home.
8. Rag Clothespin Wreath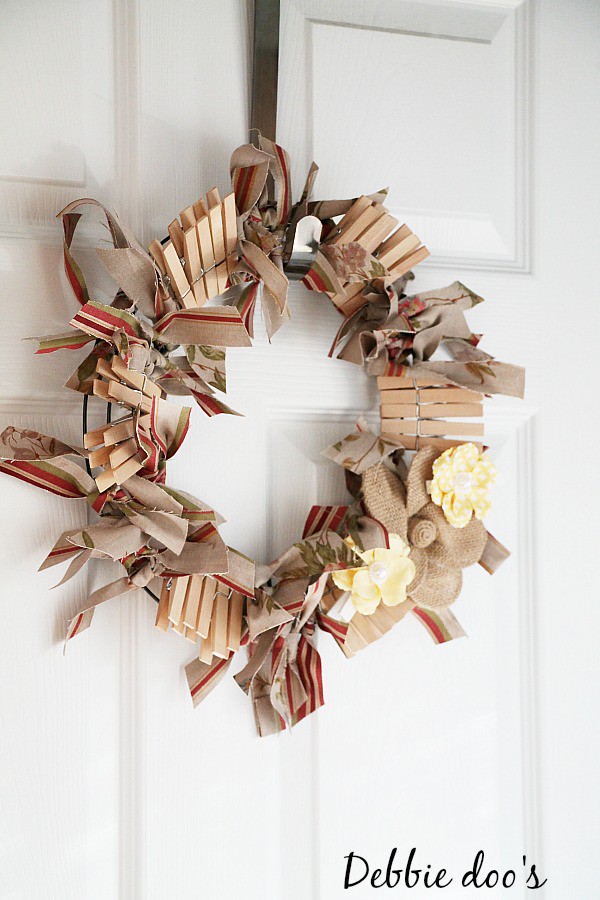 A DIY rag clothespin wreath can be a way to soften the look of the decor, without making it a lot more difficult to construct.
9. DIY Summer Clothespin Wreath
You don't just have to decorate the wreath part of your summer clothespin wreath. Use garlands or signs to utilize the space in the center of the wreath, too. 
10. Fall Clothespin Wreath
A fall clothespin wreath can be decorated in many different color palettes to customize it to your home decor. This version uses earth tones with metallic silver and gold accents.
Dollar Tree Clothespin Wreaths FAQ
How Many Clothespins Does It Take to Make a Wreath?
It takes approximately 60 clothespins to cover the exterior of a 14-inch wire Christmas wreath.
You may also need extra clothespins if you plan on attaching multiple layers to the wire form, so be sure to buy more than you need.
How Do You Color Clothespins?
Clothespins can be easily colored with brush-applied acrylic crafting paint. Another practical option for coloring clothespins is spray paint since it can be found in a wide variety of colors (including metallic) and a spray-on varnish is easier to apply than brush-on varnish.
What Else Can You Make Out of Clothespins?
Dollar Tree Clothespin Wreaths aren't the only craft you can build out of clothespins. These are some of the other crafts that you can potentially make with leftover clothespins:
Candle holders
Christmas ornaments
Chip clips
Photo/paper holders
Planters
Dollar Tree Clothespin Wreaths Are a Versatile Craft
Whichever holiday or season you're trying to decorate for, Dollar Tree Clothespin Wreaths can be used to carry your holiday theme in a fun and affordable way. With just a little time and effort, you can create a seasonal decoration that guests will admire year after year.