DIY rustic wall clothes hanger
I really didn't know how to title this post.  It's a rustic sign, however it is also a useful clothes hanger.  Today, I am sharing how I made a rustic wall clothes and accessory hanger for for the guest bedroom.
If you missed my diy rustic tray you will notice I am using another piece of the wood I had cut at Lowe's.  The sizes I had cut were 24 x 8.  Next time, I would have them cut smaller as they are too long imo for my stencils.  In fact, the actual size of my stencils will be around 9 x 12 for your information.  That is a rough estimate.
For this wall hanging I first dry brushed the wood with a simple white chalky paint.
After that dried, I had a very old stencil with vines that I used for the base of the sign.  I wanted again to do the layering of stencils like I did on my rooster tray.
After that was all dry I added the coffee cup hooks to the sign. You can find them just about anywhere. I found mine at Lowe's. I actually measured the placement I wanted before I started.  Usually I wing it, but I wanted to be sure to get them even.
Now I have something useful in there for guests to hang their robes, or pj's, purses, etc.
Right next to the sign I have had this chalkboard that has remained empty.  Simply because I can't draw and didn't know what I wanted on there.
I thought the gather stencil was appropriate along with the pretty flower wreath I have had hung in our kitchen.  RELOCATION time:)
I used chalky paint to stencil on the chalkboard and then I took a piece of chalk and ran it across the chalkboard to appear like I actually drew this on there. HA…everyone will know I sure did not.
But it looks it, so all good with me.
I never have shown this side of the all in our guestroom, because I have had it bare all these years.
These are the wall hangers I used. I used two, one end to end.
But hopefully now you can see how the room has all come together for our guests.
Thanks so much for popping in today.
Like the fall season? You can check out my fall gallery of ideas.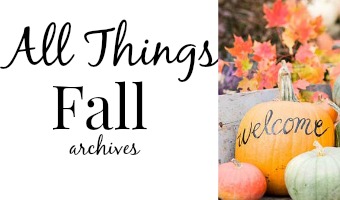 To be sure you are on my exclusive stencil line information list, as it becomes available… please sign up here. You will also see my gallery of more stencil ideas with my new line.
Otherwise, signing up on Debbiedoo's for my every day general shenanigans is great too!
Pin it, share it, try it:)
DIY rustic wall clothes hanger
Thank you for your visit today!
I share all things, thrifty home decor, crafts, and a recipe or two on occasion.
If you would like to commit to becoming a subscriber, I would love for you to join me.
Here is a quick how-to video on stenciling. My technique is usually the same for most stenciling. Always remember, less is MORE!~ Do not over-saturate your stencil brushes.
[adthrive-in-post-video-player video-id="CQs0yH52″ upload-date="2016-06-24T13:59:54.000Z" name="Debbiedoo's – How To Stencil For Newbies" description="How To Stencil For Newbies by Debbiedoo's" player-type="default" override-embed="default"]