You see, there is a reason my tag line is "Home wasn't built in a day".  It's true, and should be true for everyone.  I mean anyone can go to a home decor store and fill up a cart with home goods. Of course, that is if you have the extra cash to do so.  Mike and I have been collecting and making our house a home for about 20 years.  Grant you, our first few years of being married we were seriously decorating confused, oh… and broke. Mike was still in College and I was the bread winner.  The only thing we could afford pretty much was bread!  We knew we liked old stuff but we went in a totally different direction.  It was retro.  I remember finding pink canisters, deco lighting, and almost went as far as getting a deco dining set.  You know the ones with shiny chrome and plastic seats?
That's when we stopped.  I started to realize that is not the style I love and Mike agreed.  So we slowly started selling and giving away the collections we had been building up for a few years.  Our style changed after visiting Arizona and visiting some of the old missions.  It was there, we felt a connection to things that spoke to us.  At the time we lived in Florida and that style was a perfect fit. Spanish flair, deep mustards and the love for roosters started happening.
So for the past 12 years we have collected, thrifted, hunted and gathered things we love and speak to us as a couple, and to our home.  I believe the home itself dictates a lot of the style you incur.  You simply can't make contemporary out of brick and stone.
Welcome to our  Summer Home tour series with the Bhome crew.
And so the story goes.  We bought our home without every stepping one foot indoors.  Risky you say?  Yes, it was, but we have never had one regret! It's a long story, but it's not the first time Mike and I have been risk takers.  We once bought a boat on Ebay too..still have it!  We will be selling it though this summer.  Have a kid going off to college, and we barely use it anymore. It's a great boat though.
 If you are new here, I would like to tell you right off the bat, my husband is truly lawn obsessed.  You can read all about the Zoysia grass he planted 8 years ago.  It finally has taken over and I admit, it is very pretty come Spring time.  The winter time, not so much.  It was a ridiculous scene when my husband was planting those thousand of plugs in the lawn.  Keep in mind, we were new to area.  We looked like crazy half backs I tell ya!
 Tuscan Urns from Balsam Hill .
Our home was a new built and some of the builder grade things we have changed. Like the wood shutters you see on the front of the home.  The home came with brown plastic ones. 
 I had seen the wood shutters on other homes in a very nice neighborhood.  Could never afford the homes, but I figured we could splurge on the shutters.  I knew they would be perfect on our home.  We have added landscape as you see throughout the years.  Again as I like to say "Home wasn't built in a day" and that certainly holds true for us.
Our Clematis was simply gorgeous this year.  I give some simple gardening tips here.  Believe me, they are simple, I am no green thumb!  Come round the back, I will show you around.  You probably have heard me complain a time or two about the mess and work we have around here. By the end of the Fall season it is absolute nightmare to clean up.  I really don't like that time of year. I love the Fall, but not the "Fall" of the leaves.  Spring is not as bad, except we deal with the pollen, as you can see we are surrounded by trees.
My husband is the quirky one (he picked the sign) and I am the whimsy one with my splash of color thrift store chair, and my little rooster garden stakes.  The cypress trees we planted around two years ago.  They are growing beautifully around our patio.  Will definitely give us full privacy in another year or two.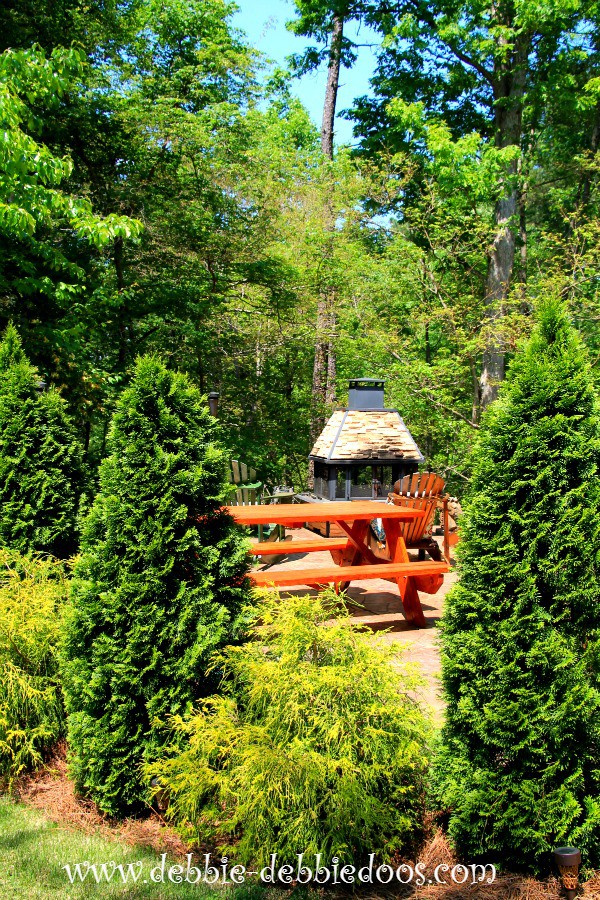 There's our new cheapo picnic table we recently stained. You can read all about our stripping and staining experience here.
 We added this outdoor area and built our own Pizza oven.  It certainly gets used often come the break of Spring on. Although, it's been a very early hot summer here. The outdoor fireplace we found on ebay for a steal.  Mike had to build it, but it certainly did not take him much time to figure it out.
Considering we live in a heavily wooded area and park like setting, I really wanted one of those outdoor BBQ's like you would see in an actual park.  Let me tell you, hot dogs, sausage and burgers taste great on the charcoal BBQ.
Now I am ready for 4th of July.
Mike found the BBQ on line for around $100.00 and he secured it in ground of course with concrete.  Another easy job and well worth the time and effort.  Here you see the upper deck.  The patio below in which I just shared was not existing. It wasn't until we had a horrible storm that took down a lot of trees.  In that devastation, the aftermath left us treeless, but yet space enough to add the stamped concrete deck.  Then came the pizza oven.
Outdoor deck
I'm just going to give a quick tour inside.  Come on in!
First stop, The Pub room
I been too busy outside to even think about cleaning the entire inside.  I will only share the clean rooms.  Family room all freshened up with our new Navajo white by Benjamin Moore.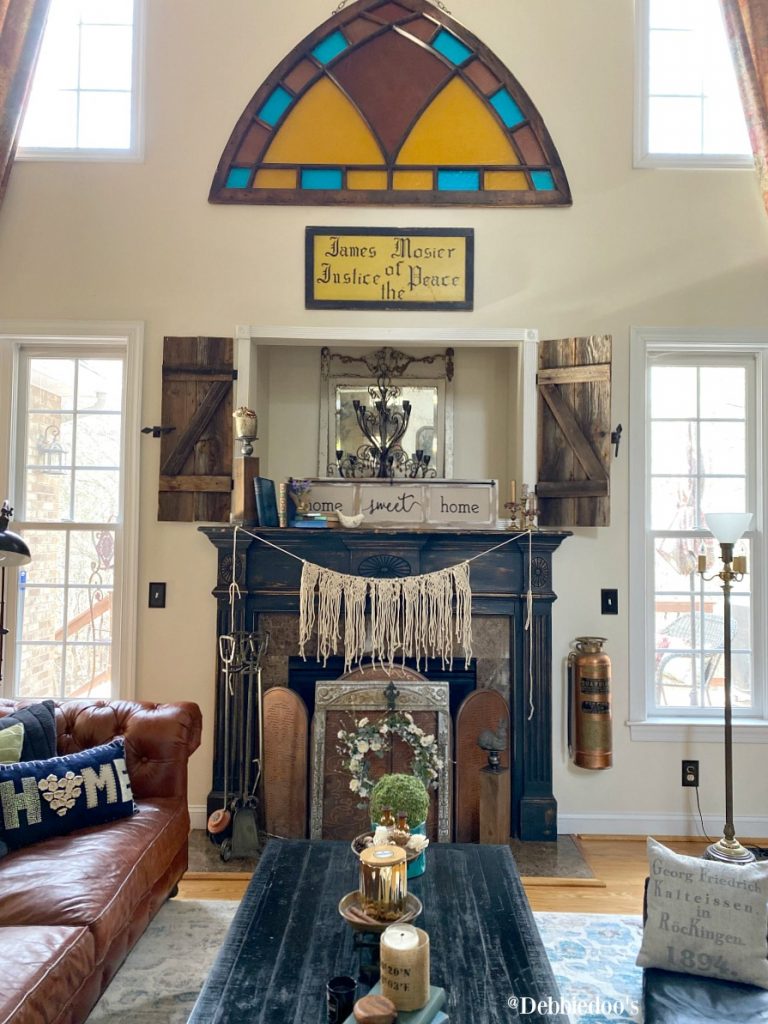 Always a treasure or two to be found here.  Like the vintage dog nut cracker and vintage scale my Mom bought for Mike last Christmas.
  Breakfast room. Paint color is Bavarian Creme.  We have slowly gone from yellow hues to lighter walls. Our decor is heavy in nature and after 12 years of hello Yellow, it was time for a change. 
 My love for roosters live on.
Most recent Kitchen changes HERE
 I have even found a way to bring them in the Family room.   I believe I only have one Rooster in the family room.  He used to reside on top of the entertainment center, but relocated.  He was bored up there.There are no Roo's in the bedroom though.  I think that would be a little much, even if I do say so myself.  You can check out my latest Master bedroom refresh
 I don't think the guests would like roosters in the guest room either.
My husband and I have enjoyed over the past 9 years making our house a home.  Even on occasion Mike surprises me with a gift or two on his own ventures, like this rusty old can
and his latest find this vintage postal scale.
 I think that is about all I can share with you today.   Thank you for stopping by.  If you are not a regular here, I sure would love to see you back again.  I share all things heart, home and a recipe or two on occasion.
XO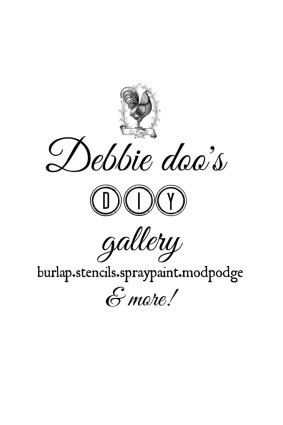 Line up of other Home tours:
Monday:
My Soulful Home Homemade by Carmona
AKA Design On Sutton Place
TUESDAY
Cedar Hill Farmhouse Garden Therapy At The Picket Fence Unskinny Boppy
Miss Mustard Seed French Country Cottage
Wednesday
StoneGable Housepitality Designs Craftberry Bush Cupcakes and Crinoline Shabby Art Boutique
Setting For Four  A Healthy Life For Me
THURSDAY
Southern Hospitality Top This Top That Rooms FOR Rent Savvy Southern Style
Lilacs & Longhorns Eclectically Vintage Cynthia Weber Design
Friday
Maison de Pax Buckets of Burlap Love of Home
Debbiedoo's Edith & Evelyn Inspired By Charm
 Thanks for stopping by today. We hope to see you back again.
Debbie