Hi there everyone! Hope you are all just about finished decorating for Christmas and perhaps even finished up on most of your shopping.  I don't fight the crowds as I have mentioned before.  Shopping on Amazon is my way to go!
In fact, if you missed my Holiday go to picks you can check that out at the end.  Today, I am sharing a round of some stunning Christmas home tours.  There were so many pretty ones in our Christmas tour with Bhome, it was hard to pick just one. So I chose five Christmas home tours that I thought you would enjoy.  I will only give you some snippets and then you can head over for the full tours.
I fell in love with Shabby art boutiques cottage style guest bedroom. Adorned in reds and blues it was so festive, cozy and pretty, I just wanted to hop on a plane and be a guest:)
I struggle with mantel decor every season.  Some gals just make it look so simple!
Like Cherished bliss.  Keep in mind, you don't always need a traditional mantel to decorate for Christmas.
Shirley from Housepatality designs has always been one of my all time favorite home decorators.  Her home is stunning, and she is one of the kindest, warmest gals I know.  Shirley's foyer was a show stopper from stepping one foot in.  WOW!
Christmas decorating in the foyer
Heather from Setting of four certainly decked out her outdoors.  I loved it all.
The ice skates are adorable aren't they? I love decor with ice skates!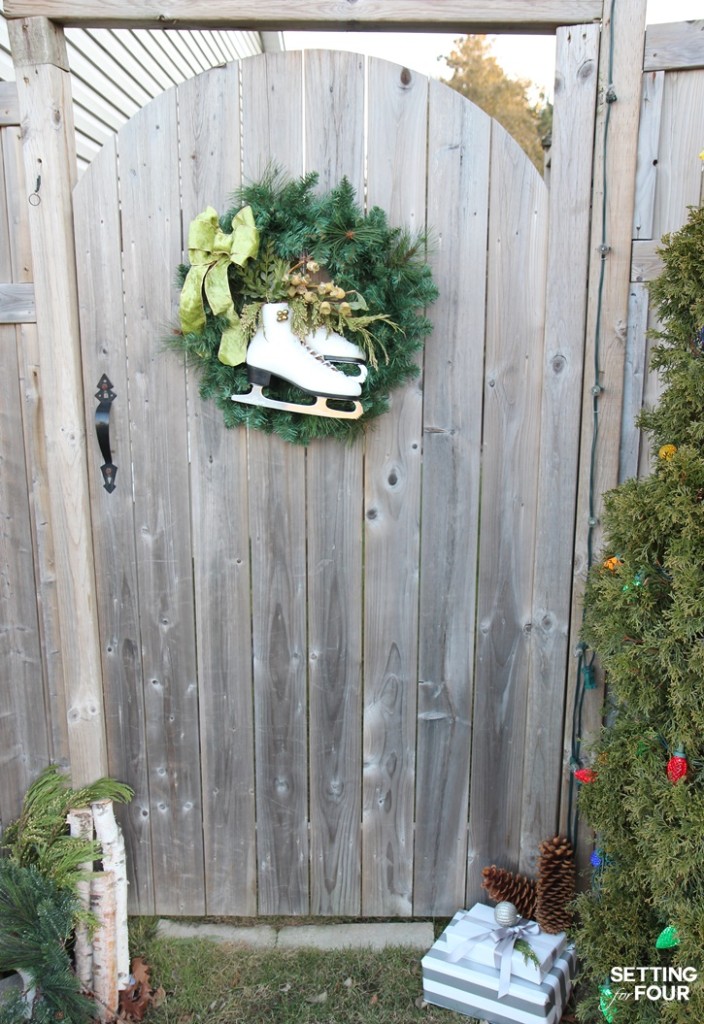 And for those who love a little shabby French rustic elegance.  Look no further.
Janet from Shabbyfufu has beautiful style and has really done an amazing job with her home this year.
Rustic elegant Christmas decorating ideas
As you can see we are all different in our own special way.  That is what makes our homes all so special not only this time of year but all year round.  Imagine how boring it would be if we were all the same? I know personally I appreciate all styles even if they are not my own.
Thanks for stopping over today.  If you do not have the Bhome app downloaded yet, I recommend you do. It's easy, fast and free and you can have some of your favorite blogs at your finger tips.  Even find more sites you will fall in love with.
If you are new here, welcome.  I would love to see you back again.
You can browse my Christmas gallery of ideas while you are here.