Charleston front door color
Hi there friends. Well, I wasted no time getting to our front door project. Painting the front door is not as intimidating as you may think. I put that project off for years, thinking it would be difficult, that I would botch it up, and we would have to buy a new front door if I messed it up. Relax, it's only paint and I assure you, it is not difficult.
The first time I painted the front door HERE I did use Kilz paint that I had tinted at Walmart. I was happy I did considering it was a fresh new coat going over a very dark mahogany color door.
After recently painting the bifold doors at the condo HERE, I was certain painting our front door here at the main hub would be a cinch. You will find our original inspiration on our walk-in James Island HERE.
This is the BEFORE SHOT. As you can see I was anxious and had already started before I took a snap.
I used painters tape to tape the hardware, inner glass panel, and the bottom weather strip. That is important to start. I am not that great of a painter that I do not need it.
This is where it started getting a little scary to me. The door looked purple, and not the same as it did on the bifold doors. Come to realize it was simply the lighting and the paint still wet.
Two coats later, it was finished. It took me about two hours from start to finish. The paint dried fast because it was a low humidity day and nice breeze coming through.
Mike is happy, I am happy and the kids don't care HA! Well we only have our youngest home right now and he actually said he likes it too.
I was afraid of it clashing with the Haint Blue porch ceiling, but overall it definitely feels Charlestonian. It also coordinates well with our new front Boho patio furniture. As you can see from this example, we are in keeping with the style and colors. You can find other Charleston door color themes here.
The creeping jenny I planted about 8 years ago has finally taken on the look I envisioned. It has a mind of its own for sure. Mike will have to trim that this year so it is not hanging over the windows.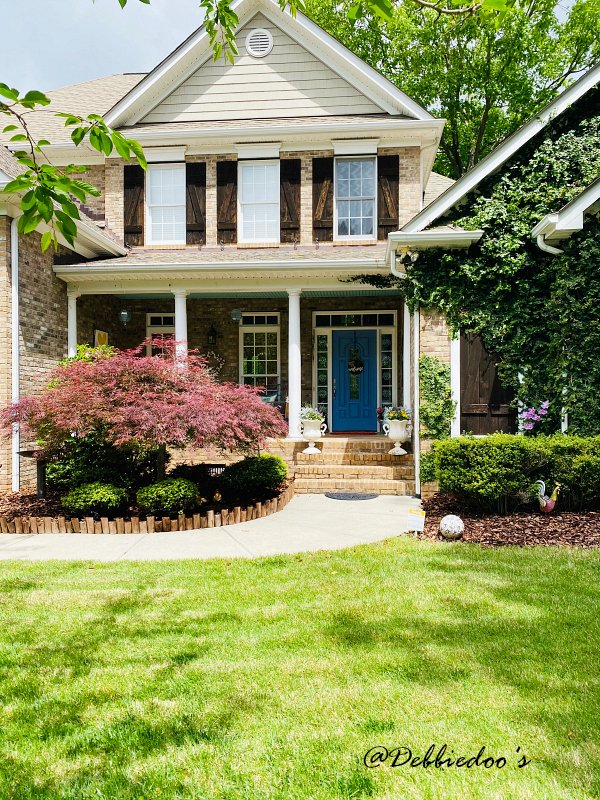 The paint color we fell in love with is called Scanda, by Sherwin Williams. The paint I used is called Infinity, one coat also by Sherwin Williams and is an eggshell finish. It is a periwinkle shade with a hint, of purple at times, but more of a blue. A beautiful shade of it. You know I love my blue. Charleston is full of color, so how wrong can you go? I think every home needs a little color and whimsy.
We sure have been able to tackle a lot of projects these days during our quarantine. It has been nice to have different locations of our home to hang out in or on! I call it a change of venue LOL.
Thanks for stopping over today. I will leave you with some of my affiliate links for things featured here today.
Charleston front door color
You don't have to live in Charleston to bring color into your home. Dare to be different in your own neck of the woods! Have fun.