Good morning!
I thought it would only be fair to share an All things Cinnamon post.
After all, my all things Pumpkin was pretty popular and I feel bad leaving little ole cinnamon out of the seasonal loop.
I love cinnamon too.Today I thought I would try a cinnamon recipe and then share some fun cinnamon inspiration with you.
cinnamon stick wrapped candles
Some known facts about cinnamon
All kinds of decorating, baking and more you can do with cinnamon.
Cinnamon embellished napkins would be perfect for your holiday table.
Now I am  sharing a cinnamon streusel muffins recipe with you.
I am pretty convinced at this point, I don't need to add eggs, or oil anymore to muffin recipes. 
At least that is my assessment, because I have only added a can of pumpkin to the last three or four muffin recipes that I have made, and all have turned out fabulous!
I love cinnamon this time of year almost as much as I love pumpkin.
These candies won't last long I tell you.
Again, all I did was add the can of small 15 oz. pumpkin puree to the mix, bake at 350 degrees for 20 minutes.
The cinnamon topping came with the mix.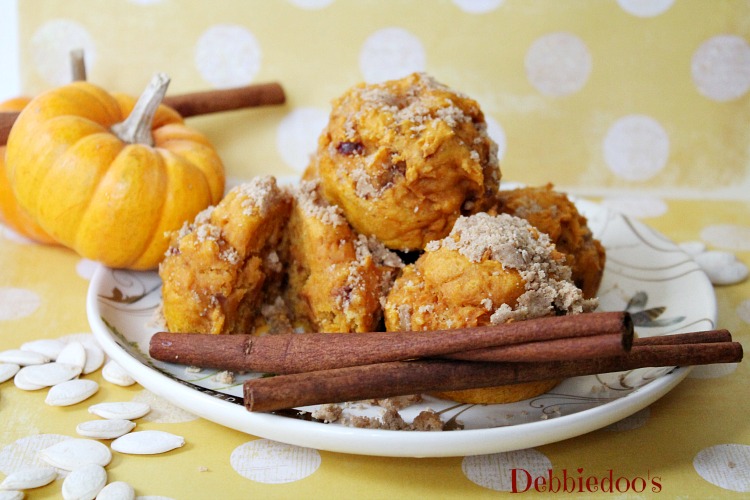 BAM!
Moist, and Delicious!
The end.
Hope you enjoyed my all things cinnamon post.
Let me know if you try any of these ideas or recipes.
You can find my other recipe
Apple spice muffins with a kiss very delicious as well.
Would love to have you follow me around.
Thank you so much for visiting with me today.
If you are new here, I am also very excited to share my new stencil line with you.
Farmhouse/rustic stencil line by Debbiedoo's HERE
Thank you for your visit today!
I share all things, thrifty home decor, crafts and a recipe or two on occasion.
If you would like to commit to becoming a subscriber, I would love for you to join me.