Hi there everyone! Today I am sharing  15+ diy canvas art ideas that we can do ourselves.
A little creativity and imagination go a long way here.
If you missed my recent canvas linen art, check it out
here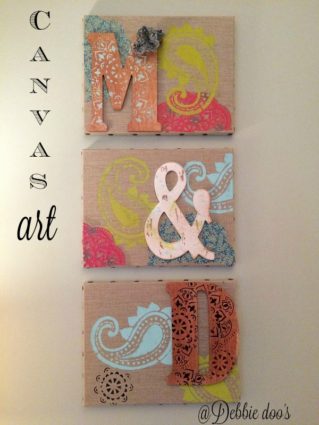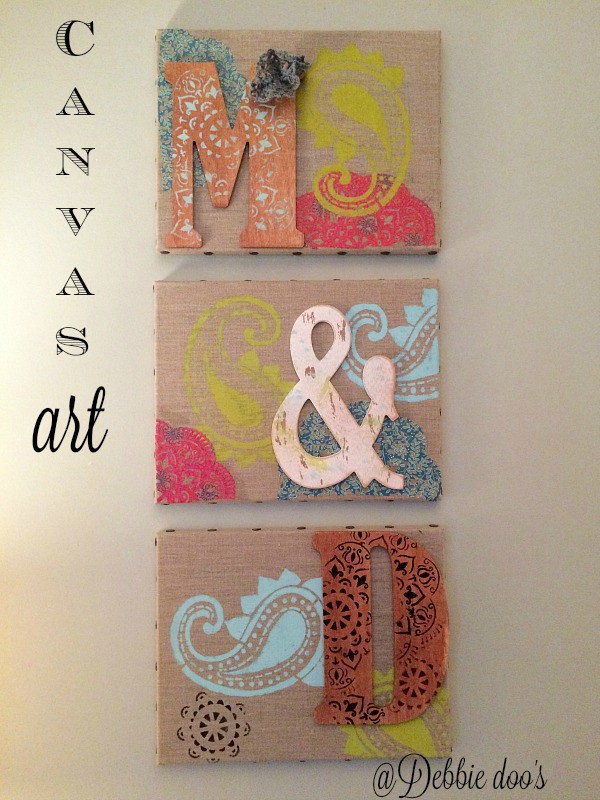 First, let me share my guest today Rachel from Holy craft.
Welcome Rachel:
One of my favorite things to look for at garage sales during the summer are canvases. I love to create new art with them and I can usually find them pretty cheap. I especially like to hunt for the really large canvases because those bad boys are super expensive at the store. Plus, all they really need is a little TLC and a touch of your personal style to make them look like a million bucks!
This is my latest canvas find. I picked up this grubby alphabet canvas for $1 at our local Goodwill outlet where you buy items by the pound. If you have never been to the Goodwill Outlet, here are
some tips
for you first time shoppers. The prices seem to vary from store to store, at some Goodwill's any frame or picture is only a quarter.  At this Goodwill, the picture was $1. Still far cheaper than a large canvas I could pick up at the store. This one is 24 x 24.
Before you buy, you want to examine the canvas to make sure there aren't any holes in it. Holes happen but you will have a heck of a time working around them. You also want to make sure it's smooth. Some canvases have been painted with a textured paint or have been
mod podged
.  They are a MAJOR pain to work with. It's best to pass those over.
Once you have examined your canvas and it checks out and is in good shape, take it home and start dreaming up the possibilities.
I knew exactly what I wanted to make with mine. I decided to put a coat of paint on it to start fresh. It really didn't need more than a nice smooth coat to cover up the original image and while it dried, I used my Silhouette machine to cut out my vinyl.
My oldest son is on the worship team at church. He plays the drums and there is this amazing drum beat in one of the songs that we sing. I think he makes the song sound better than the original and with him going off to college in the fall, I'm getting all kinds of sentimental, so I thought I would take the lyrics from that song and create a canvas.
If you don't have a Silhouette machine, I know you can find pre-cut vinyl at craft stores or on etsy. You can also choose to stencil to hand letter your canvas.
I laid out my vinyl words on the canvas and played around with the placement. Once they were where I wanted them, I used transfer paper and transferred them on to the canvas. There is a trick to getting the vinyl to stick to canvas. You need to put a hard surface under the canvas (I put a book under where I'm working) and use the back of a spoon to rub those letters off of the transfer paper and onto the canvas.
I love the way my canvas turned out!
I've also updated a few other canvases. As you can see, the bigger, the better!
Reindeer Names Canvas
Family Rules Canvas
Subway Art Canvas
Next time you see a worn out canvas print at a garage sale, don't pass it up! This 1970's tree print became one of my favorite re-do's. Can you guess which of the above pictures that it turned into? Hint…the knock off version saved me more than $500!!!
Enjoy the 15+ plus ways to diy canvas art!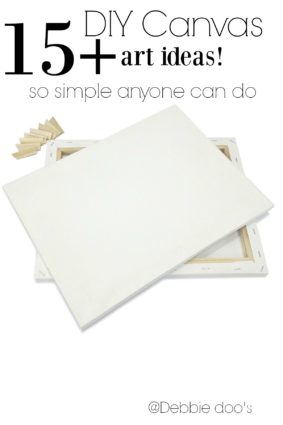 you need to start with a blank canvas or two.
Amazon affiliate links
Gesso
Acrylic paint
Paint brushes
Stencils
Canvases
If you haven't signed up to be a subscriber over at Holy craft, go on over and visit Rachel.  You will love her!