How to make your own Boho Art
Hi there friends! I don't even know where to begin on this project! Let's begin with, it was tossed in the trash and then I recovered it later on. It's true. Not only because it was so bad, but I was so frustrated with myself. What started off to be so simple in my head, was not translating at all on canvas.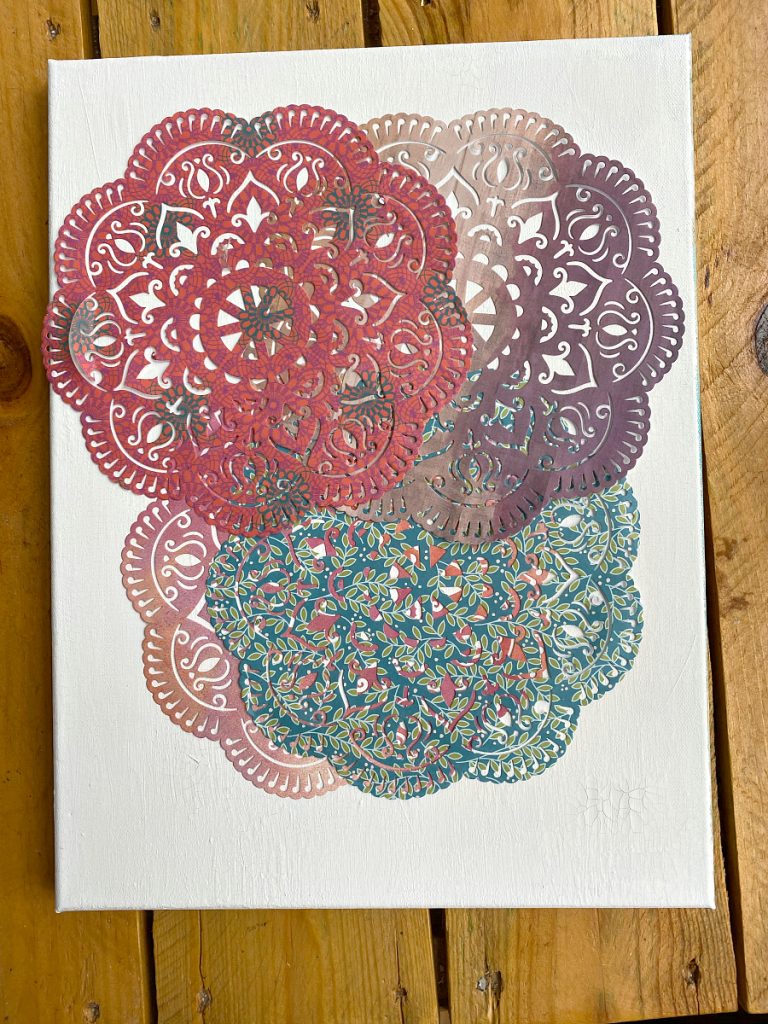 Supplies needed: Canvas board-paper doilies-Mod Podge-craft paint of choice-sponge pouncer-chalky paint
Clearly, we know this by now, I am not an artist. My penmanship is terrible and my drawing skills are NONE. That never stops me though from trying new things and being creative. It just doesn't always work out.
I started with a plain white simple canvas. As seen down below, I had to paint over it with white chalk paint, and it sort of crackled in a few places. Very unintentional, but I was ok with that. Let's move on….
The first go around, I painted it a pretty teal color, then started adding dips and dops of gold, then silver, than pink. NONE of it made sense. I suppose that is what some artists think as well. It wasn't even pretty. My husband tried to be polite, but I knew he wasn't a fan. I plan on putting this somewhere in our BOHO bedroom at the condo.
Second try. I repainted the canvas a solid lighter shade of blue. Now I was feeling off to great start. I let it dry and then I came in with my sunflower stencil I used recently on my Goodwill cutting board. I did the sunflower in pink and gold. After it dried, I thought to myself, what am I thinking? I don't want a sunflower in the bedroom, and I don't even have pink in the room. OYE! That was it, I tossed it.
I went online and started to look for Boho art inspiration.
This is what then became my inspiration. I did not have the proper stencils on hand, however, I did have some pretty paper BOHO style doilies that I had used a few years back on burlap canvas art HERE. I also had my Mod Podge supply. I quickly ran to the trash and set up shop!
First I randomly stenciled in just a few areas using my paper doily. The doily has beautiful cut outs and with just a few light pounces with gold paint it gave a pretty design.
The the rest was easy as 1, 2, 3. I Mod Podged the canvas in areas that I wanted to place the BOHO doilies, placed it on the board, and lightly went over it. Some of the doilies I cut in half as you can see to randomly place and make the design I wanted.
What truly could have been such a simple project to start, took me two days to finally make it. I am very happy with the end results though. I painted gold around the sides and bottom of the canvas board.
Any which way I turn the canvas, it looks pretty. I am not sure how I will finally display it. I guess we will find out next weekend when we go to the condo.
How to make your own BOHO Art
And there you have it friends. The little canvas that could.
Feel free to check out my Mod Podge gallery of ideas while visiting here today.
Debbie Manno (Debbiedoo's) is a participant in the Amazon Services LLC Associates Program, an affiliate advertising program designed to provide a means for sites to earn advertising fees by advertising and linking to (Debbiedoo's) (amazon.com).