Hi there!
Today, I am sharing 10+ easy diy Kitchen craft decor ideas you can make yourself on a budget.
I am sure I have done plenty more than 10, but today, I won't overwhelm you with them all. I decided to dig into archives and find my favorites.
First,
Kitchen plaque painted with Rit dye and Gesso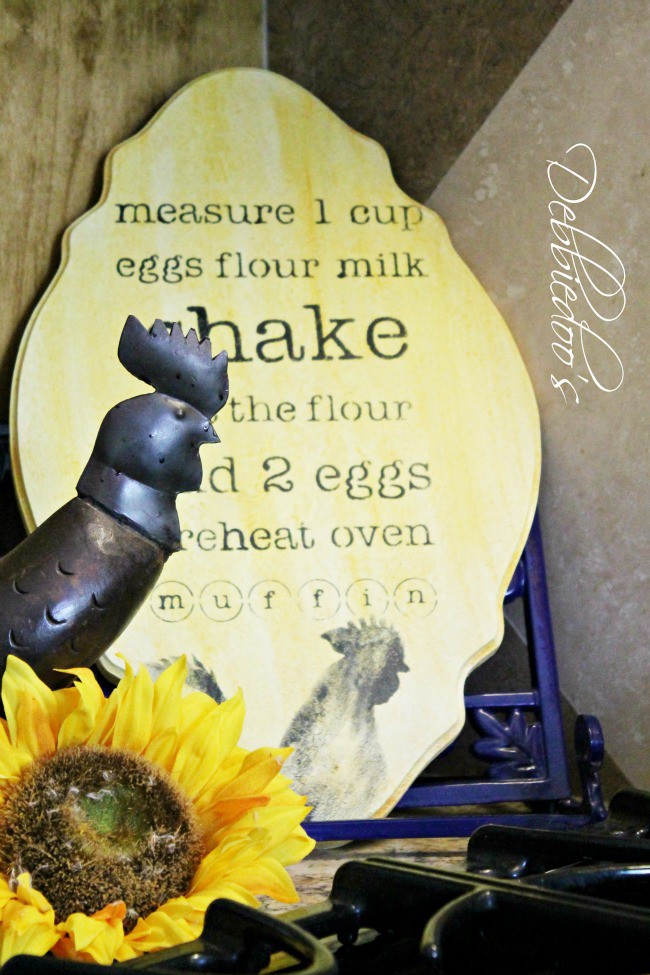 You may see a common theme here with Roosters and stencils.
That is obviously what I like but keep in mind whatever your decor or theme may be in the kitchen you can do just the same incorporating your style.
There are crafts and decor that I do that even get a makeover or two
Kitchen art with a printable and gingham check
Vintage art with Goodwill utensils and old cook book
I do believe this was my very first Kitchen Stenciled art I did back in 2011
Burlap kitchen valances which I still have and been thinking about changing them.
Easy, homey burlap art
Utensil holders made with painters tarps and scrap fabric
You know I always say waste not want not
Diy terracotta pots with magazines
And here is another oldie but goodie. DIY burlap lampshade.
I still have this lampshade and think I need to go find it now to bring it back.
What's old is always new again to me when it's been awhile since I have seen it around.
Hope you enjoyed my 10+ easy diy Kitchen craft decor ideas you can make yourself on a budget.
Have a great day!
If you are not a regular here, I sure would love to see you back again.
You can check out my DIY gallery of ideas. Like I said, I have plenty more.