Hi there everyone! This post may be up for debate. I am not here to debate, but to simply give my opinion, and things I have been told by an M.D. The truth of the matter is, it is the home owners personal preference.  Honestly, if you compare cost, it is not a whole lot more of an investment. You as the consumer have to shop around and compare. Today, I am talking about why I didn't choose carpet.  We have been in our home for 10 years now and the only area of our home that still had existing carpet was the upstairs.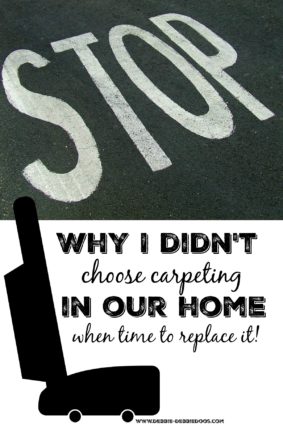 We recently replaced the entire upstairs with Pergo Max/Crossroads Oak laminate flooring.  To say we are pleased, is an understatement.
I have raised our boys to always take their shoes off in the house, and never have food or drink upstairs.  Some may call me Mom meanie, while I found it to simply be respectful and smart.  The carpet would have been trashed within the first month or two with all the kids in and out of our house when they were younger.  Heck, even now that they are older, the bigger the boy, the harder they are on things.
I kept it clean organically and it was still in decent shape.  However, every time I vacuumed I was amazed at the dirt and dust that would get picked up.  In the back of the doors all along the edges of the molding was a permanent light grayish dingy looking stain.  It was simply ground in YUK that was never coming out.
Around 15 years ago, I recall having to take our older son Alex to the allergist.  He had constant bloody noses and allergies.  The first thing the allergist asked me was "Do you have carpet in your home" Of course, living in South Florida at the time, the only place we did have carpet were the bedrooms.  I told the allergist yes but only in the bedrooms.  He was quick to say "get rid of it".  He said carpets are the absolute worse thing in a home, especially for someone who has allergies or asthma. Turned out when he was allergy tested, dust mites were top on the list. Do you know they live in carpets?
 (Upstairs sitting room)
How to hang curtains with bath towel hooks
How to paint a door to look like wood
I found some  tid bits on Web MD.  I have read a lot of debunked myths about having carpets in the home versus laminate, tile and hardwoods. Of course, they were mostly all from carpet companies. For people that suffer with chronic allergies and asthma these are some  of the top things in a home Doctors will recommend.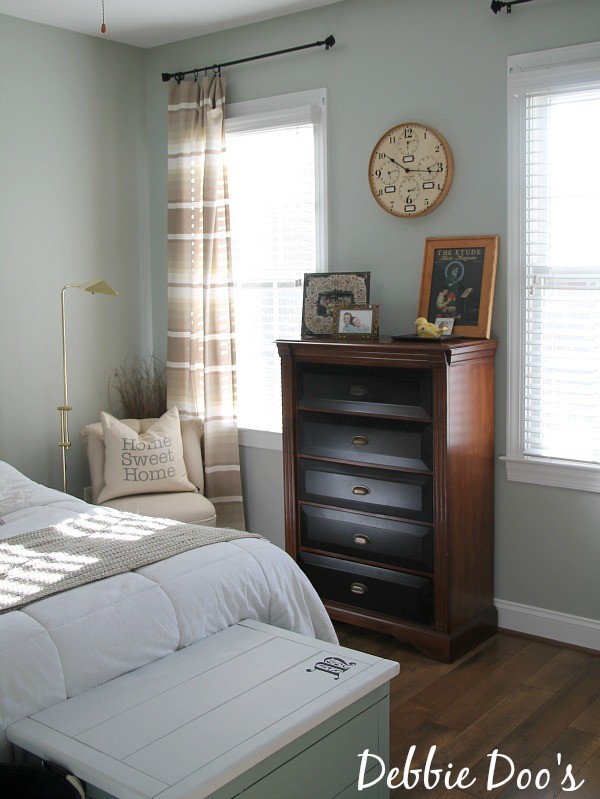 Remove rugs and wall-to-wall carpeting. Talk with your family about this and about how this will affect family life. If you cannot or do not want to remove carpeting throughout the home, consider removing it only in the bedroom.
Not only do you have to clean the carpet itself, but what you don't see is what's going on between the weave and under the padding. You'll clean your carpet every day and once you've finished, you'll be convinced that everything is peachy keen because it looks so good, right? Wrong. There's always much more going on below the surface.  There is plenty of dust and dirt lurking under that top layer of carpeting that you'll never see and you'll never get to. With hardwood, laminate and tile, what you see is what you get. Period.
You'll typically find that carpeting is made from synthetic materials, which means that toxic chemicals are more than likely involved. Think about it… don't you notice that pungent smell any time that you walk into a carpet warehouse? That's the smell of chemicals. Can you imagine releasing that kind of toxicity into your home for years to come?
Before  I replaced the carpets, I never had them professionally cleaned by places like Stanley steamer, etc.  I did find as earlier mentioned a nice organic alternative to cleaning the carpets and you can find that post How to clean your carpets organically here.
There is just so much more involved in the cleaning process when it comes to carpeted floors. You need to drag the heavy vacuum out of the closet, plug it in and try your best not to get tangled in the mess of the cord. Heaven help you if a stain gets involved because then you get to bring out the sprays, sponges and rags as you get down on your hands and knees to save your carpet. With hardwood, laminate or tiled floors, you'll find that life is much easier. Just pull out the broom, or swifter and with a quick sweep, you're free to enjoy your day.
My personal recommendation, if carpets are your thing, I would suggest a very low pile carpet, like berber.
Replacing the carpets with the laminate, not only feels cleaner, but it totally opened up the space.  This is my office where I blog, and I have a little craft table set up there as well. The bench ottoman is where I keep a lot of my stencils,  fabrics, etc.
Jack's bedroom.  I will show you around his room sometime in the future.  He has a lot of neat little things he collects.
That wraps it up for today.  I am back from my cruise celebration.  It certainly was an eventful time. Not sure if cruising is my thing though to be honest.  I had a blast with my friends, but I still feel like I am on the ship and fell ill a few days while out at sea.  But all in all, it sure was a blast of a time.  I think my friends and I could probably be anywhere together and have a jolly good time.
Thanks for stopping over today.  If you are new here, welcome.  I hope you come again.
Here are some more fun galleries to browse through while you are here.
Oh and one more thing.  Don't forget to check out my Amazon affiliate store.  That headboard you see in the guest bedroom is a steal!