Hi there! Am I too early to start sharing pumpkin ideas? I certainly hope not. Everything is out in the stores, so that tells me most are probably ready for the new season. If you are not, well, bookmark it and save it for when you are ready. I know a lot of people do not like for the summer season to end. With our temps being so hot, humid and dry this summer, I certainly am welcoming the change.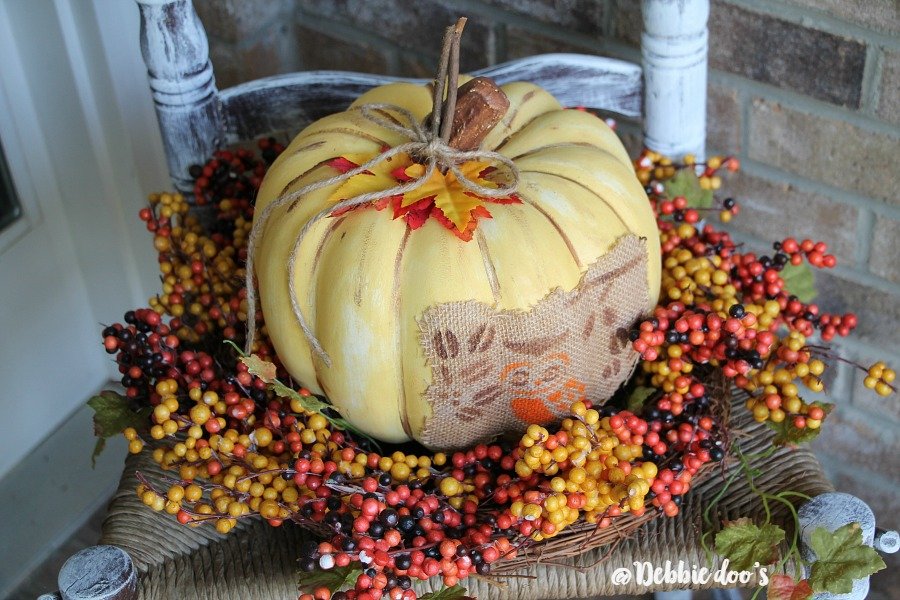 Today, I am sharing a white faux pumpkin decorating idea.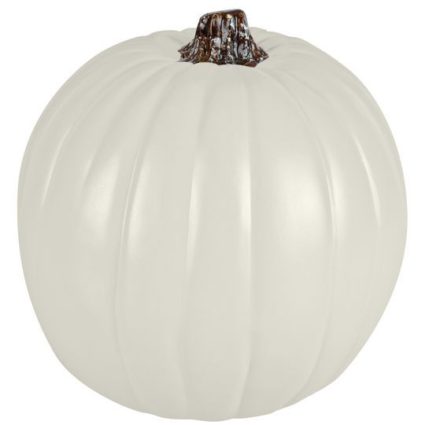 For this project you will need a white faux pumpkin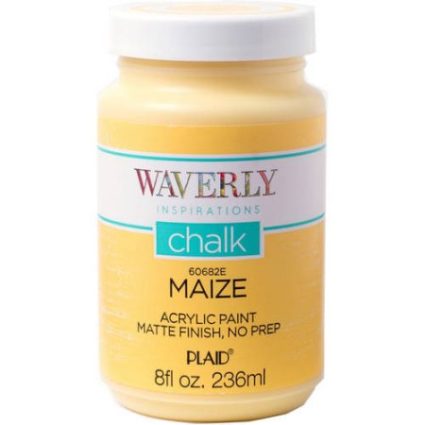 Waverly chalk paint in the color maize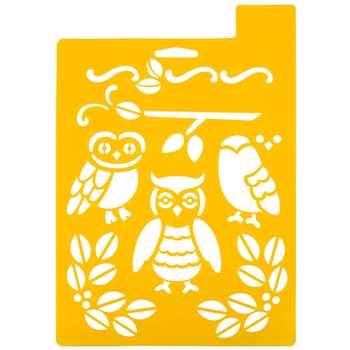 A stencil of choice
and a piece of cutout burlap, that is optional.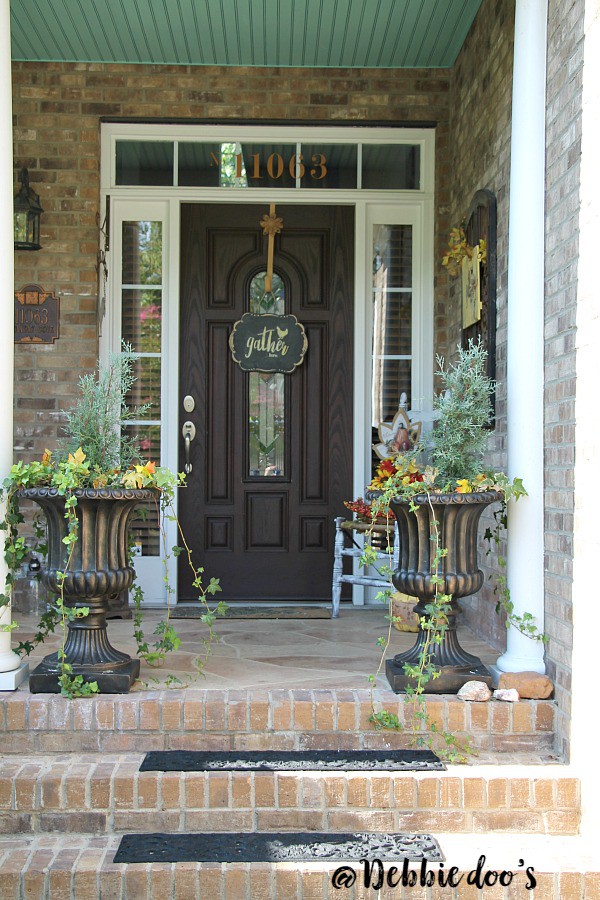 This year on the autumn porch, I am not going crazy like I usually do.  There will be no welcome autumn tree, and every accessory known to man out there.
Honestly, I just don't have the energy or time right now. Or maybe I am just too lazy, PERIOD!~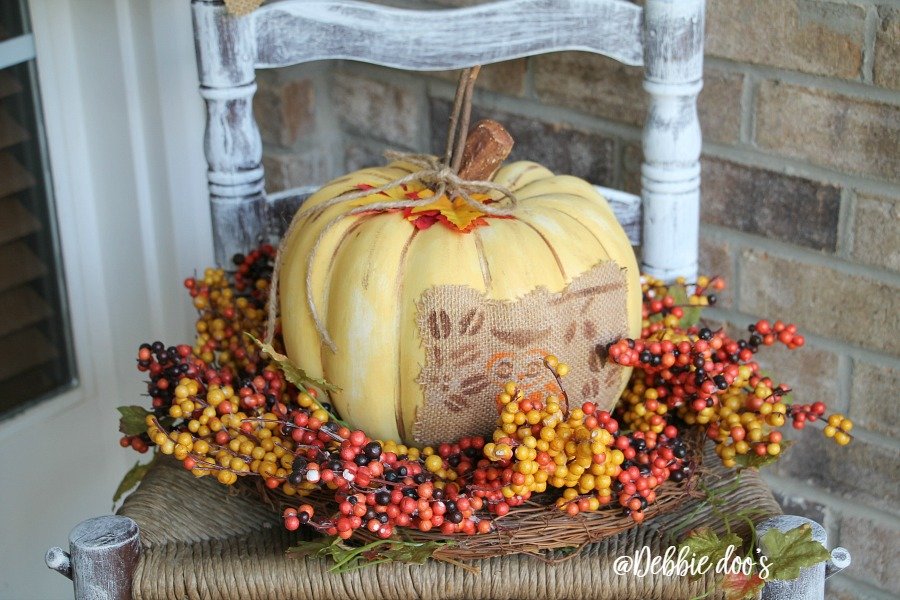 I will give you the simple step by step for this faux white pumpkin makeover.
First, paint your pumpkin with two coats of the chalk paint and let completely dry. I let mine dry for about two hours.
Then, I took some brown craft paint and a small artist brush and stroked the pumpkin grooves lightly, and painted the stem.
I in the meantime while the craft paint was drying on the pumpkin, I worked on my burlap cutout piece.
I stenciled it with an owl, branches and berries.  In fact, this was the same stencil and burlap cutouts I used last year when I make my owl burlap art for the kitchen you can see HERE.
After that dried, I used spray adhesive and lightly sprayed the back of the burlap with it, then adhered it to the pumpkin.  I did go over it with some fabric mod podge as well. Probably not necessary, but I did it anyhow.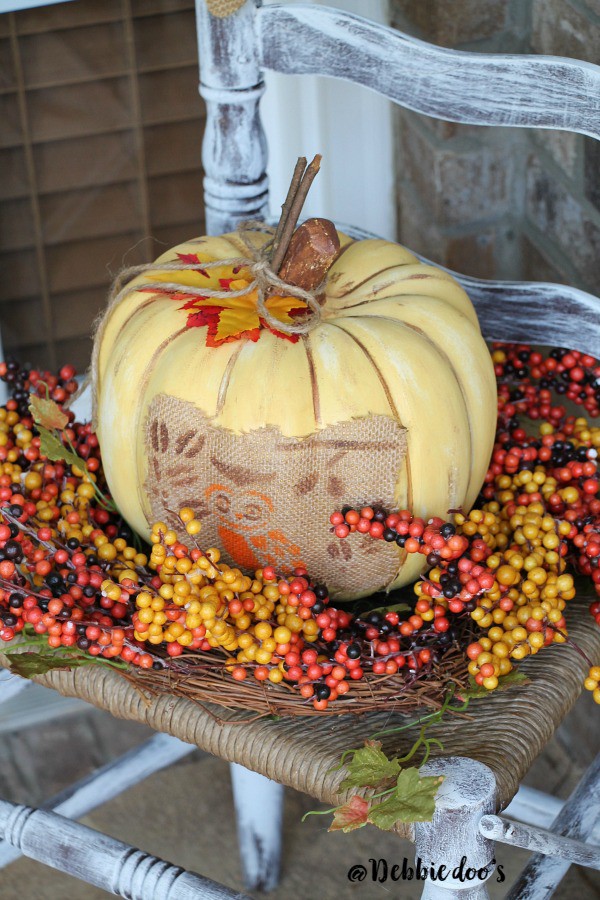 Why settle for a plain white pumpkin when you don't have to!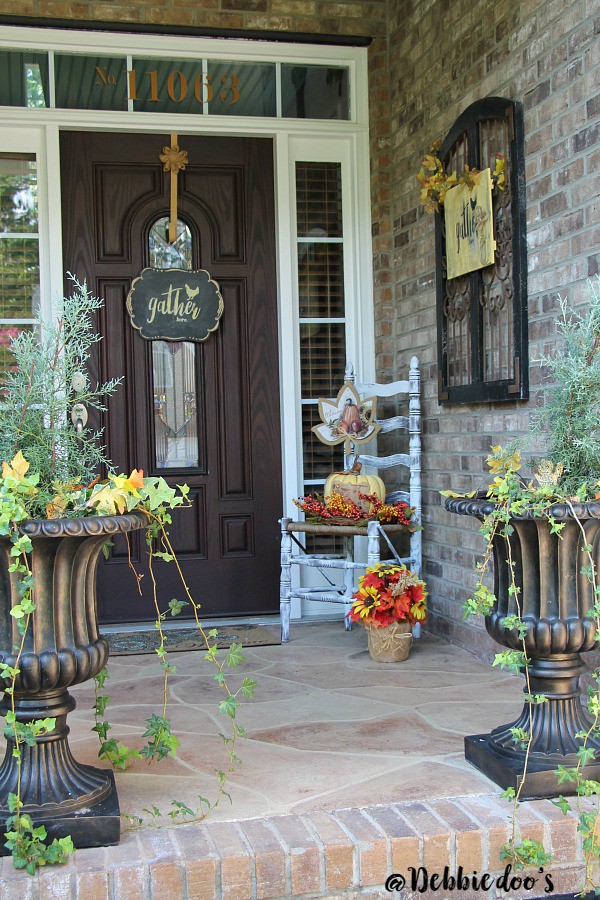 Not sure if I every showed you the Gather here pallet sign I made? I really can't remember if I added it to another post recently or not.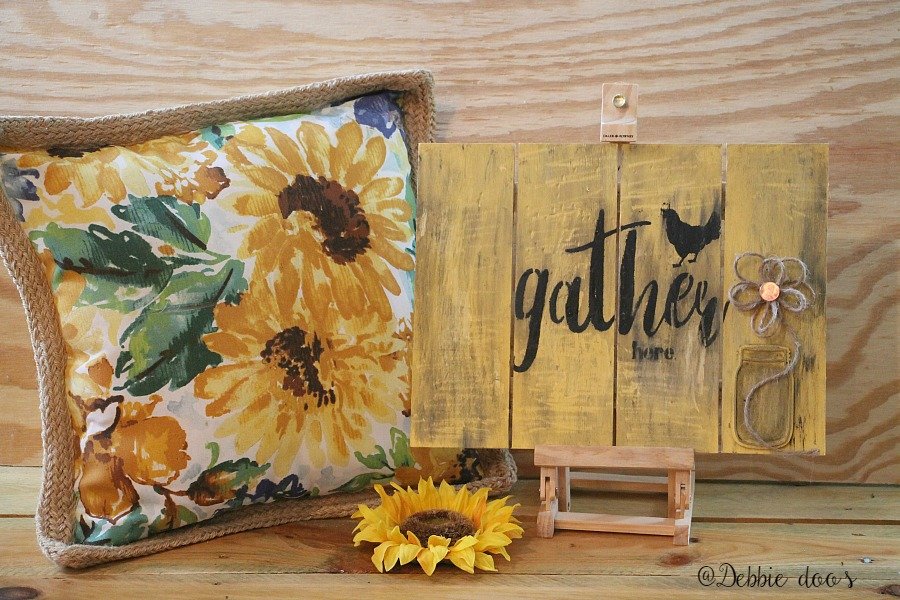 I made another twine flower for that and used a mason jar cut out I found at Walmart in their craft section along with the pallet sign.
I painted the sign with the maze color chalk paint and rubbed on some brown craft paint, then heavily distressed it, and even banged it up a bit.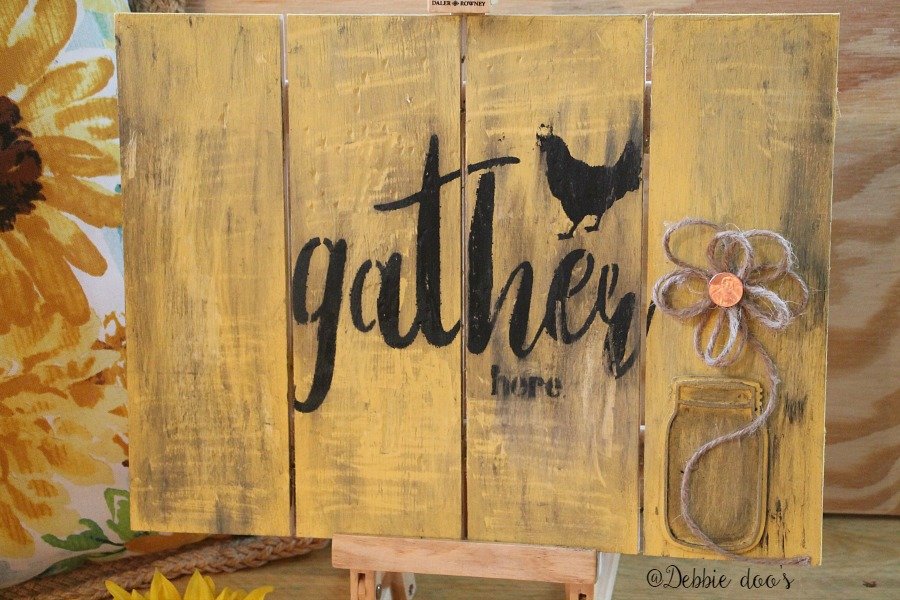 I added a penny in the center of my flower for good luck! I wished myself luck HAHAHAHA!!~ Hey, nothing wrong with that right.
Just in case you have missed any of my other faux pumpkin ideas
I have done just a few in the past.
I will leave some basic supplies needed at the end of this post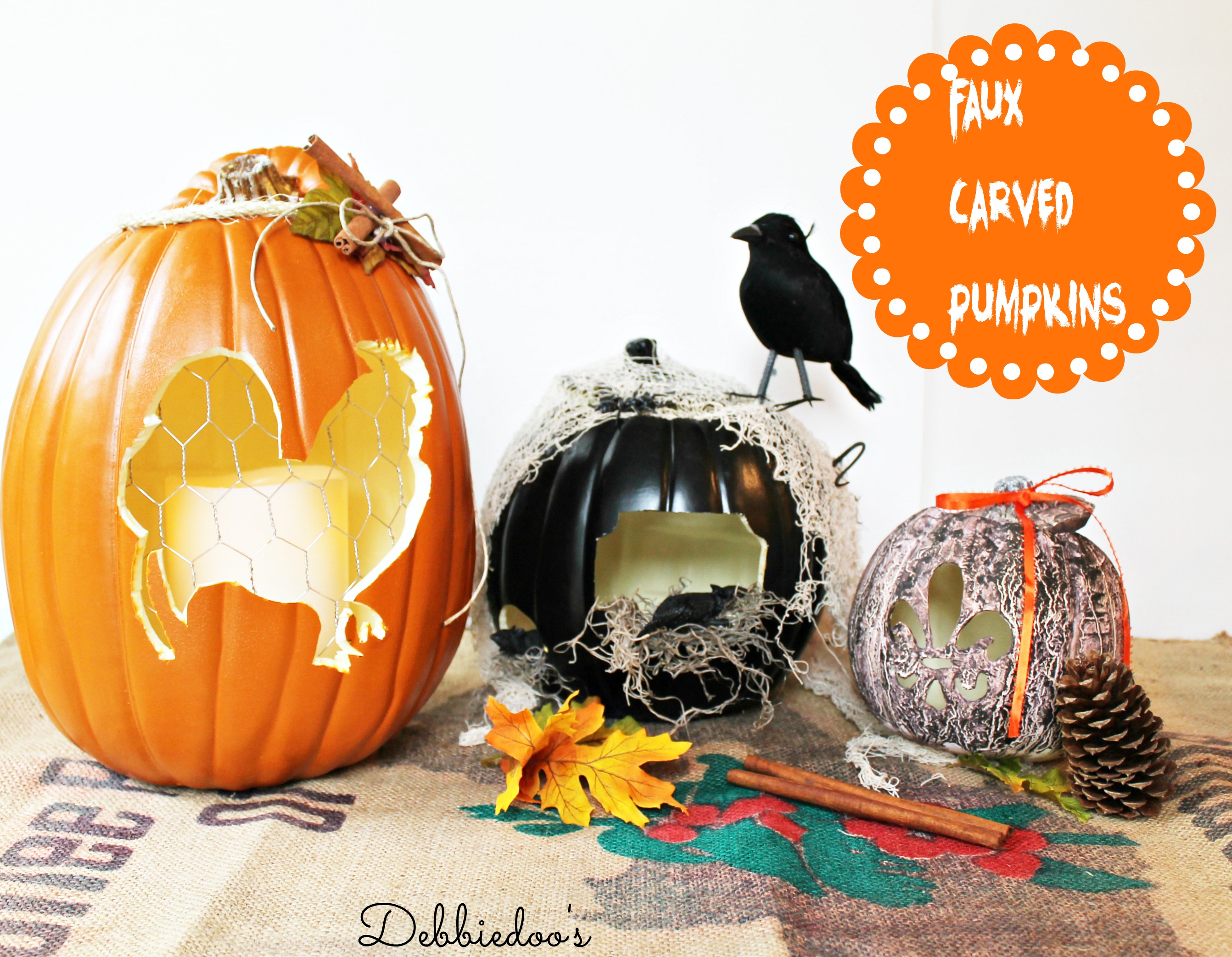 My stencils will be arriving Friday. My plan from there is not have them shipped to the distributor and from there, they will be ready to roll!
Thank you for your visit today!
I share all things, thrifty home decor, crafts and a recipe or two on occasion.
If you would like to commit to becoming a subscriber, I would love for you to join me.
Amazon associate affiliate links