"Step right up and don't be shy! Because you will not believe your eyes":) .  I don't know why I had that song stuck in my head today.   I would say probably because I have too much stuff on our front porch and thought hmmm..this could be an eye sore to the neighbors.  Good thing there is a big Japanese maple giving us privacy.
I actually love our front Southern porch.  Southerner's aren't minimalists, typically.  I know I certainly am not. It would drive me cray cray not to have things I love surrounding me.
Today, I am sharing a whimsical wreath I made from dollar tree decor for our whimsical Southern style porch.
Grab some sweet tea, and come on up.
It's not the norm to see Haint Blue porch ceilings around our hood.  I love the history and tradition so a few years back we painted our porch ceiling Haint blue.  I can't say it has kept the spiders away, but it has warded off evil spirits from entering.
At least, I haven't seen any entering.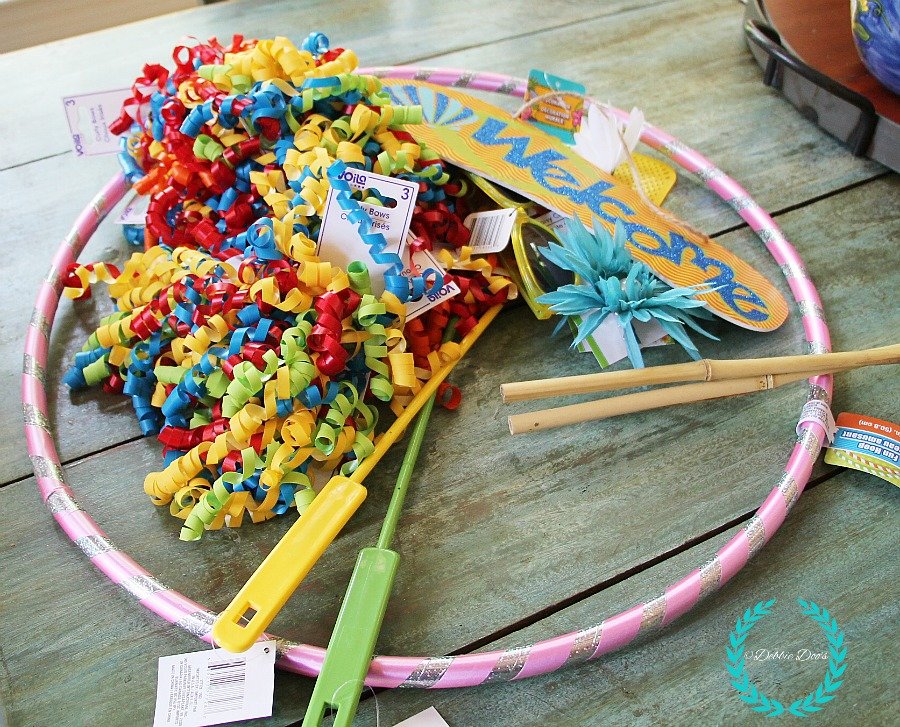 So today, I decided it was time for a dollar tree run.  It's been since the Spring that I have crafted anything Dollar tree. I think the last wreaths I made were my Spring and terra cotta mini wreaths.
Of course, never having a plan, I just pick up things as I go.  I found this mini hula hoop, some fly swatters, a welcome flip flop sign, and some curly ribbon gift bows.
I decided on a fun and whimsical front door wreath.  I used some 3M duct tape I had on hand to wrap around the hula hoop so that no pink and silver sparkle would peek through.
Then  I adhered the curly ribbon around the hoop.  First tearing off most of the tag but leaving a little to put a drop of hot glue on to stick to the hula hoop.
I then added the fly swatters, sunglasses and welcome sign to represent Hello Summer, and of course welcome to our home.
I can just imagine what my husband is going to say when he see's this. It could be a reaction as bad as the Pool noodle wreath I did a few years ago.  He hated it LOL!  For the most, he likes what I craft, but when I get a little too whimsical , he sort of rolls his eyes.  I hate when he does that!
I had to add some butterfly catchers also from the dollar tree to my Balsam Hill Urns.
I went from Classy, to sassy.
I added my summer pillows to the rockers, and said I'm done! Feels fun, cozy and cute to me.
The pillows came from Walmart btw.
Thanks for stopping over today.  If you are not a regular here, I sure would LOVE to see you back again.
A few of you have mentioned you made a welcoming porch sign after you saw mine.  I would love to see it. Please email me a picture:)
XO
Thank you so much for visiting with me today.
If you are new here, welcome! I am also very excited to share my new stencil line with you.

[envira-gallery id="32693″]
Thank you for your visit today!
To view my stencil gallery projects you may check out my Debcreates.com page. 
I share all things, thrifty home decor, crafts and a recipe or two on occasion.
I also have an Etsy shop!

Sign up today and receive a few freebies. 12 months of seasonal printable art.
If you would like to commit to becoming a subscriber, I would love for you to join me.
I share all things, heart, home and a recipe or two on occasion.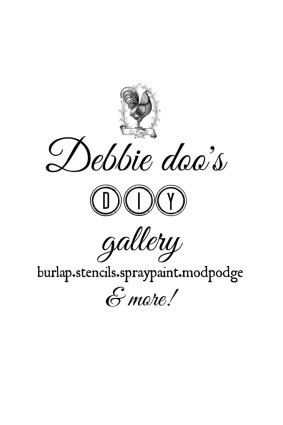 And if you love the Dollar tree, I have plenty of ideas there as well.