Red doors have captured the imagination of people across time and cultures, evolving into a powerful symbol with various meanings. As a bold symbol interpreted in various ways, the red door is a fascinating subject of exploration. This article takes you on a journey through the different interpretations of red doors, revealing how their meanings have changed throughout history and across different cultures.
Read on to discover the various interpretations of red doors in Ancient Chinese culture, Christian tradition, early American History, European History, contemporary culture, and dreams. Learn more about the color red and doors in our FAQs section.
Red Doors in Ancient Chinese Culture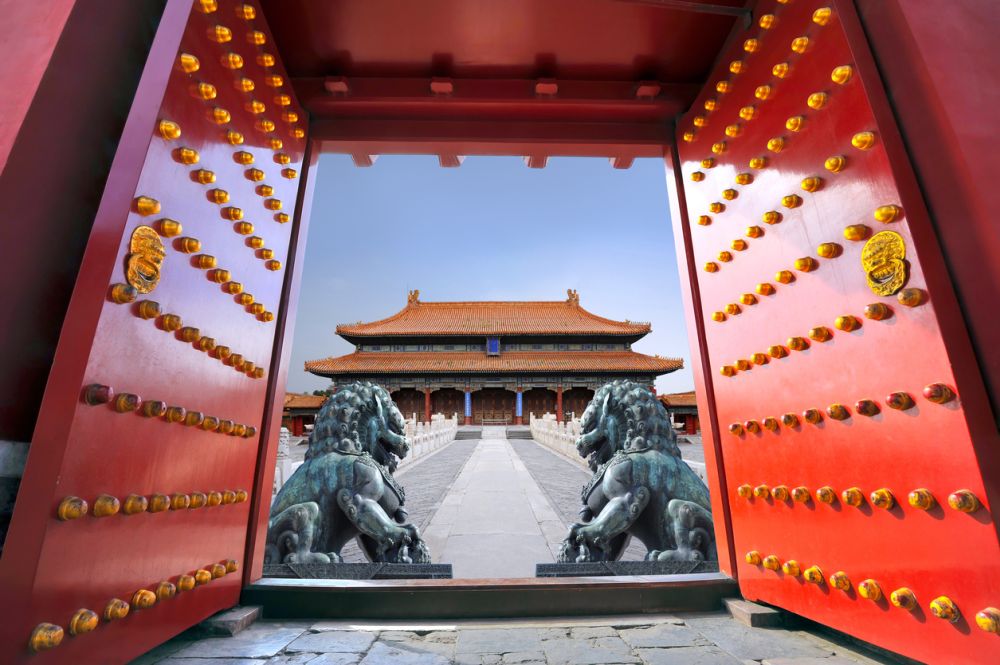 In ancient Chinese culture, red doors were closely linked to the practice of Feng Shui. This philosophical system emphasizes the harmonious relationship between people and their environments. A red door was believed to attract positive energy, or chi, and ward off negative influences. The vibrant color of red doors was seen as a way to create an inviting and auspicious atmosphere in the home.
Chinese New Year celebrations feature red doors prominently. Traditionally, families would hang red paper couplets on their doors to welcome good fortune and happiness. These couplets often contain poetic verses or well-wishes for the coming year. The red color was thought to help drive away evil spirits, creating a positive and festive environment for the family.
Red Doors in Christian Tradition
In Christianity, the color red holds significant meaning, symbolizing the blood of Christ that was shed for humanity's salvation. During the Passover, the Israelites were instructed to mark their doorways with the blood of a sacrificed lamb to protect their firstborn from divine judgment. This act is often seen as a precursor to the Christian tradition of painting church doors red.
Red doors in Christian churches also represent sanctuary and refuge. Those seeking protection from persecution or punishment could find solace within the sacred confines of a church with a red door. Additionally, the red color indicates the presence of the Holy Spirit, often depicted as tongues of fire descending upon the apostles during Pentecost.
Red Doors in Early American History
In colonial America, red doors held a different meaning. Red paint was expensive and hard to come by, making it a symbol of wealth and social status. Homeowners with red doors were seen as prosperous and influential members of society.
During the time of the Underground Railroad, red doors took on an even more profound meaning. They served as secret signals for safe houses, offering shelter and assistance to escaping slaves. These doors represented courage and hope in the face of adversity.
Red Doors in European History
In the United Kingdom, particularly in Scotland, red doors were once painted to signify that the homeowner had paid off their mortgage. This act demonstrated financial stability and prosperity, and the red door became a symbol of success and accomplishment.
In Ireland, red doors were believed to ward off evil spirits and bring good luck to the household. They also have a historical connection to the Irish War of Independence when homeowners painted their doors red to show support for the rebels fighting against British rule.
In some European countries, red doors can be found on churches, which is rooted in biblical symbolism.
Red Doors in Contemporary Culture
Today, red doors continue to be popular in modern homes, often making a bold statement, enhancing the curb appeal of a home and creating a sense of warmth and welcome. Many homeowners still believe that a red door attracts positive energy, good luck, protection, and prosperity, a belief rooted in ancient Chinese culture.
Red doors have found their way into popular media, serving as powerful symbols in television shows and films. They can represent change, opportunity, or even mystery, depending on the context in which they appear.
Red Doors in Dreams
Dreams involving a red door can carry various meanings depending on the context and the individual's personal experiences. However, some general interpretations can be applied to understand the symbolism of a red door in a dream:
A new opportunity or a significant change in your life. The bold color signifies that the opportunity is hard to ignore and may require courage to embrace. It could be a new job, a relationship, or a personal transformation.
Intense emotions or that you may soon face a situation that triggers strong feelings, such as love, anger, or passion.
A mystery or an unknown aspect of your life that you are curious to explore. The door could symbolize a hidden desire, a secret, or an unresolved issue that you need to confront.
The boundaries you set between yourself and others. It may indicate the need to establish or reassess your personal limits, protecting your energy and well-being.
Spiritual growth or development. You may be ready to embark on a new spiritual journey or deepen your existing beliefs.
FAQs
Discover more information about the color red and doors.
Could a red door mean something bad?
No, a red door is not typically associated with something bad.
What does a red ribbon on a car door handle mean?
A red ribbon on a car door handle can have various meanings depending on the context and cultural background. Some common interpretations include:
Protection from negative energy, accidents, or harm. The ribbon is believed to bring good luck, safety, and blessings to the vehicle and its occupants during their journeys.
A celebration or special event, such as a wedding, anniversary, or graduation. In these cases, the ribbon serves as a decorative element, adding a touch of festivity and joy to the occasion.
Support for a specific cause, such as HIV/AIDS awareness, substance abuse prevention, or heart disease awareness. The red ribbon serves as a symbol of solidarity, advocacy, and a commitment to raising awareness about these issues.
What does red tape on the front door mean?
Red tape on the front door carries different meanings, depending on each culture. Here are some examples:
A celebration, special event, or achievement within the household. It could mark a birthday, wedding, graduation, or other milestones.
Protection from negative energy or evil spirits, or attracting good luck and positive energy. The red tape's specific symbolism would depend on the underlying cultural or religious beliefs.
A warning or caution sign, indicating potential danger or hazards within the property. This could be due to construction, repair works, or other safety concerns.
What does a red X on a door mean?
A red X on a door can have different meanings depending on the context and location. Here are some possible interpretations:
Warning sign to indicate potential danger or hazards within a building or property. This could be due to structural instability, fire damage, or the presence of hazardous materials. The red X serves as a caution for people to stay away or avoid entering the premises for safety reasons.
A building has been abandoned or condemned by local authorities. This may be due to the property being deemed unsafe or unfit for occupation, often as a result of code violations, structural issues, or public health concerns.
During disaster response situations, such as hurricanes, floods, or earthquakes, emergency services personnel may use a red X on a door to mark that a building has been searched and cleared of occupants. This helps rescue teams keep track of which structures have already been inspected and avoid duplication of effort.
In the urban exploration community, a red X on a door might be used as a signal to fellow explorers that a particular building or location is either unsafe or uninteresting. This informal marking system helps urban explorers to identify which sites are worth exploring and which ones should be avoided.
What does red cloth above a door mean?
A red cloth above a door could indicate different things depending on the cultural context or the specific situation. Here are a few possible meanings:
In Chinese culture, a red cloth or red banner above a door may symbolize good luck, happiness, and prosperity. During the Lunar New Year or Spring Festival, people often decorate their homes with red decorations like lanterns, couplets, and banners to attract positive energy and ward off bad luck.
In Indian culture, particularly during weddings, a red cloth or banner above a door may be used as a decorative element. Red is considered an auspicious color in Hinduism and is often used in wedding ceremonies to symbolize love, passion, and fertility.
In some spiritual or religious traditions, a red cloth above a door might be used to indicate a sacred or holy space, or to ward off negative energies or spirits.
A red cloth above a door might also be used to celebrate the opening of a new business, an event, or a special occasion.
What is "Red Door, Yellow Door"?
"Red Door, Yellow Door," also known as "Black Door, White Door" or "Doors to the Mind," is a psychological game or guided meditation typically played by two or more people. The game involves one participant, the "traveler," who enters a trance-like state while the other person, the "guide," verbally directs the traveler through a series of imaginary doors, each with a different color.
The objective of the game is to explore the subconscious mind of the traveler, delving into their memories, fears, and desires. The different colored doors represent various aspects of the traveler's mind, and each door can lead to a unique scenario or experience.
Here's how the game is usually played:
The traveler sits on the floor or lies down in a comfortable position, closing their eyes.
The guide places their hands on the traveler's temples, applying gentle pressure to help induce a relaxed, trance-like state.
The guide then leads the traveler through a series of deep breaths and relaxation exercises, preparing them to enter their subconscious mind.
Once the traveler is relaxed, the guide begins to describe a hallway or a series of doors with different colors, encouraging the traveler to choose one to enter.
The traveler narrates their experience as they explore the rooms behind the doors, describing their surroundings, feelings, and any characters they may encounter.
The guide listens and asks questions to encourage further exploration but should be prepared to guide the traveler back to reality if they encounter distressing experiences or become too immersed in the game.
"Red Door, Yellow Door" can be an intriguing exercise in introspection and self-discovery. However, it is important to approach the game with caution, as delving into one's subconscious can sometimes unearth unresolved issues or unsettling emotions. Participants should be prepared to end the game if it becomes too uncomfortable or emotionally distressing for the traveler. For example, the mention of a "man in a suit" in the context of the game is generally considered a warning sign. Some players believe encountering a man in a suit, especially if he appears threatening or mysterious, indicates that the participant should immediately end the meditation or game. The man in a suit is thought to represent negative or dangerous energy within the subconscious mind.
Conclusion
Throughout history and across cultures, red doors have come to symbolize a variety of meanings, from attracting positive energy to signifying refuge and protection. Their enduring appeal in contemporary society attests to the power of color and the rich symbolism it can evoke. As you consider the meanings behind red doors, you may find inspiration to explore the symbolism of color in your own life and appreciate the stories it can tell. If interested, check out our easy guide for painting your pantry door red.