Hi there everyone!
LOVE
me some vintage post cards and anything Valentine's day!
You already know that about me.
In fact what occasion or Holiday don't I like to change it up for?
Easter is probably my least favorite because of pastel colors, I really don't care for them in our home, however, I do make do.
So onto my Vintage whimsical Valentine Mantel this year.
Last year just around this time, is when we painted our fireplace surround.  I never looked back!
So let's start with the dollar tree decor.
 Floating hearts, which I did last year as well on our Valentine Mantel 2013.
I simply hot glued a ribbon onto the heart and draped them, in different lengths.  I then taped them to the mantel.
 These little gift boxed are perfect just to toss around and add to the Valentine vibe.
Rose petals, also from the dollar tree.
I just used a few of these  Valentine boxes for bakery goods and a Valentine gift idea.
Little fabric sticky hearts,  from the dollar tree.
I embellished on just about everything in sight.
Heart picks in the urn and ribbon from the dollar tree.
I kept some of the winter greenery in the urns, it is still winter so it goes.
The XOXO came from Target many moons ago.
Vintage postcards, I believe my Mom bought me sometime ago and I just used them for the first time this year.
Kept the Christmas mantel red beads on, also from the dollar store and just used clothes pins to attach the cards.
Got my boys Christmas picture all framed and nice on the coffee table.  First pic I have had of these boys together in a long time.
They fill my heart!
I already shared my Valentines burlap banner with you and here you can get a full view.  Not much on it but the burlap
some of those fabric hearts
and I plunked some dollar tree rose heads in there.
Simple, but super cute and festive!
 I do believe that's all folks!
thanks for stopping by today.
You can check out my All things Valentines archives while you are here.
and How about more Dollar tree LOVE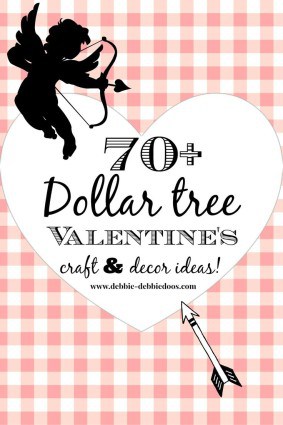 If you are not a regular here, I sure would love to see you back again.
Cheers.
XO
Thank you so much for visiting with me today.
If you are new here, welcome! I am also very excited to share my new stencil line with you.

[envira-gallery id="32693″]
Thank you for your visit today!
To view my stencil gallery projects you may check out my Debcreates.com page.
I share all things, thrifty home decor, crafts and a recipe or two on occasion.
Sign up today and receive a few freebies. 12 months of seasonal printable art.
I have also created my own custom apron. "I work by the flour" logo on linen deep front pocket. My husband was the witty one with that slogan:)
Sold on Amazon Debbiedoo's custom apron
.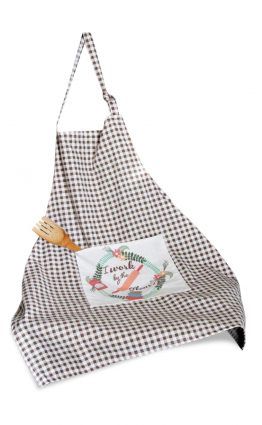 If you would like to commit to becoming a subscriber, I would love for you to join me.