You just never darned there know what you will find at Goodwill.  I wish I would find an old couch stuffed with money:)  That never has happened though. Then again, I never have checked.
Welcome to this months edition of Thrift store finds and makeover.
This is an old find I shared back around 5 years ago.  I figured most of you have never seen it before and I wanted to share again.  It's one of my favorite finds. Plus I moved it and it found a new partner.
I had no clue what it was at first.  I actually thought it was a microwave cart.  You can read the original post here Then a few of my readers said no, that is an old typewriter table.  I was shocked.  I purchased it for less than $20.00, that much I remember.  I brought it back to life with a light stain and some sanding with sandpaper back then.
It once resided in the kitchen, but years later after I actually found an old typewriter, it only seemed fitting to pair them up together.
The other day, I gave it another fresh coat of stain, and rolled her on back near the entry.
I always have such random thoughts when I look at old things.  I wonder who's they were, and why they discarded it.
Finding the typewriter was key! I have been looking for so long and didn't like the ones I saw, or they were way too pricey.  My husband actually found this one for me on Ebay for $25.00 and it was free shipping.
And the perfect fit.
I have been in Valentine decorating mode around here.  It's sort of a mess in the back ground.  You just can't see it:)
The little sanding and stain brought the table totally back to life.
Old church bulletin above the typewriter table.  You may also notice an old Physician bag under the table.  My FIL also found that at Salvation army.  It's all leather and very cool.  Remember the days of house calls??
How about I show you a few more vintage finds while you are here.
When we purchased the new entertainment center it was much larger than we even imagined.  It sort of overwhelmed me.  Not to mention, it didn't come with any lighting.  At night it was dark on that wall.
So my husband hopped on Ebay again and found two vintage brass lights for $20.00.  He wired them and hung them from the top.
The rooster bottle my FIL found at Salvation army for me.  It was a buck.  He couldn't leave it behind.  It's hand painted.
I found the bottle cap topper when my in-laws where here.  We took them to an antique mall and this was the first thing that went in my cart.  It was $7.00 and even came with the bottle caps that my husband found a jar to put them in.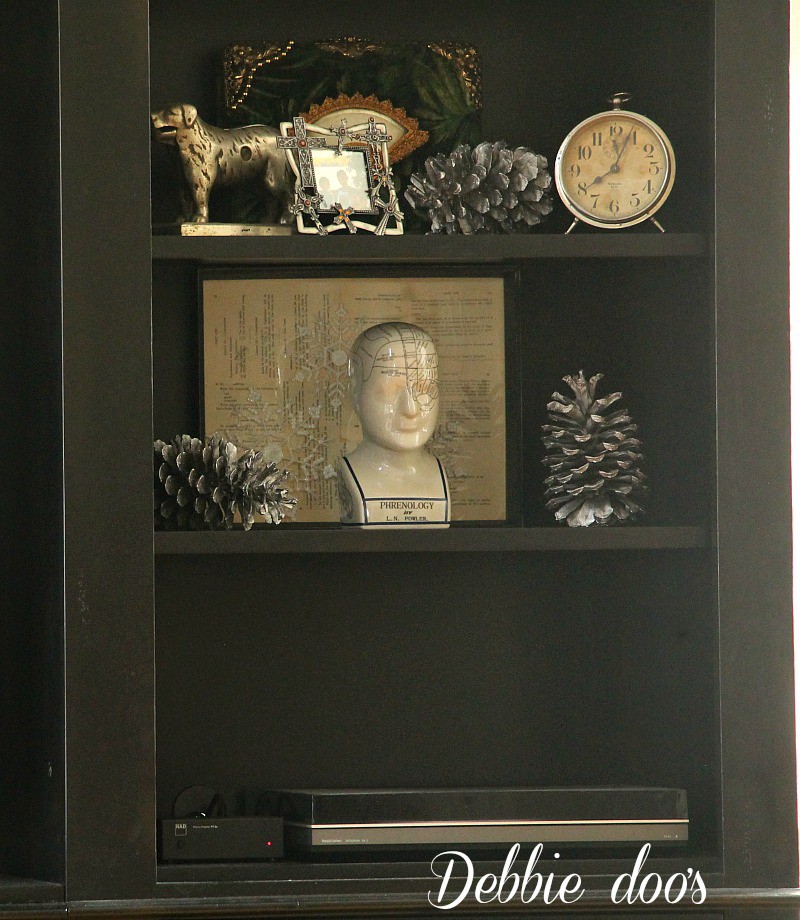 That head thingie, my husband picked that up the other day.  I don't get it quite frankly, but he liked it.
My Winter art is set behind it.  Vintage clock, vintage dog nutcracker again deal ole FIL find.
FIL gave us the seltzer bottle too.  I told him, as much as I love everything, I am busting at the seams here with old stuff.  I do think I have an old fan coming though that he has had in his basement for a long time.  So, as much as I say please no more, I go and ask what else he has HAHAHA!!~
You can check out my
Don't forget to check out the other gals:
Our Uncommon Slice of Suburbia