The purpose – where I start – is the idea of use. It is not recycling, it's reuse. – Issey Miyake
Perfect quote for the perfect project!
It all happened on a snow day. Yet another, our boys missed school because of SNOW in the South.  Don't even get me started.  This month is almost over.
It sure looked pretty though.
HOLLA if you can hear me:)
Today, I am sharing a recycled magazine mod podge terracotta pot project.
Creating your own French Country terracotta pot for your kitchen home decor.
 Back a few weeks ago, I was honored to be featured in Woman's World magazine for my drop cloth rooster pillow project.
I of course bought a few extra copies and will frame one and give some to family.
The  idea hit me to make a cute French terracotta pot from the page I was featured on.  The page was all about French Country style and of course I loved it all.
The Terracotta pots came from the DOLLAR tree, so essentially this project cost be around $2.00 bucks to make.
You can use any magazine clippings you like to achieve the same.
When I do a mod podge project I always apply the mod podge in sections with a foam brush.
Then I adhere the magazine clippings and smooth them out with my fingers. I also add a little mod podge to the back of the paper.  I would like to mention that mod podge on terracotta dries quickly.  But no big deal, just apply more as needed.
I love mod podge on my hands.  Don't ask me why.  I think perhaps I like peeling off the dried glue.  It feels like a hand peel.
The mini pot I simply painted with Chalky paint and stenciled.
You know how much I love to do that.  In fact, I just did my first video showing you how to paint on glass with chalky paint.  I was so nervous, that I didn't even finish the video.  But with that said, the finished result was my Chalky painted stenciled mason jar I shared last week. I share the link to the video down below.
I think I found a pack of these stencils at Walmart.  They come in a big pack and all different designs, scrolls, flowers, shapes, etc.
The stencil was the perfect size for this mini terracotta pot.
I think they both turned out pretty adorbs!
I added Fresh Lavender to my pot.  You can add a plant or herbs just the same.
And there is the clipping from my feature.
Happiness:)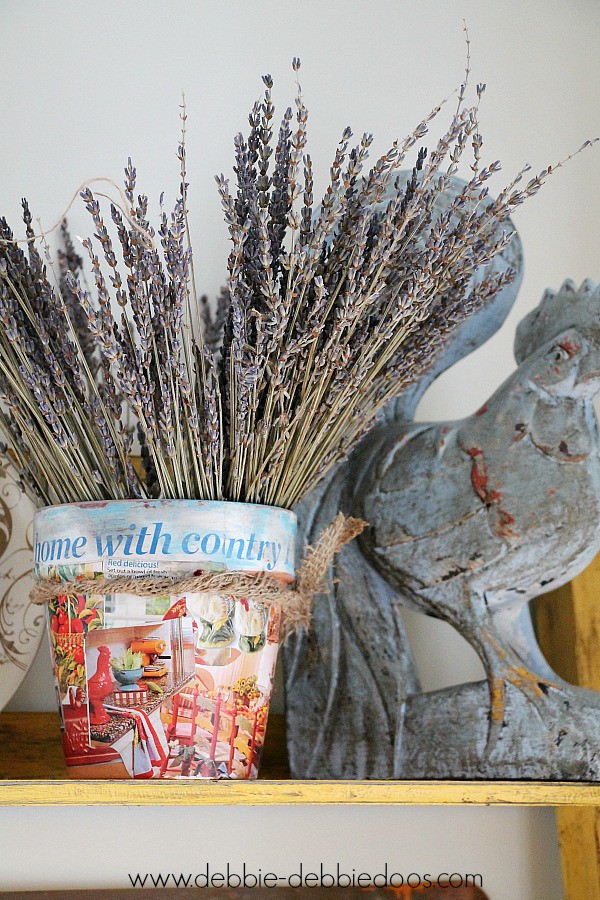 I have been playing around as to where to put my Terra Cotta pots.
Because that's what a girl does on a Snowy day in South Carolina with the kids home from school:)
Which btw, it hardly snowed and they called this a State of Emergency.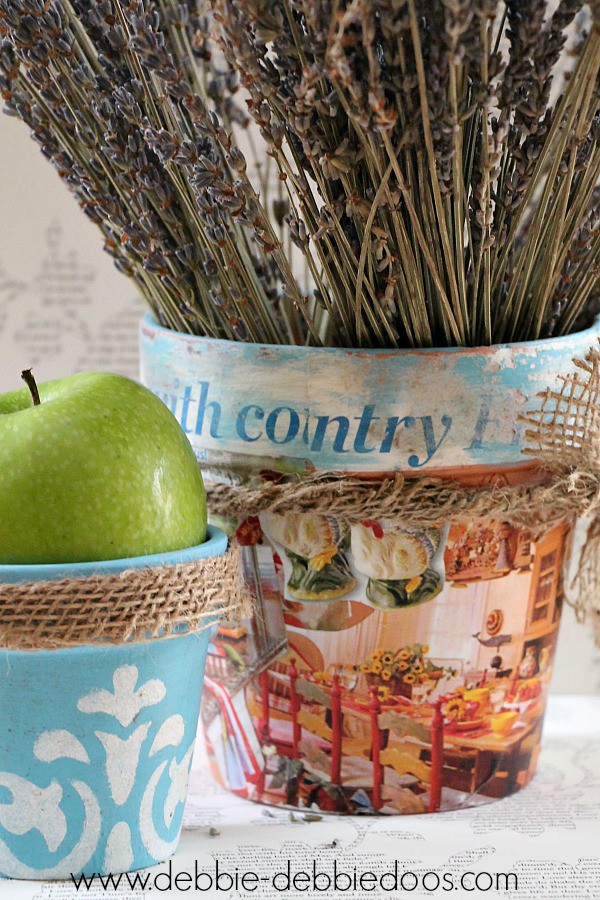 You may notice the trim on the large pot has some chalky paint dustings on it.  I just took my brush and lightly painted over it, then sanded it a bit to get a little weathered worn look. And soooo not perfect.  That's the beauty of it, it doesn't need to be!
And that is
the purpose,where I start is the idea of use.
If you are looking for more garden ideas using Terra Cotta pots you may enjoy: How to age and distress a Terracotta pot
and
It's probably just best you check out my
Mod podge gallery of ideas..there are a lot more where that came from.
Check out my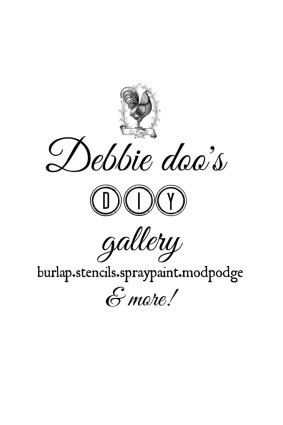 and I also share some quick and tasty recipes!
Thanks for stopping over today. If you are not a regular, I sure would love to see you back again.
XO
Thank you so much for visiting with me today.
If you are new here, welcome! I am also very excited to share my new stencil line with you.

[envira-gallery id="32693″]
Thank you for your visit today!
To view my stencil gallery projects you may check out my Debcreates.com page.
I share all things, thrifty home decor, crafts and a recipe or two on occasion.
Sign up today and receive a few freebies. 12 months of seasonal printable art.
I have also created my own custom apron. "I work by the flour" logo on linen deep front pocket. My husband was the witty one with that slogan:)
Sold on Amazon Debbiedoo's custom apron
.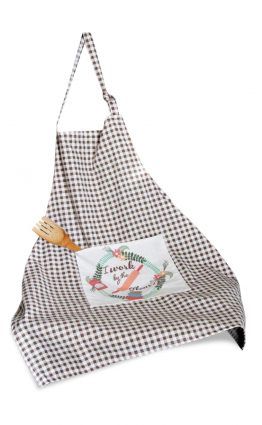 If you would like to commit to becoming a subscriber, I would love for you to join me.