Hi there friends!
Did you know our Spring Thing party had over 700 link ups?
YOWZA, that is a whole lotta creativity going on there.
I thought I would share a round up of Spring-Easter crafts that caught my eye.
Believe me, there were a lot to look at, and all awesome indeed.
First up….
These gorgeous tinted mason jars from Linda it all started with paint
totally caught my eye.
For one I love mason jars and for two the pop of color is adorbs.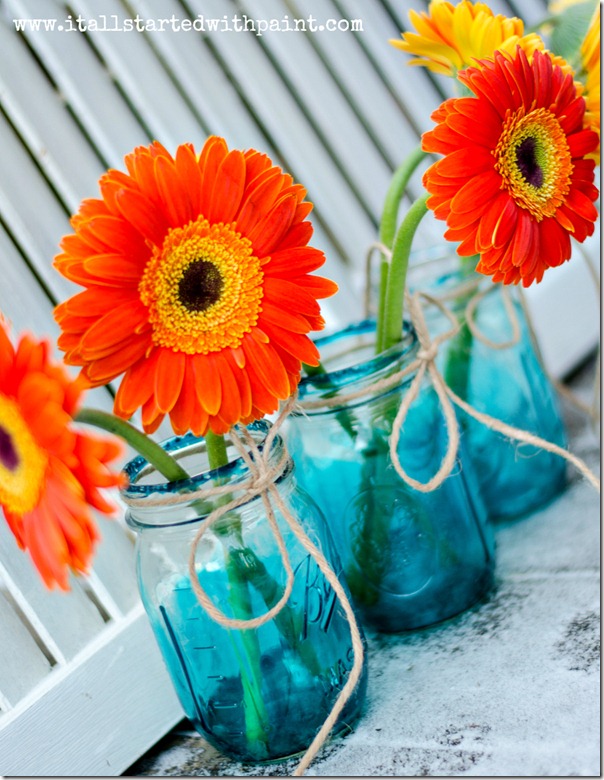 and the cute little twine:)
Next,
This pretty
Easter/Spring centerpiece caught my eye as well
Janet's house shows you the step by step on this.
so CAYUTE!
Now you know this
Spring burlap wreath would totally catch my eye.
LOVE!
Sweet Parish place did an amazing job!
Now what would be a Spring party
without Eggs?
Nothing, it would not be a party in my opinion.
These gorgeous
by Cups & Tales are really unique.
and my last feature that I loved
is this Spring printable
seeing I am totally into the printables lately
this one jumped out at me
Craft quickies did a cute job on this.
If you would like to see the other 695 entries
hop on over to the SPRING THING and check them out.
I think I summed up all my favorite things…Spring, burlap, mason jars, printables, mod podge and more!
I would also like to thank my our co-hosts who also joined me in the fun Spring thing party and made it be the fun that it has been
for both you, me and the rest of the world wide web!
Check out this list of fabulous bloggers/blogs: Jennifer from Dear Lillie {lovely tablescape!}, Kristin from My Uncommon Slice of Suburbia {super cute Spring sign made from scrapwood}, Kristin from Simply Klassic Home {simply elegant and easy DIY Centerpiece}, Heather from At the Picket Fence {Bird's Nest Coconut Cupcakes in Mason Jars}, Shannon from Fox Hollow Cottage, Debbie from Debbiedoo's, Heather from Setting for Four, Angelina from JoJo & Eloise, Vanessa from At the Picket Fence, Maryann from Domestically Speaking, KariAnne from Thistlewood Farms, Courtney from French Country Cottage, and Jennifer from Jennifer Rizzo