Good morning tomato lovers. JULIE here from Red head can decorate sharing the best homemade salsa in town! It's the first day of school here in Michigan, so I'm a little lonely. It's just me and my kitty, Sylvia today.
I am so excited to be in invited over to Debbiedoo's again.
Come on Debbie, the kids are at school, lets do this!
While growing up in Buffalo, NY we never had salsa in the house.
In fact, I don't even remember it being in the stores back then.
Chi's Chi's was the only Mexican restaurant for miles.
Nowadays, salsa is everywhere.
Including on my kitchen island when we have friends over.
Whether it's store-bought, or homemade, it's good for you, so we should eat it often.
Just look at these beauties…
Every August our family heads out to the farm and we go tomato picking.
This year was no exception, but our trip to the farm didn't turn out quite the way we had planned.
I tell you all about that fun day here: "Rotten Tomato Picking".
To sum it up quickly, the tomatoes up there were not picked by us, but they were certainly still salsa worthy.
Usually, after we get our tomatoes home, we lay them out on the counter and sort them according to who's the ripest.
Those are the guys we use for our salsa.
When I prepare this, I use a food processor.
If you don't have one, you can use a blender.
We prefer very authentic style salsa, without a lot of heat.
It's thin, it's salty, and you will become addicted.
You can of course alter any of the salt and heat according to your preference.
So lets make some salsa!
Fresh Tomato Salsa
(perfect for an appetizer for 6)
Ingredients:
8 large Roma tomatoes with skin (or any medium tomato)
1 green bell pepper
½ cup red onion
½ cup vidalia onion (sweet onion)
1 tablespoon kosher or sea salt
5 tablespoons white vinegar
fresh lime juice from 1 lime
5 cloves of garlic  
crushed red pepper (very little)
¼ cup fresh chopped parsley
½ cup fresh chopped cilantro
Directions:
Cut washed tomatoes in ½ and add to food processor. I keep the skin on for nutrients, and no one can tell. Wash bell pepper and take out the seeds. Cut in big wedges and place in food processor with tomatoes. Slice onion in wide pieces and add it to the mixture as well. Peel garlic and add whole cloves. Add salt, vinegar, lime juice, and a dash or 2 of crushed red pepper. Pulsate food processor until everything is diced up well. We like ours thin, but if you like it chunky, just don't pulsate for too long. Add fresh parsley and cilantro last and pulsate a couple more times. This is making my mouth water. If it's too salty, add another tomato. Not salty enough, add vinegar and/or salt. Adjust red pepper flakes as well. Serve with your favorite tortillas.
This year I made 2 batches and poured them into small Ball jars.
I'm not much of a canner, but I do have a tip about storing your salsa over the Winter.
Salsa does last quite a while in the refrigerator, but it will last even longer in the freezer.
Just like tomato sauce does.
I freeze mine right in the jars.
Yep, I really do.
Just defrost on your counter and it's like you just prepared it fresh.
Our friends were over this past Saturday and our buddy Tom ate an entire jar!
I gave him and his lovely wife, Karen, a jar for later too.
I hope you try it, and let me know how it was.
See you in October.
Love, Julie
Thanks for stopping by today!
I am also very excited to share my new stencil line with you.
Farmhouse/rustic stencil line by Debbiedoo's HERE
Thank you for your visit today!
I share all things, thrifty home decor, crafts and a recipe or two on occasion.
If you would like to commit to becoming a subscriber, I would love for you to join me.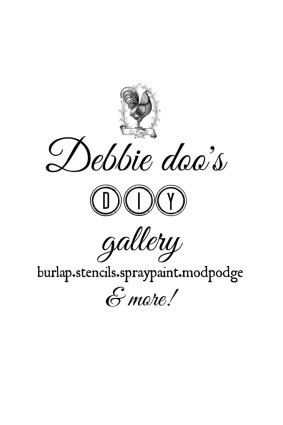 And if you love easy, tasty recipes…I have plenty of those.
I am also a huge Dollar tree fan and do lots of fun crafts per season.