Hi there everyone!
I told you I would have a ball per season decorating our new kitchen window shelving.
It's the little things that make me happy for sure.
Today, I am sharing some Styling the kitchen shelving with Valentine decor
Remember by Winter recycled craft jar?
Well that changed in a blink of an eye from Christmas to Valentines. I removed the bells and plaid trim and added heart beads and a heart sticker.
That's it. So easy and looks adorbs.
The hearts are cookie cutters also from the dollar tree. They sell them in a net bag in different sizes.
Of course, I just may use them as cookie cutters too. I will have to come up with a good cookie recipe for Valentine's day.
I kept my winterberry dishes up. They are too pretty to put away. After all it is still winter.
The nice thing about transitioning from Christmas to Valentine's day is keeping your red accents around. When I filled the mason jars with the red filler, I knew I would use it for Valentine's day too.
I just added stickers to the mason jars and filled them with some foam hearts.
It's so easy to jazz some decor up with Dollar tree.
Happy Valentine's decorating!
Pin it:)
You can check out my Valentine's archives while you are here.
and more Dollar tree LOVE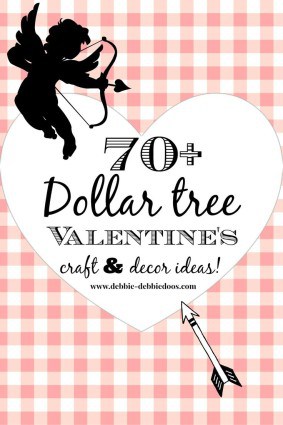 and more from our All things Creative team! Over ONE hundred decor and recipe ideas.