Good Morning!
Today, I am sharing 7 different stenciling ideas for your home decor.
Here it is 9:40ish and I am just shaking the cob webs. That is what Spring break is for I guess,
sleeping in:)
Today I am sharing 7 different projects using cutting edge stencils.
You may not have checked out the other 6 gals projects and I wanted to get them out there to you.
Stenciling can change and add to your decor anytime of year for a freshened up look.
First:
My project
using three different colors for shading and interest.
Next Shannon from Fox Hollow Cottage
Painted and Stenciled her open kitchen cabinets
It really turned out beautiful!
Next if you just want to start off with a small
yet makes a statement project
try what Jamie
from Southern revivals did
How cute is that?!
Then of course, you can really try your artistic abilities
and do what Rebecca did
She Stenciled an Outdoor Persian rug look
WOWZA!
Debbie from Refresh restyle
is always up to something neat..
she chooses the best color choices too.
I love her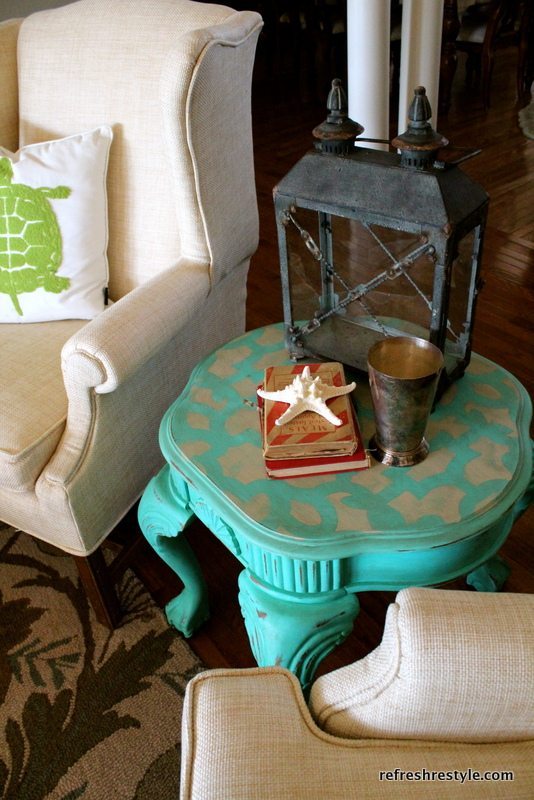 Kim from today is my someday is also in the furniture biz
so this gal knows what she is doing
Kim shares her Painted and stenciled armoire
Could this piece be any prettier?!
I love how she only did the top and then just two simple
medallions around the knobs on the bottom.
And last but never least
is Jessica
she shared a very cute
cute, cute, cute!
Stencils are a great way to change the look of just about anything!