I have been a busy little bee around here.
How about 30 +  Easy Spring/Summer spray painting projects for you.
What a difference spray paint can make!
You can freshen just about anything up with Spray paint.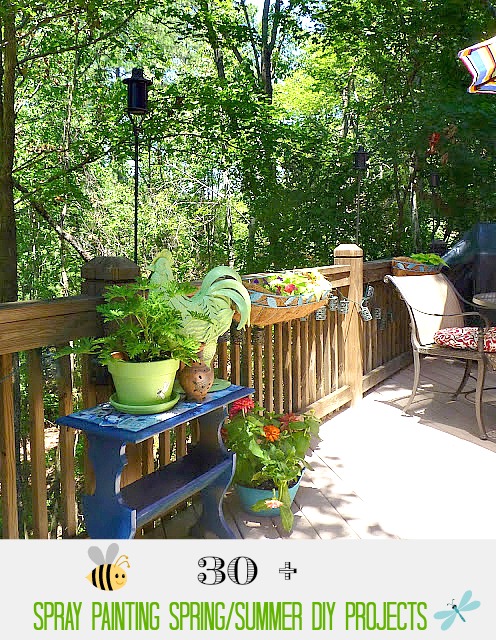 Painting, sprucing , prepping, planting.
 My gosh you would think someone important was coming over.
Well you never do know in blog land who is coming over,
 so I always try to do my best.
I seemed to be loving green and blue this summer.
My Roo's all got a fresh coat of Avocado green.
You may have laughed when I said I must be having someone important over.  It is true though, you never know who is lurking your blog. Just a reminder, COUNTRY WOMAN magazine spread on us will be out soon.You can see my magazine spread on my sidebar.
Don't you just love Color and how it can brighten up your mood?!
Speaking of BLUE…I had some chalk paint left and this piece was in sad shape.
I left it out all winter long, and thought I would try my spare chalk paint.
So far so good…
It totally brought it back to life again.
                                                You may want to check out my Spray paint gallery while you are here!