Hi there everyone and welcome to our Spooky Halloween porch.
Well, it's not really spooky honestly.
I would say you get the gist around here.
I have a lot of Halloween decor.
Been buying it for years and mostly from the Dollar tree.
On occasion I will pick up something new like this Trick or treat pumpkin from Wally world.
These Dollar tree mice are always a friendly greeting.
My splatted witch gets a lot of use.
I just used her when I did my Painting on Styrofoam craft.
Window clings from the dollar tree are always a cute and inexpensive way to add to the season.
Of course a little blood is always necessary during Halloween.
You for sure want to scare the kiddies away.
I want all the candy instead:)
I was sort of a lazy Halloween decorator this year.
I just added to the Fall porch instead of taking it all down.
Why do all that work over again November 1st.?
Poor guy scolded his hand while making skull stew.
Lost a few fingers and his eyes and ear popped off.
Poor guy,
you know he never had a chance.
Mr. Squirrel from my Fall porch decor was set free…but this guy,
he's another gonner.
I can't find my Halloween mat.
I had a cool one wipe your witchy feet
and I loved it.
It's probably buried with some more skulls in the attic.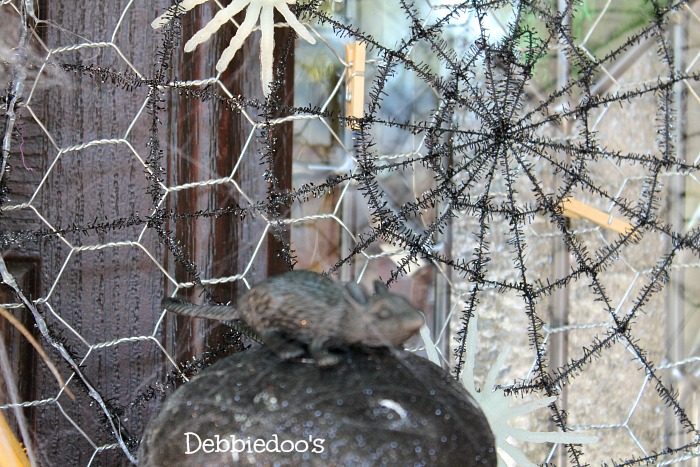 My chicken wire wreath got a mini makeover.
All I did was add to that as well.
All the dollar tree of course.
Again, you get the gist, but nothing too over the top or spooky.
I don't do snakes either.
Thanks for stopping by our Spooky not so spooky Halloween porch.
If you missed our Fall porch feel free to stop by and have some sweet tea.
Now don't forget to visit some of the other wonderful participants!
If you are new here, welcome! I am also very excited to share my new stencil line with you.

[envira-gallery id="32693″]
To view my stencil gallery projects you may check out my Debcreates.com page.