Hey Y'all! I am in no way shape or form a true Southern belle.  We are better known around these parts as a "half back"!  Have you ever heard that term?  Either did we until we moved to the South.  In our case, we moved from WNY to Florida, and then here to South Carolina.  That is where the term "half back" comes in.  We came half way back:)
A few things you get accustomed to real fast here in the South, are traditions,  BBQ, and of course, hands down "Sweet tea"  It's of course very popular.  I have a dynamite sweet tea recipe I will share with you but first, come on over and sit, sip, stay awhile and  have some sweet tea with me on our back deck.
Today I am teaming up with some other fabulous ladies and they as well will be sharing their Sensational Summer
 porches and table scape ideas. 
 I won't do a lot of talking in today's post. I will let the scenery and back deck speak for itself.
Remember my Diy thrifty welcome porch sign? It say's sip lemonade, however we are going the Southern sweet tea route today.
My pretty new  Y. Collection No. 2 candle smells so heavenly out here today.
 As you can tell, we are in a heavily wooded area.  This time of year I sort of feel like we are in a tree house when I sit out on the deck.  It looks beautiful, but come Fall, when the leaves drop. Complete nightmare of a mess.
 My love for the color blue carries all around
Down by the stairs, I now have a little garden table set up where I can pot my plants, and also display some pretties.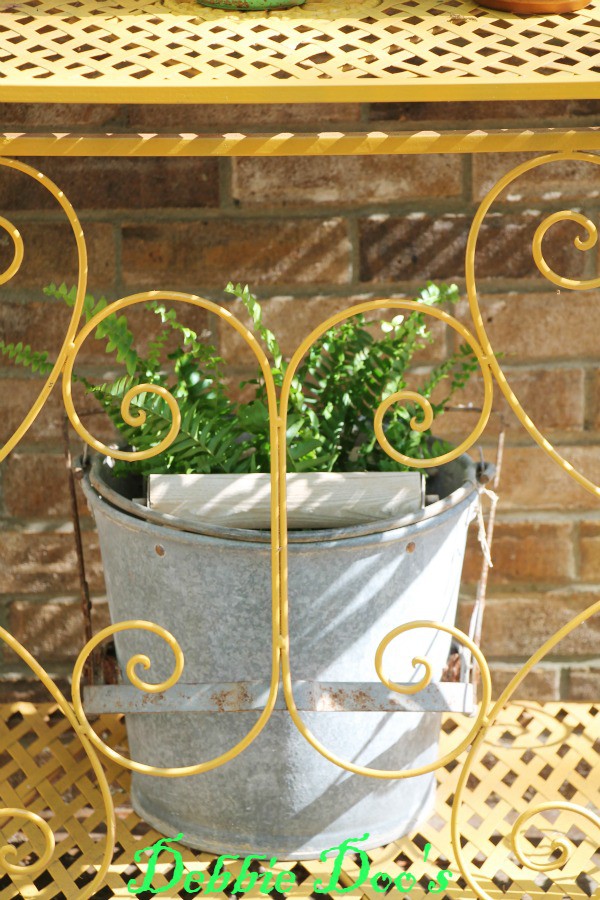 Old vintage mop bucket made the perfect home for a fern.  Why mop? Any excuse not to.  Oops, sorry, can't mop today, there's a fern in my bucket. Darn it!
How about that delicious sweet tea recipe?
3 cups water to boil with
4 regular size tea bags. I used Lipton
 Hope you enjoyed the sweet tea.  Thanks for stopping over today.
If you are not a regular here, I sure would love to see you back again. I share all things heart and home, diy, craft and recipe ideas.
xo
 I  have since added my solar lights from LTD.  You may want to check out that post. I have a little LTD giveaway for you.
Check out the other fabulous girls Garden decks and patio decor:
Setting for Four Sand and Sisal Domestically Speaking
My Uncommon Slice of Suburbia Cupcakes and Crinoline
DIY Show Off At the Picket Fence
Redhead Can Decorate On Sutton Place
Clean and Scentsible Yesterday on Tuesday
Top This Top That Town and Country Living