Hi there everyone!
Welcome to Summer simplified.  A group of gals along here with myself in blog land are sharing how to simple summer outdoors this season.
I admit, I wasn't quite ready to jump start into summer yet.  Only because I didn't want to get my flowers quite yet.  I have told y'all a thousand times I am a plant serial killer.
With that said, you are not going to see that many.  I even went ahead and bought a hibiscus tree for $10.00 that was on it's last leg.  It thought maybe I would have better luck with something half dead.
Where there is life, there is hope!
You may notice the deck railings are a different color this year.  I decided to try my hand at gel staining them.  I loved working with the gel stain when I did an interior door inside.  You can see how to age a door to look like wood here.
There is a nice variety of color choices. I used rustic mahogany by Minwax.  I also used a stain mitt that made the job even easier.  No mess, no stress.  The ease and clean up was a snap.  I love that it does not drip and dries quickly.  I have seen gals use the gel even on garage doors and kitchen cabinets.
You may also notice that is a different fire bowl in the middle.  Back in the fall I purchased an Allen and Roth one from Lowes.  I noticed when I took the cover off, the paint was all chipped.  It wasn't even 6 months old.  I called Allen and Roth and they told me to take it back and they would refund me in full.  I purchased a metal base one with a stone table.  Hopefully I have better luck with this brand.
I recycled some pillows I have had for a few years that I once used on our Spring front porch, I believe last year.  I went with blues and greens on the back deck this season.  You can see my porch pallet sign is still out there.  It is getting aged and weathered looking.  I like it that way though.
This is a view from the other side showing the lower deck.  Not sure if I ever took an angle this way.
Ceramic owls
from Amazon (Affiliate link)
But as you can see it is a great area to entertain.  We have plenty of cozy seating now.  Last fall I created the cozy deck and I couldn't be happier to get rid of the huge table that was once on the upper half.  You can see our previous summer porch here. The table we never sat at. Now we actually use all of  outdoor areas.
These few plants ought to be dead in no time.  I give it to mid July and they will be bye bye.  I have learned not to invest a whole lot in flowers.
You can only imagine how mess it gets back here come the fall time when leaves start to drop.  I have also learned instead of going out there every day to blow off the deck, I simply let it pile up and go out once a week.  I basically drown in leaves….NO JOKE.  As pretty as it is, is as messy as it is.
Rooster planter and solar light on deck came from LTD commodities.
If you missed my front porch a few weeks ago with my diy tarp curtains, you can visit that here
Thanks for stopping over today.  Please take a few minutes to visit some of the other fabulous ladies sharing their summer simplified ideas.
The new diy deck string lights project here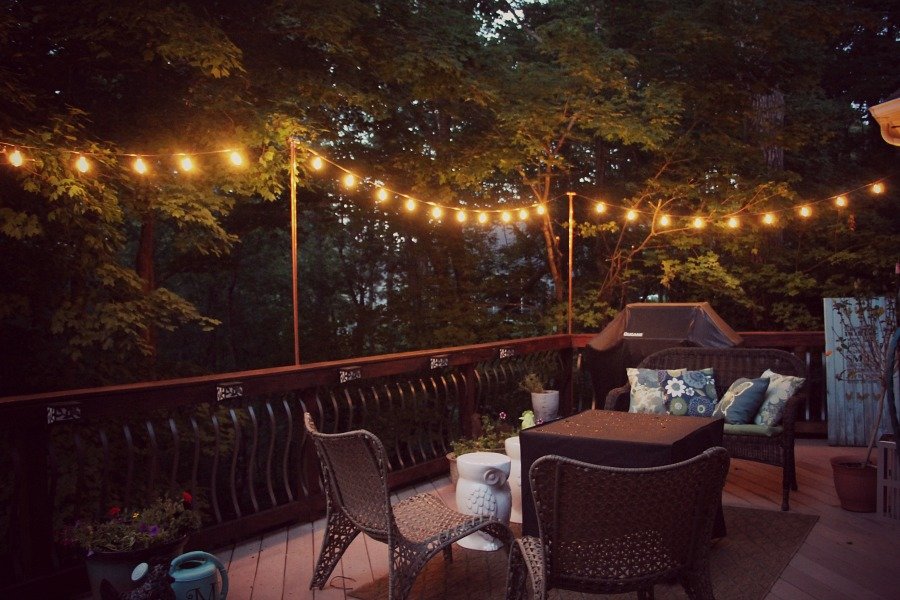 Thank you for your visit today!
I share all things, thrifty home decor, crafts and a recipe or two on occasion.
I always get asked about the Owl stools..here is the direct affiliate link to purchase.
If you would like to commit to becoming a subscriber, I would love for you to join me.
Day 4
Debbiedoo's
Craftberry Bush
At The Picket Fence
On Sutton Place
Day 3
In My Own Style
The Wood Grain Cottage
Maison de Pax
Love of Home
Setting For Four
My Soulful Home
Day 2
StoneGable
Duke Manor Farm
Savvy Southern Style
Southern Hospitality
Shabbyfufu
Day 1
Driven By Decor
Garden Therapy
Empress of Dirt
Cedar Hill Farmhouse