Simple Fall Porch Decorating
Hello there friends! Today I am sharing our simple fall porch. These days I have been busy purging the house. I am happy to say we are now down to two fall bins of decor. I do not need all that I have and have accumulated throughout the years. Less is more is my new motto in life.
When I painted the front door in Spring I wasn't sure how it would play out per season. I am happy to say I like the way it looks in the Fall as well. Blue and Orange seem to pair well together. Sort of reminds me of Howard Johnsons back in the day HA! It should be interesting to see how it all looks at Christmas time. I will make it work somehow.
The gather here rug came from Kirklands last year. It's my favorite rug. The urns I added some faux fall greenery and a few Dollar Tree pumpkins and the metal signs.
The green grass is real and left over from Spring. It will probably die very soon I imagine. For now it looks pretty good.
Those urns I have had for many years. Once originally black I painted them with Annie Sloan Chalk paint and love how they have aged over time.
We are enjoying the new patio set we purchased in the Spring. My husband and I sit out here often and it feels like another space in the house. It is also lovely when it rains and we can still be outside chit-chatting.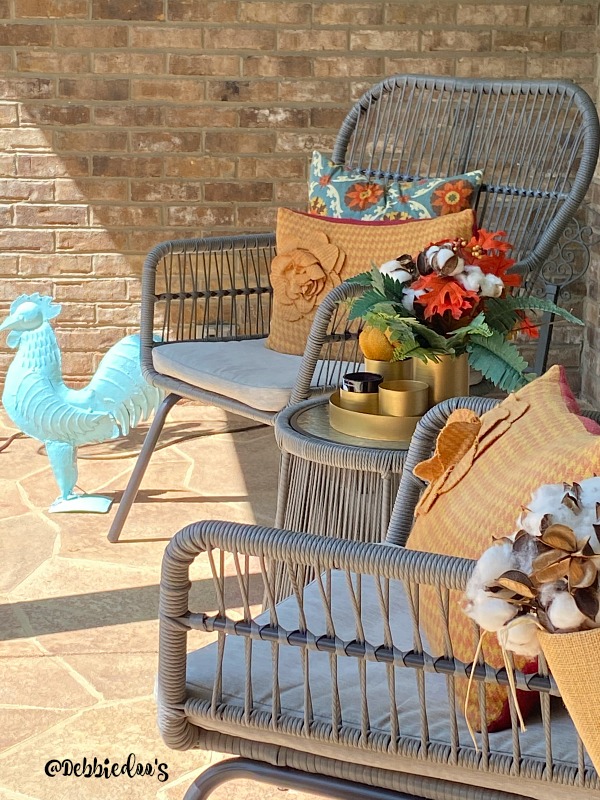 You will always find a rooster somewhere. Hard to believe all these years later I still love my roos. I can't imagine a home without them. Even at our condo, I have a roo or two around. They just follow me wherever I go.
I do enjoy having some owl accessories too.
This year the creeping Jenny I planted around 10 years ago really is taking over. I am not much of a gardener, however a lot of what I planted years ago, is still doing well. My husband asked me how far I wanted it to grow around the house. I am not sure yet, but so far I love that it is creeping around the front porch.
It's crazy a few little plants have gone this wild.
Just so you get an idea of what it looks like full on. This picture was taken back early Spring. Once the leaves change I will share an update on the front. The trees behind the house look so beautiful come the full bloom of fall.
Thanks for stopping by our front porch today. Hope you have a great week ahead.