Hope you like pumpkins! There are plenty of pumpkins to see here.  Shabby chic pumpkins, funky, fun, and more pumpkins.Welcome to the PRIMP your pumpkin party. Shabby chic rose tissue paper should do the trick for me.
I had a fun little photo shoot for my primp your pumpkin party.
A little pearls and some bling!  I just happen to have some roses in bloom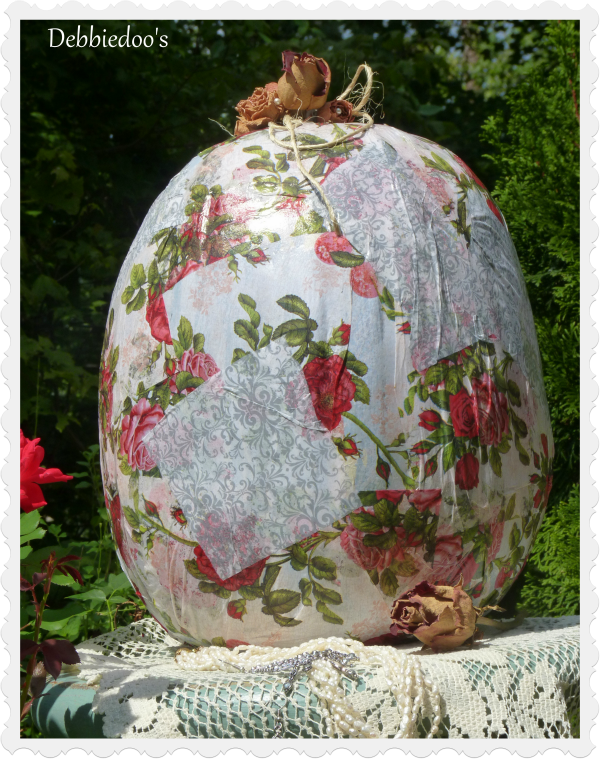 So that's it! A little mod podge, tissue paper from the dollar tree and time.
A Shabby chic Pumpkin! who would have thought? I will show you what she looks like in our bedroom next time around. So let's see how you primped your pumpkins. All we ask is that you add our button or link to your post that you are joining us. Oh and don't forget to meet some more pumpkin heads!
Have fun!
PLEASE give the thumbnails a minute to load.  I hope to see you back again.
Thank you for your visit today!
I share all things, thrifty home decor, crafts and a recipe or two on occasion.
If you would like to commit to becoming a subscriber, I would love for you to join me.
I am also very excited to share my new stencil line with you.
Farmhouse/rustic stencil line by Debbiedoo's HERE