A sentimental retirement gift or just because
Hi there friends! Hope all is well.  I have been a busy eager beaver around here lately.
 A local friend of mine noticed the mod podged french pots I shared on my blog a while back.
She reached out and asked if I could make a personal one for a sentimental retirement gift for her co-worker.
I said sure I can and asked her what the woman's favorite color was?  She said green:)
That is all I had to go by.  Oh and that she has worked for the company for over 30 years.
My first stop was Michaels for all the supplies.
I purchased the pot, scrap paper, fabric clock paper and some rhinestones.  The ribbon was an extra that I didn't even wind up using.  I am sure I will for another future project.
I already shared the tutorial with you on the last project.  Essentially this was the same except I used fabric mod podge for the fabric portion of the pot.
Assuming this woman will travel, I thought the travel scrap book paper was appropriate.  And of course, time is of no essence any longer so the clock fabric I also found fitting for the project. The only thing I painted on this pot was the rim…and I used chalky paint for that and lightly waxed it.
I randomly added the rhinestones for interest with my hot glue gun.
I mod podged her business card to a metal tag.
I even personalized the burlap gift bag with a stencil and monogram I already had on hand.
I wish her all the best in her future and retirement.  Lucky lady indeed.  The money tree was the perfect plant to add to the pot!
Cheers.
So if you ever need an idea for a sentimental retirement gift.  Make a travel retirement pot.
Thanks for stopping over today.
If you would like to check out my DIY gallery of ideas, I would love if you stayed a while.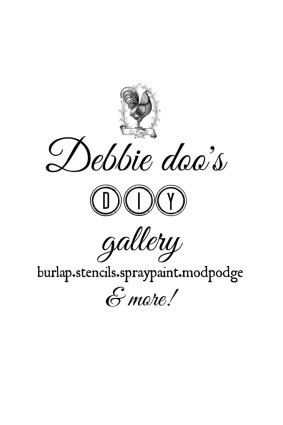 And if you like to work with Mod podge, you can check out my gallery of ideas there as well.
If you are not a regular here, I sure would love to see you back again.
XO
And I also have other Terra cotta pot ideas here
If you are new here, welcome! I am also very excited to share my new stencil line with you.

[envira-gallery id="32693″]
To view my stencil gallery projects you may check out my Debcreates.com page. 
I share all things, thrifty home decor, crafts and a recipe or two on occasion.
up today and receive a few freebies. 12 months of seasonal printable art.
If you would like to commit to becoming a subscriber, I would love for you to join me.