Creating your own stencil artwork on a DIY cutting board is a fun and easy way to add a touch of personality to your kitchen. With just a few simple materials and a bit of creativity, you can transform a basic mini cutting board into a stunning piece of art that's both decorative and functional.
In this article, we walk you through the process of transforming a mini cutting board into a stunning piece of stencil art that you'll be proud to display in your kitchen.
1. Gather your materials
Mini cutting board
Black paint
Paintbrush
Colorful acrylic paint
Stencil design of your choice
Makeup sponges
Spray adhesive
Protective surface (e.g., newspaper, drop cloth)
2. Prepare your workspace
Lay down a protective surface, such as a sheet of newspaper or a drop cloth, to keep your workspace clean and avoid any paint spills.
3. Paint the cutting board
First, paint your mini cutting board with black paint. Apply a thin, even coat and allow it to dry completely. This will create a beautiful contrast with your stencil artwork.
4. Choose your stencil
Select a stencil design that complements your kitchen decor or personal style. You can purchase a premade stencil or create your own by printing a design onto cardstock and cutting it out with a craft knife.
5. Apply spray adhesive
Lightly coat the back of your stencil with spray adhesive. This will help it adhere better to the cutting board and prevent paint from bleeding through the edges.
6. Position and apply the stencil
Carefully position the stencil onto your painted cutting board, ensuring it's straight and centered. Press down firmly to ensure proper adhesion.
Instead of using traditional sponge brushes, opt for makeup sponges. They provide a smoother application and are perfect for stenciling. Dip the sponge into your chosen acrylic paint color, ensuring that it's not saturated. Less is more when it comes to stenciling, as you want to avoid paint bleed.
7. Apply the paint
Using a dabbing motion, apply the paint over the stencil. Start with a light layer and gradually build up the color to your desired intensity. This technique, known as shadowing, creates a more dynamic and professional-looking stencil artwork.
8. Remove the stencil and let the paint dry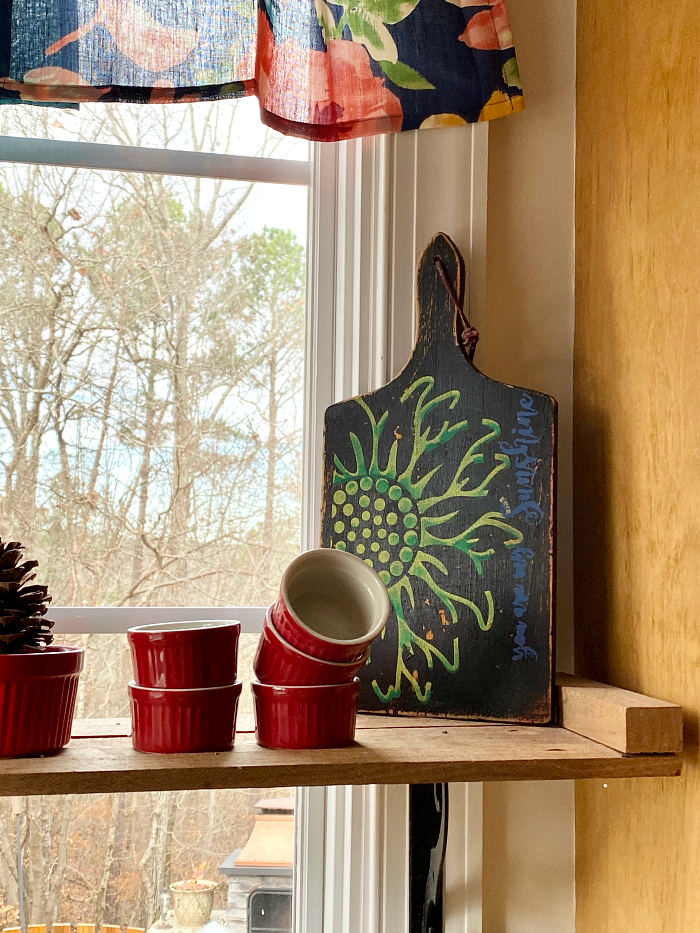 Once you've achieved your desired color intensity, carefully remove the stencil by peeling it off the cutting board. Be sure to remove it slowly and gently to avoid smudging the paint.
Allow the paint to dry completely before handling or displaying your cutting board in your kitchen. Simply lean it against a wall, or mount it on a hook for a chic and personalized touch.
Find out how to chalkboard a cutting board.