Re-purposed Goodwill cutting board
Hi there friends! Sometimes all you have to do is look around the house and before you know it, you have your next mini craft project. I have been in some serious cleaning mode around here. A lot is either being donated, or gifted.
After I took down the Christmas decorations in the Kitchen, things looked pretty barren.
I came across this mini cutting board that I had found at Goodwill many years ago. I painted it black and simply leaned it against the wall in the kitchen. That's boring! It needed some color and a stencil, of course.
Speaking of stencils, when I asked for your input on things you would like to see more of in 2020, a lot of you said more stencil projects. ONLY one person said, they wanted to see LESS stencil projects. I love to stencil, and will not discontinue something I enjoy and find therapeutic.
I love this Sunflower stencil and will use it in the future. I will leave all the sources down below. If you are new to stenciling, I am happy you are here.
Stenciling is fun, simple and can transform just about anything you want it to. From pillows, to furniture, walls, signs and so much more.
My biggest tips for you is..remember LESS is more when it comes to dipping your paint. I have a little jingle I like to sing and pass along, it's called DIP, DOP, DAB. Basically, when you DIP your spouncer, or brush, be sure to DOP out the excess paint. YOU never want it saturated. When you go to apply the paint on top the stencil, you DAB lightly, and brisk in a fast up and down motion. NOT too hard, just a simple pounce of the spouncer (dauber) or brush. Here is another little tip. You can use makeup sponges, which are soft, and work awesome when stenciling. The surface is smoother than the sponger brushes.
Also, I find using a spray adhesive is better than using painters tape, or stencil tape. The adhesive not only makes the stencil adhere to any surface better, it also helps to stop "bleed though". I did not have any adhesive on hand today, and I see on my lettering it had a little bleed. I will lightly sand that and perhaps go over it with a white craft paint to make it appear more legible. I was just too excited to share this project today with you.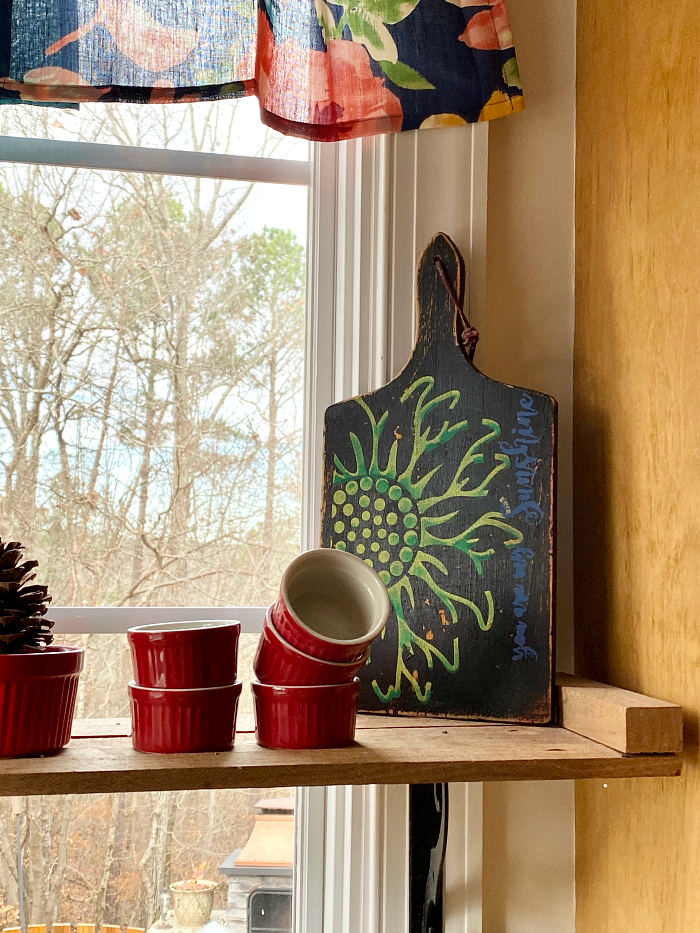 I did some light shadowing (layering) with this stencil. To get that effect, I slightly moved the stencil over after the first layer was dry, and then stenciled with another color. That is what gave it the shading as you can see. **NOTE** After the sunflower dried completely, I then moved the stencil over in position to add you are my sunshine. The board was too narrow to add it all at the same time. There is always a way to compromise when using stencils.
It turned out to be everything I wanted and more! It makes me smile in that little corner now.
These little happy projects will get me through the drab of Winter.
Pin it, make it, enjoy!
Re-purposed Goodwill Cutting Board
Now has a purpose with a pretty sunflower stencil and color to coordinate with my Napkin Valances
You can check out my Home Decor projects using Stencils HERE
Thanks for stopping by today. Hope to see you back again real soon.
Debbie Manno (Debbiedoo's) is a participant in the Amazon Services LLC Associates Program, an affiliate advertising program designed to provide a means for sites to earn advertising fees by advertising and linking to (Debbiedoo's) (amazon.com)