Howdy there folks!
Today, I am sharing Pumpkins galore, but soon to be NO MORE!
Truly hard to believe we are in almost mid November here.
Funny how after Halloween, a lot of us just skip over Thanksgiving decor and go right into Christmas.
shhhhh…I am one of those people.
Thank you as always for joining my party each week.
I love to see my old familiar faces and I love to see some new ones too.
I have it both ways each week.
Now I must admit this Season, I sure had my fill of seeing Pumpkins.
The Primp your Pumpkin party had close to 200 links….
191 to be exact!
So to wrap up the season, I will feature everything pumpkin I saw at last weeks party.
to start…
Purple Hues and me shared a MESH pumpkin.
This was a first for me to see.  Really adorable idea!
Zue Haus at Home shared a really
sweet vignette with the tiniest pumpkin ever
shared some of the coolest Pumpkin carving ideas I have ever seen
Just sayin, have you ever seen a tea pot pumpkin?
Not sure how Audrey from Timeless Treasures comes up with these clever ideas..
Diane from Design till it Shines, shared the prettiest vignettes with paper pumpkins and
Of course, I love the roo.
I think I covered the pumpkins from the party.
Here are few other features that caught my eye this week.
shared some diy napkin rings.
Have you ever heard of glue dots?
Me either, but go check it out.
I just adored this Hickory nut wreath from Lake Girl Paints
Deb gives a great tutorial on it as well.
And just to start getting you in the Christmas spirit…
check out Debbie from Refresh Restyle's cute pine cone projects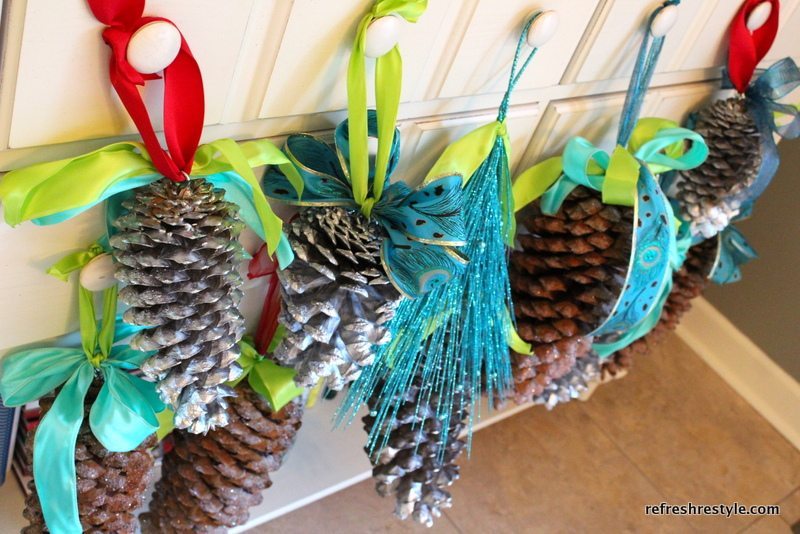 Great tut on these too.
Did you know you should bake your outdoor pine cones before you start crafting with them?
Me either.
I learn something new each week.
 Would LOVE if you followed me on facebook.
I am there often and love to share your ideas too!

Then of course you will find me at my other home