HOLY MOLY!
When I saw Oreos came out with Pumpkin spice cookies for the season, you know darn well they hopped in my cart!
Considering this time of year I have a pumpkin obsession it only seemed appropriate.
Today, I am sharing a Pumpkin spice no bake Oreo dessert.
My last Oreo cake was a hit, and of course my pumpkin spice cookies were too. Seems I am on a roll around here.
I don't really even need to give you much of a recipe here.
What you need:
1 pack of Pumpkin spice Oreo cookies
1 cup of milk
and a big tub of cool whip.
Just like my last Oreo recipe you simply dunk the Oreo's in milk, but not too long, just long enough to get wet and not fall apart.
I learned this time around, I can dunk three at a time in a cup of milk.
Layer your pan
I use a smaller one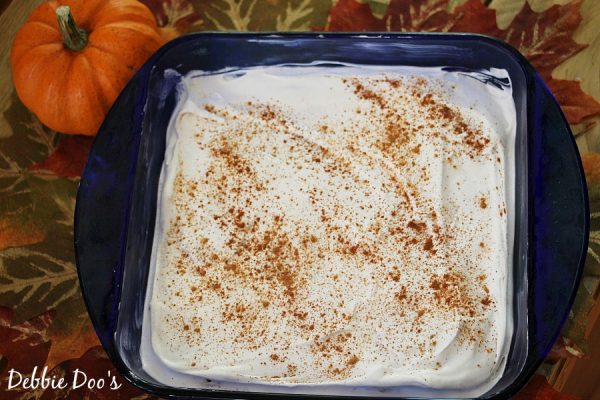 After your first layer of Oreo' s, spread the cool whip on top. I used the low fat cool whip.
Repeat the next layer and top with cool whip.
I also used a dash of pumpkin spice
and some cinnamon on top.
It's a winner!
The possibilities are endless with these cakes. You can use the Mint Oreo's
the Strawberry filled, etc. Get a little more creative and add some nuts or fresh strawberries. Whatever your heart desires. If you need something quick and delicious, I highly recommend.
Thanks for stopping over today.
There are plenty more tasty and fast recipes I share.
Just check out my Recipe category.
If you are not a regular here, I sure would love to see you back again.
XO