I'm on a roll, a pumpkin roll that is! I already shared with you the other day my dollar tree pumpkin wine glasses
I couldn't resist picking up some pumpkins today while at the dollar tree. Last year I had so much fun making over some dollar tree pumpkins I wanted to do some more this year.
This is just the start.  Not sure what else I can come up with, but I will keep thinking and sharing as I go this upcoming fall season.
All you need for this craft is a dollar tree plate, a small round pumpkin, craft paint or chalky paint, and some scrabble tiles. I always have chalky paint and all the supplies I need on hand to whip up a quick craft or two.  In fact, all day today I sat at my kitchen table and crafted.  It was nice and relaxing and has my mind off our son Alex who is gone to College now.  It sure is strange not having him around.  I can tell you, it's pretty quiet and I know Jack is missing him around too!
I loved the color of the plate.  I think aqua and orange are such a pretty combination. But I couldn't keep my pumpkin orange.  You can bet though when I display it, I will have some orange around it.  I'm just getting started here!
First I cut my pumpkin in half with a sharp knife.  I could have used my hot knife tool, that I used on my Rooster carved pumpkin a few years ago. I love that tool, but for such a small project it wasn't necessary.
Like I said, this was a very small faux pumpkin and easy to cut with a knife. Just be careful:)
After I gave the pumpkin two coats of chalky paint and let dry, I then hot glued it on the plate.
I tied a bow in some twine and hot glued it in the middle where the hole was from the original plastic stem. Then I used a stick for the stem and hot glued it on top.
I just think this is the cutest darn plate ever! So simple, and only a few minutes, and a few dollars.
Thanks for stopping over today.
Affiliate links for craft supplies:
(to carve faux pumpkins)
How about some more Fall dollar tree craft ideas for you.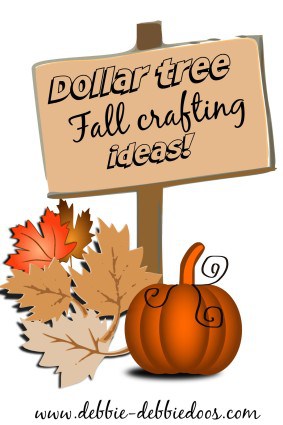 And if you love pumpkin desserts, I have a few of those as well.
 If you are not a regular here, I sure would LOVE to see you back again.
If you just want to browse Fall in general, I have plenty, plenty oh more!
I am in a fall frenzy now.
XO
and How about more Pumpkin decorating ideas.  Plenty of those here too!
 Hope you follow me around
Thank you for your visit today!
I share all things, thrifty home decor, crafts and a recipe or two on occasion.
If you would like to commit to becoming a subscriber, I would love for you to join me.