Hi there everyone! Hope all is well.  We are recovering from our Chicago vacation.  It was fabulous and I will share some details and pictures later on when I go through them all.
We really had a wonderful time and never stopped for one minute.  I think we averaged 5-10 miles of walking a day.  That was even with taking the bus and transit systems.
Today, I wanted to share with you a 5 minute Patriotic dessert.  You probably have seen this dessert before, but just in case I thought I would share the idea with you as well.
An easy Flag no bake dessert.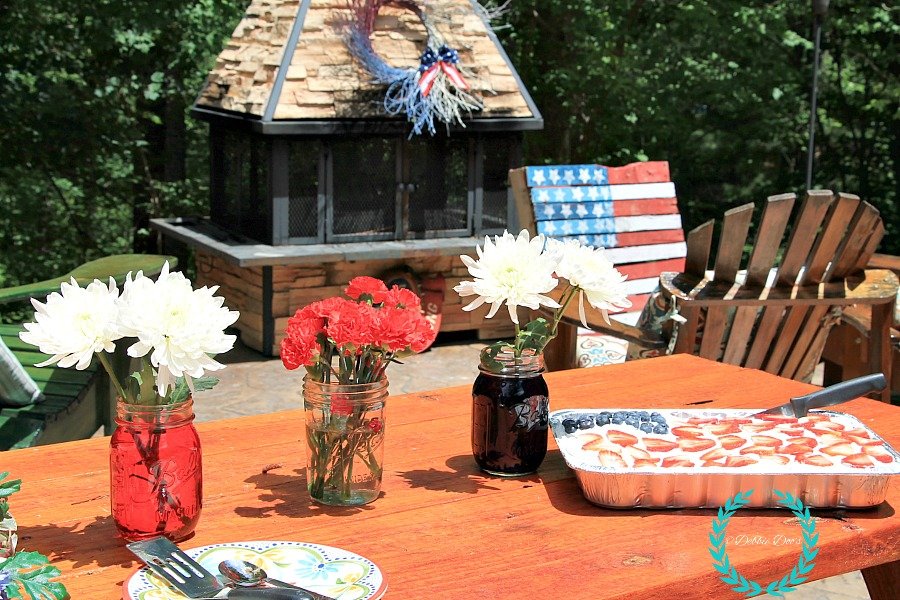 I added food coloring the mason jars for color.
Here is the recipe:
Angel food cake you can buy, or bake one if you like. You can also use pound cake if you so desire.  My family loves Angel food cake desserts.
First slice your angel food cake and layer the bottom of a 9  x 13 pan. Spread a layer of fat free or regular cool whip on top of your sliced angel food cake. I used a 16 oz. tub.
Cut up some strawberries and layer those in rows as the stripes.
Add blueberries for the star portion.
DONE…enjoy!
If you are new here, stick around a while.  Check out my recipe archives
More patriotic ideas here: