Hey, hey there!
Happy Sunday and glad to see you here.
Notice each week I am trying to make my highlights and features a theme?
This week is all about Painting furniture makeovers.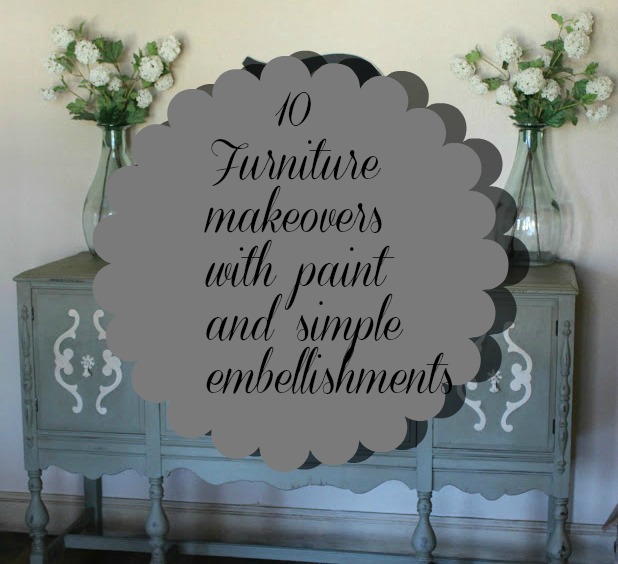 I have been on a kick myself with painting furniture and I have a fun one coming up this week sometime.
Amazing what a little paint can do to transform anything and everything!
So let's get to some features.
Let's start with Stacy from Embracing Change
Antique sideboard
Loving the color. The before was pretty torn up..KUDOS to you Stacy for bringing this beauty back to life.
Next Junk 2 Jewels did a lovely job on a coffee table
really wowed me with this makeover
Claire has some talent!
I really love that B chalk board too.
Vintage goods shared a gorgeous color combination
Aubusson blue and Coco by Annie Sloan.
Cloches and Lavender had a very interesting technique and makeover on these cabinet doors.
I will just show you the process and you must head over to see the after…pretty clever.
It certainly will surprise you.
is a very fitting name for this gal.
She certainly was a rebel on this makeover.
Really hard to believe the before.
Our adventures in Home improvement
Just giving you a small glimpse…this is a great makeover and you should see the before.
Daniela from Frugal ain't cheap thought outside the box on this project.
Chalkboard paint on these stools. I bet the kids love em!
Suzy from Simply Vintageous
really prettied this old piece up.
Daisy Mae Belle did a wonderful China cabinet makeover
Karen from Redoux interiors never fails to amaze me.
That girl can't transform a piece.
Follow me around if you like

I also pin a few while I am at it…so follow me along there if you wish.
Please add my link or button. If I don't see it, I can't feature you. Thanks:)
NEWBIES blogging 6 months or less and/or less than 100 followers.
I would also like to mention there is a new paint in town
La Craie Chalk paint.
It is simply fabulous and I enjoyed my most recent armoire makeover.
For all your painting needs, and also a great selection of gorgeous color choices.
You may head on over to the Lovely Shannon
T

his gal will HOOK you up:)
NEWBIE graduates, you are no longer a newbie but have attended my party in the past.
CRAFTS/diy, all are welcome.
************************************