Hey there! How are you all doing today? My boys are now officially out of school and we can let the summer time fun begin.
It's been off to a great start so far. Today I am sharing how to paint a can and decorate your table tops with them.
I have done and shared so many upcycled can ideas in the past.
Here, I will share just a few…
These cans were spray painted with various summer colors and made for a cute outdoor table setting.
I then took the same cans
and simply put some patriotic ribbon around the spray painted cans  to create a pretty Labor day table setting
One thing I have never done is actually just PAINT one.
with Paint from a can.
I had red paint left from painting our pantry door red.
I thought what else can I do with it?
I saw this cutest can caddy and pinned it, and thought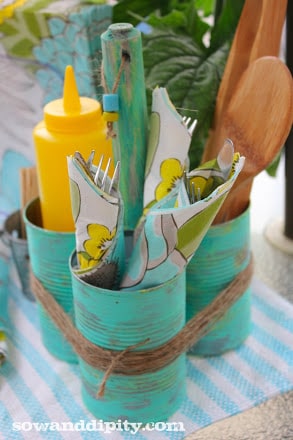 I am making one of those myself.
I will be sharing more on these cute little butterfly embellishments that I made using mod podge melts.
I made a cute little gingham flower too.  That was easy, I simply cut a few strips of fabric
and folded it together like an accordion and hot glued it on.
I have to say this was a fun little FREE project and it looks cute on the kitchen table too.
This was the paint and wax I used…
And how cute it compliments my
diy upcycled stenciled recipe tray
I did many moons ago.
Happy Crafting!
The runner is our old burlap kitchen diy no sew valance.
How versatile:)
You can follow me anywhere, anytime!
I have plenty more fun, thrifty ideas
Thank you so much for visiting with me today.
If you are new here, I am also very excited to share my new stencil line with you.
Thank you for your visit today!
I share all things, thrifty home decor, crafts and a recipe or two on occasion.
If you would like to commit to becoming a subscriber, I would love for you to join me.