;
I have always adored outdoor plant window boxes!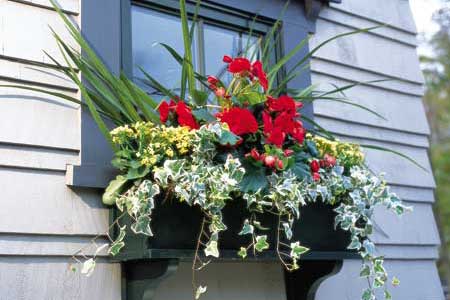 Just thinking of all the pretty flower choices I will have per season, to add color to the front of ourhome
So, of course on Mike's day off, what did I ask of him?
You guessed it…
I wanted simple black lightly distressed window boxes.
Being I am a newb at this, I was not sure of the kind of flowers I wanted, so I went fairly simple.
the creeping jenny I thought would look nice growing over the boxes…AGAIN, I am a newb at this.
So far the Marigolds are taking off like crazy!
I can't wait until they start getting full and really taking off.
Hopefully!
I will show you a little of what I have planted throughout the years, that is actually doing quite well.
My Clematis was full of blooms last week, however, I missed my snap opp. ewww…I see a bug!
This is next to the clematis…
Love the smell of Jasmine…How about as you are walking up to our door, you get a wonderful sniff first..
ewww…I just noticed another bug ! Good thing Mike sprayed today!
We have BUGS!
So far so good.  We shall take a look in about a month or so.
Thanks for taking a quick outdoor garden tour with me.
There is more I will be showing you soon.
Sharing with:
WOW us Wednesday
Kristen's creations
Swing into Spring
Show and tell
French country cottage
At the picket fence
Addicted to decorating