Hi there everyone!
Well it is that time of year when I start wanting to spray paint everything in sight.
I can be sort of deadly with a spray paint can in my hand.
And now a days who knows what can and will happen.  My mind is all over the place:)
Did you miss my take care of you post?
that may explain why.
Yes, I have had an accident or two with spray paint……… you may recall if you are a long time friend here.
In fact,
I had a slight mis hap with this project too.
 However, my husband knows nothing about it, so shhhhhhhhhhhhhhhhh…
I cleaned it up and left no evidence behind.
I told you back in the Fall I am now strictly a Rustoleum spray paint user.
I spray painted a mason jar and it was the bomb! Loved it.
Krylon is off my list.  I think it runs, is drippy, and not consistent from can to can.
Not sure if they changed something, but I am not willing to even find out anymore if they resolved whatever issues their spray paint has now.
A few years ago
I spray painted this piece and absolutely LOVED it.
It was called from trash to treasure.  It literally was a piece of trash.
Problem was it only held up for a few years.
Last year I threw a quick coat of chalk paint on it to hold it over until I found just the right color spray paint I wanted.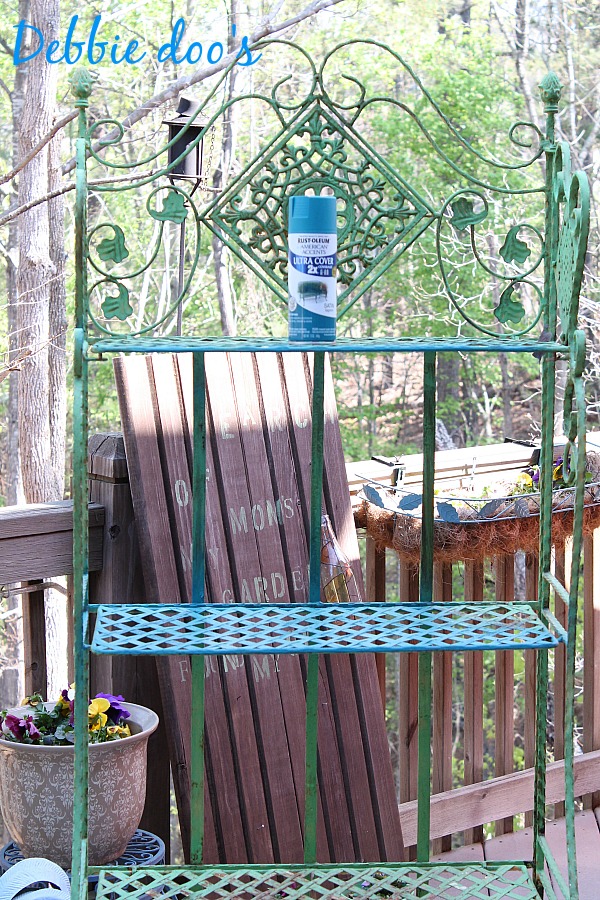 You can see I used Antibes green by Annie Sloan.
I have lots of chalky paint projects you can check out in my archives.
 I never did share this project last year.
The color Lagoon in Satin finish is what I liked this year by rustoleum.
Same color I used for my Garden hose wreath.
I suppose you are wondering about my little incident.
I decided I would just put a painters tarp under the piece and move it to the middle of my deck.
Easy enough.
On a windy day,not such a smart idea.
When all was said and done, I moved the piece back to the corner and pulled up the tarp.
OH NO…I had over spray speckled in a perfect square on the deck.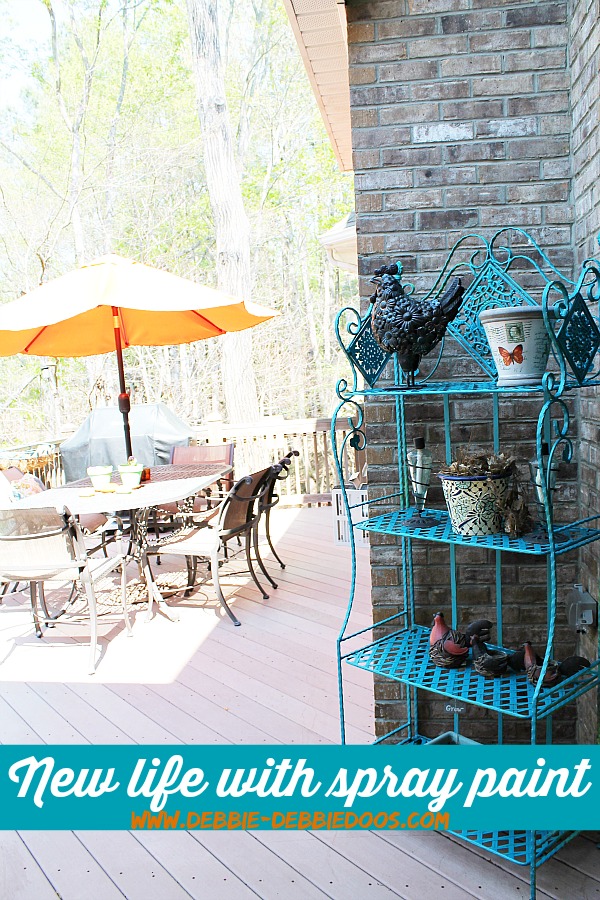 I am not showing you the pics.  That would be said evidence.
Remember husband knows nothing.
♥
Thanks for stopping by today.
This piece only took two cans, one coat.
I love it.
That pot you see in the middle with all the leaves and pine straw are the makings of a bird nest.  Every morning I have been watching the little finch make their nest.
Hope I did not upset the process with the new color and having to move the pot just for a few hours.
I will keep you posted. I only shard a smidge as you can see of the deck.  Once I get it spruced up I will share more.
just wanted to share how fast and easy it is to change a color and look of any piece.
Just don't follow my directions with the tarp on the deck!
Hope to see you back again!