Hi there everyone!
Did you know it's National thrift store day?
I never heard of it honestly. However, I frequent the thrift stores often. Today I am joining a few of my blogging pals and we are sharing some of our thrift store makeovers with y'all!
So many found treasures we have that were once someone's junk.
I don't look at as junk though. Everything has an old story,
and new ones to be told.
In fact, my thrift store find I am sharing today actually had some roosters telling a story on it back in the day.
This is actually a second redo on this lazy susan I found a few years back for a few bucks at Good will.
I have been is serious clean out the cupboard mode around here. I still had tupperware with no lids from 1997 in my cupboards. I kid you not.
That's OK though, my husband the romantic bought me the new Mr. Lids as seen on TV and I am so happy he did. That is what motivated me to start purging.
This was the first makeover you see. Painted and stenciled lazy susan. You may want to read that post, it's corny but cute I guess.
Out came the chalky paint.
I thought with school coming the boys needed some organization in their bathroom.
This is the perfect color. Legacy by Americana decor chalky paint sold at Home depot.
3M tape is the best imo. I wanted to make some stripes on the lazy susan so it had a more boyish coastal look for their bath.
This was more of an off white color called Whisper.
As you can see I had a bit of bleed through. Only because I was impatient and took the tape off before it completely dried.
No worries though, nothing a little sanding won't fix.
After I lightly sanded it, I took the piece over to the sink to brush off the dustings with a paper towel.
Finished it off with some clear wax by Annie Sloan.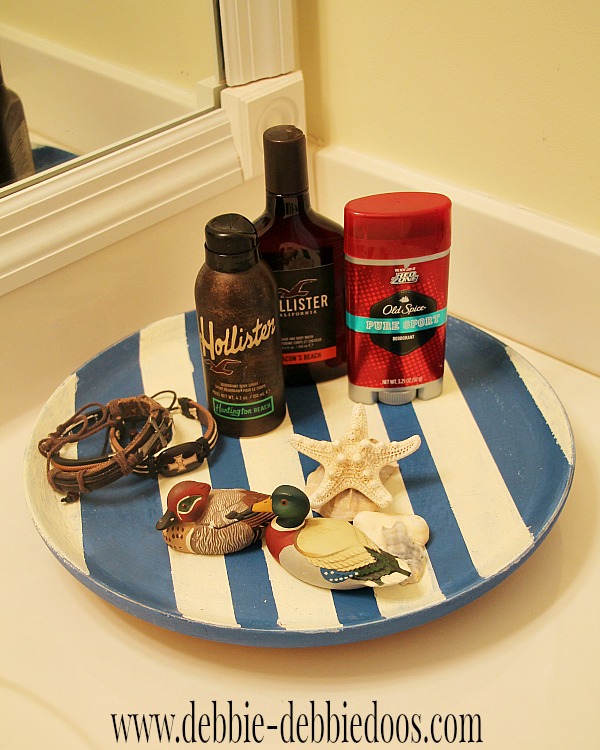 And now the boys have a perfect Lazy susan to put all their personal products on instead of all over the counter.
Like my little Avon ducks? They are old, my Father gave me those years ago. He thought they were the greatest thing ever. OK, whatevs, I will use them somewhere.
Thanks for stopping over. I hope you check out some of the other gals makeovers and scores as well.
National Thrift Store Blog Hop Participants:
Domestically Speaking
Debbie Doo's
Cupcakes and Crinoline
Yesterday on Tuesday
Setting for Four
My Uncommon Slice of Suburbia
At the Picket Fence
If you are not a regular here, I sure would love to have ya back!
XO