How to mod podge on glass
Hi there friends!  The other day I shared with you 20+ Mod podge on glass projects.  
I sort of put the cart before the horse on that one.  I came to realize many of you have never even tried it!
Today, I am sharing how to mod podge on the glass.  I will be leaving a link to the video tutorial at the end.  I did a Facebook live and taught all my friends just how simple this technique is.  I have found out in the meantime that there is a special roller tool that will get all the wrinkles out.  I always use my finger:) I plan on grabbing that tool.
So as per usual my weekly trip to the dollar tree was a success.  I picked up two plain glass vases and one pack of tissue paper.
I already had some mod podge paper leftover from my Bird plaque art so I wanted to use that up.
These pretty vases are a perfect little extra something for a gift of flowers, or just because.  No need to just plunk some flowers in a vase and hand them over.  Make the vase pretty and one of a kind special.
You know me and the bohemian look, I just love it.  I got a little fancy with the twine.  I wrapped it around the vase, then made almost knots, sort of like macrame.  Of course, a little burlap flower embellishing had to be added as well.
The second vase is done with tissue paper.  Lots of layering involved in this one.  I didn't want the glass to peek through like it did on my dollar tree votive' s I did a few weeks ago.  I liked it for those because I wanted the flickering tea light to shine through.  For this vase, though I didn't want any transparency.
I added a little bling ribbon and added a cute butterfly necklace I have had for years.  I think I am going to give this vase to my niece.  She will love it for her bedroom.
To think it all started with this! Soooo stinking cute.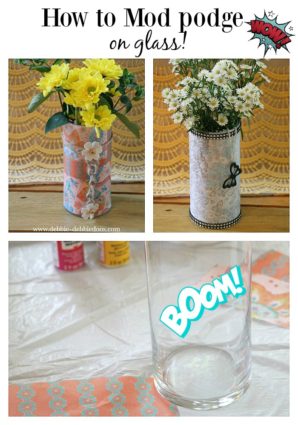 Please watch my video on How to mod podge on glass:)
Thanks for stopping over today.  Plenty more to see.
While you are here, I want to also mention I am venturing out into the world of creating my own stencil line! I have been the stencil queen since the 80's, and I absolutely love it.
20+ More Mod Podge on Glass projects HERE
Visit my gallery and page
XO
Affiliate links down below
Mod podge
sponge brushes
decorative paper for crafting
If you are new here, welcome.