I totally jinxed Spring!  Just when I thought it was coming, it actually started getting colder here.
That is not stopping me though for getting geared up for the Season.
Last year I made these mini Spring wreaths for the cabinets
They were cute and all, but I disliked the ribbon. It had all those pastel colors I so do not care for.
I basically dismembered the old wreaths.  I picked up a few new things at the Dollar tree.
Please, if you never listened to me once, listen to me now just one time. Get your supplies and seasonal decor NOW at the Dollar tree.  It should all be out in your area as well.  It goes fast, and before you know it, they will be having fall stuff in there.
I bought one pair of garden gloves, four packs of seed, and two bunches of faux spring flowers.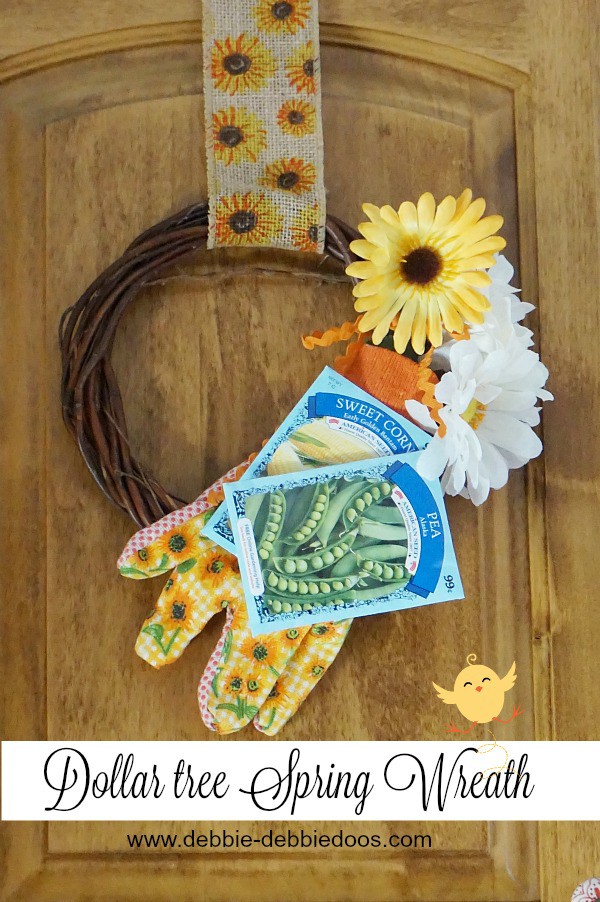 I used my handy dandy wire cutters to trim the branches of the faux flowers
And then I just plunked them in the garden gloves.
I hot glued the two packs of seed together
Hot glued the glove to the wreath and seeds to the glove.
I found the cute burlap ribbon at Walmart.   It compliments the gloves nicely, and no pastels:)
 To get me more in the Spring mood I bought a fresh flower bundle at Walmart and was able to have three different centerpieces scattered about the kitchen in mason jars.
These flowers here are faux flowers in the wire basket. But scattering about fresh flowers in the mix, brings no attention to the fakes.
I'm so ready for sunshine, blue skies,and some hummingbird sightings.
Happy thoughts of Spring to you.
Don't forget to pin and share:)
XO
Thanks for stopping over today. If you are new here…WELCOME.
I would love to see you back again.
You can check out more of my Dollar tree Spring gallery HERE