Hey there everyone!
Sharing our master bathroom clean and refreshed!
I have been in a cleaning frenzy lately and our Master bathroom was the start of it.
First off I want to share  how to clean your glass shower doors.
That was the biggest obstacle in our master.
it's been about two years now since I stenciled the shower door.
Still holding up great.
Some have asked how I clean the outside.
Well, first off, it really does not get that dirty, but I do wipe it down gently with a dry cloth on occassion.  If need be I take a magic eraser and get in between the stenciling  job.
The inside of the shower is the problem
The home remedy I used was Dawn, and white distilled vinegar.
I had lots of recommendations on facebook for this remedy.
The ratio I went with was 
¾ vinegar ¼ blue dawn in a spray bottle.
I mixed, sprayed, and used the magic eraser.
It worked like magic.
YAY!
Now onto the bathroom.
My motivation for cleaning was a few new accessories I purchased from World Market.
Hand towel, rose petals,
larger towel and a rug.
And the Le Bain sign.
Next I will replace the hardware.
In  fact I am using the same hardware I used for our kitchen. I had bought extra and only need a few more.
The molding around the mirror was a diy we also did a few years back.
We started in the boys bathroom and then worked our way around the house.
I also used that cleaning concoction on the vanity and tub. Sparkling I tell ya, everything is sparkling!
for a day anyway.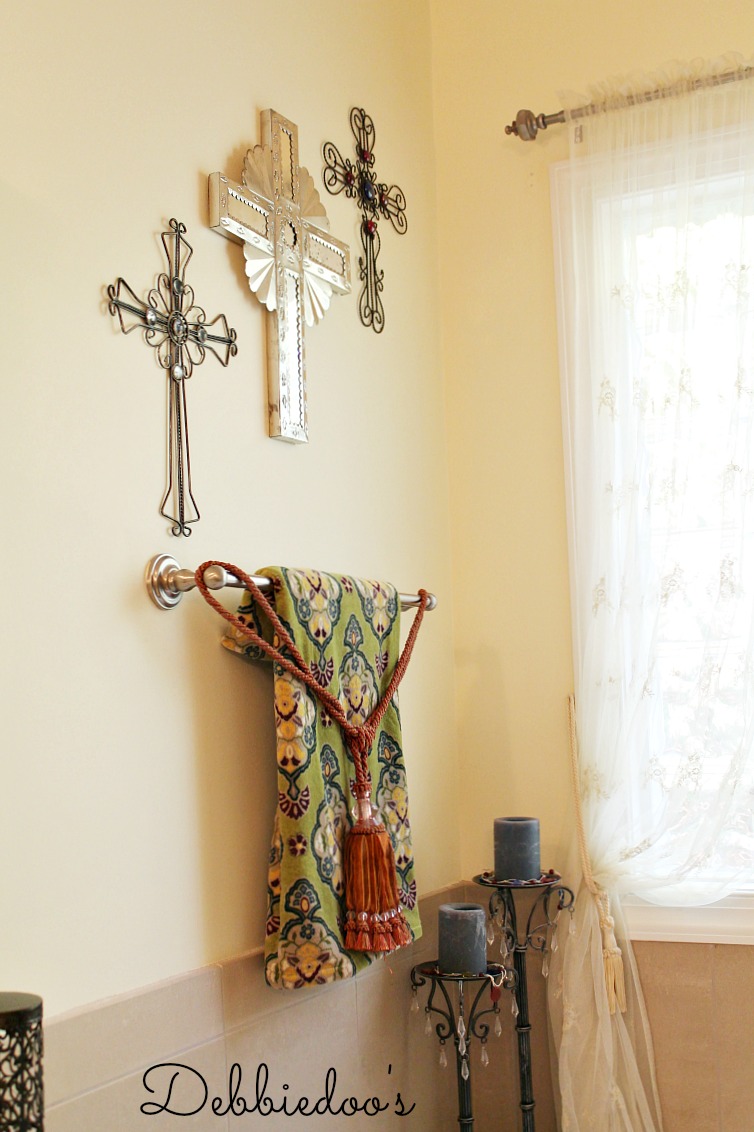 the crosses are something we have had for years.
The large silver one was a find in Arizona, and I still love it and have not changed it.
 I would LOVE a seamless shower door and new tile as well.
Although you may think it looks pretty on the inside, it is not fun to keep clean. It's just not!
But,not a necessity and certainly not in the budget.
Thanks to my facebook friends and all the suggestions you gave me on the formula to use,
I greatly appreciate your help.
Hey you can follow me around anywhere, anytime.
Thanks for stopping by today.
Thank you so much for visiting with me today.
If you are new here, welcome! I am also very excited to share my new stencil line with you.
[envira-gallery id="32693″]
Thank you for your visit today!
To view my stencil gallery projects you may check out my Debcreates.com page.
I share all things, thrifty home decor, crafts and a recipe or two on occasion.
Sign up today and receive a few freebies. 12 months of seasonal printable art.
I have also created my own custom apron. "I work by the flour" logo on linen deep front pocket. My husband was the witty one with that slogan:)
Sold on Amazon Debbiedoo's custom apron
.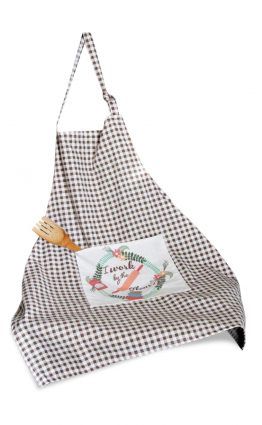 If you would like to commit to becoming a subscriber, I would love for you to join me.