Hi there! Very excited to have you here today.
  Today, I am sharing a mason jar terrarium idea for you.
This little mason jar terrarium took me no time at all.
Let's start with the basic necessities.
A mason jar
colored sand
soil
rocks
and moss
All my supplies were found at the Dollar tree.
plant of choice, I choice a mini rose that I had on hand and just dug one up with the roots in tact.
Twine, burlap bow (you can accessorize to your own liking)
First layer your jar as shown. Sand, soil, rock, plant, and moss
Accessorize.  I even painted the lid with some chalky paint.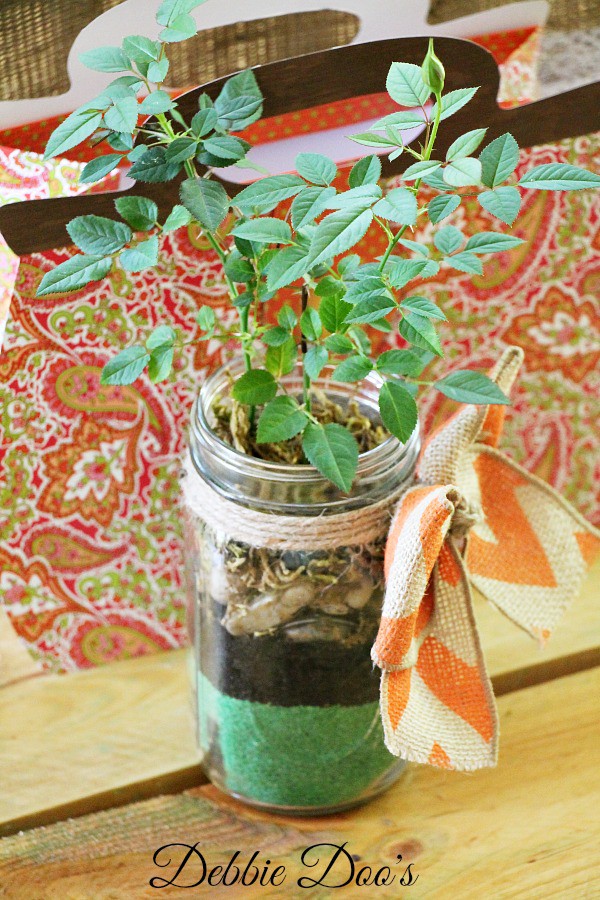 and there you have a cute mason jar terrarium.  I recently shared with you how to make a burlap bow in less than one minute.  There it is!
gift idea for Mom, sister, friend, Aunt, etc.
 Thanks for stopping over today. Good luck.
If you are not a regular here, I sure would love to see you back again.
Thanks for stopping over today.  If you would like to see more mason jar ideas, check out my gallery