How to make your own custom rustic signs or trays
Happy Saturday y'all! Today, I want to share with you how to make your own custom signs or trays.  The best part, you too can make these signs for just a few bucks a piece.  Considering, I see these wood signs in stores, and on Etsy, for a heck of a lot more, I thought I would share with you the secret to making them yourself.
Let's start with the wood.  Lowes and Home depot of course have an entire aisle of wood in all shapes and sizes needed for any project.We used this very same wood when my husband made my industrial kitchen shelf.  I then later used the pieces left over for my kitchen country sign, and what I never did show you was a vanity bathroom tray I made for the guest bath upstairs.
I made one for my friend as well, because she loved it so much when she spied it in our bathroom.
The monogram M I used when I painted my sons toy box last year. Toy box makeover here.
 Lowe's will even cut it for you to size if you don't want to bother or your husband to do it for you.  Or simply, if you don't have the saws at home needed to do it yourself. I bought one piece of pretty plywood and had it cut into 6 pieces.  That equals 6 signs.  Now you can probably get more out of the one piece of plywood depending on what size you would like for your projects.  Oh, and the one piece of plywood only cost me $10.00!! That's quite a bargoon.First, I painted my wood in my color choice of yellow.  I actually used Chalky paint by Waverly that I picked up from Walmart.
I decided for this kitchen tray I would do my layering of stencils technique. First I used a paisley stencil.  The same stencil I used for my DIY burlap canvas art. I used my small stencil brush as shown above. DIP DOP DAB. Very simple technique and something to always keep in mind when stenciling.  Less is more, you can always go in and fill in the blanks.  If you over saturate your stencil tool you will get a messy bleed through.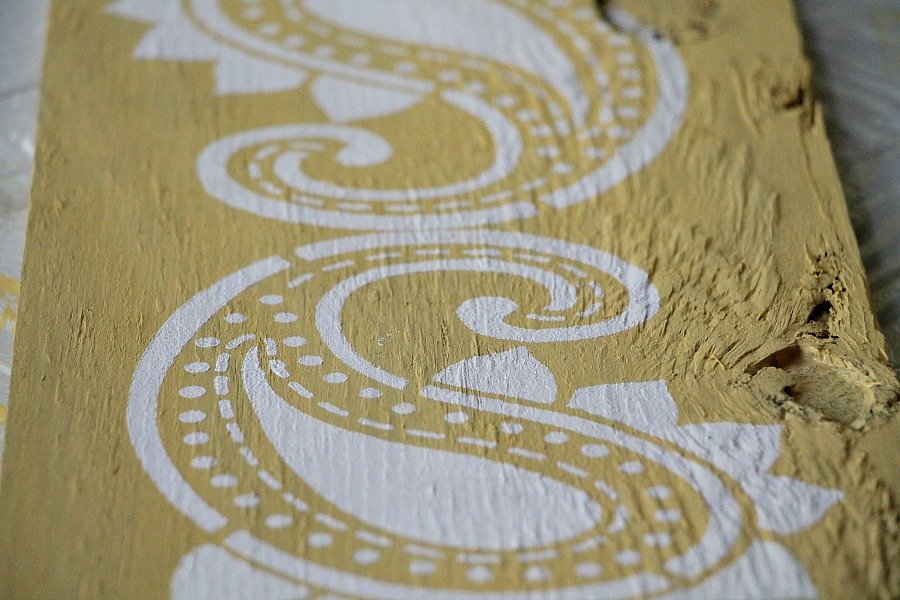 Looking good! Nice clean lines and pretty paisley pattern.
I then placed my custom made stencil (sample) centered on my wood sign, and used simple black craft paint and my stencil roller to apply and roll gently.  You can use the stencil brushes as well, just takes a bit more time and effort.  But if you are apprehensive on using a stencil roller the brushes work just as well in the end. The apostrophe is missing on the sample, however the final product will have it on the stencil when made.  Hence, this is why you need to get samples first.
And that is how I roll!
I used the black hardware pulls that cost around a $1.50 a piece.
You can use the tray when entertaining, placing your utensils, napkins, dishes etc on top. Or simply display as shown above.
Clearly not enough roosters in this house HAHAHAHAHA!!~ Pin it, make it, my stencils will be available very soon folks.  Wrapping it up Monday with the company. YAY.  You are probably sick and tired of me talking about it already. Sorry:(
How to make your own custom rustic signs or trays
Thank you for your visit today! I share all things, thrifty home decor, crafts and a recipe or two on occasion.
Find over 100 stencils and DIY's you can create your own rustic signs HERE
If you would like to commit to becoming a subscriber to my blog, I would love for you to join me.
Fall is right around the corner.  I have plenty of budget friendly ideas.
And stencil ideas for that matter! You too can be the stencil queen:)
How to stencil live video I shared on facebook a while back.
[adthrive-in-post-video-player video-id="CQs0yH52″ upload-date="2016-06-24T13:59:54.000Z" name="Debbiedoo's – How To Stencil For Newbies" description="How To Stencil For Newbies by Debbiedoo's" player-type="default" override-embed="default"]