If you're looking for deck decor ideas, you've come to the right place. Your deck is an extension of your home – a place where you can relax, entertain, and enjoy the outdoors. In this guide, we will explore how you can transform your deck into a beautifully decorated space that fits your style and needs.
1. Understanding your space
The first step in decorating your deck is understanding your space. Take into account the size and layout of your deck, as well as the weather conditions it will need to withstand.
Consider also the natural surroundings and view from your deck. As an example, if you're considering decking material, Trex decking is an excellent choice for durability and aesthetic appeal.
2. Defining your style
Your deck should reflect your personal style. Whether you love the rustic charm of a farmhouse, the sleek lines of modern design, or the relaxed feel of bohemian decor, your deck is an opportunity to express your style.
Create a mood board to gather inspiration and define your vision. For instance, adding elements like decorative ceramic owls and rooster accessories can create a charming rustic atmosphere.
3. Choosing your deck furniture
The right furniture can make or break your outdoor space. It should be comfortable, durable, and fit your style.
A rattan sofa with a couple of outdoor pillows, for instance, can provide a cozy seating area that is both stylish and comfortable.
4. Accessorizing your deck
Once you've chosen your furniture, it's time to accessorize. Outdoor rugs and pillows can add color and comfort to your space.
Plants and flowers, particularly seasonal ones planted in decorative pots, can bring life and color to your deck. Incorporating lighting fixtures can create different moods. Don't forget other accessories, such as wall hangings and statues, that can help complete your space.
5. Creating a focal point
A focal point draws the eye and gives your space a sense of structure. This could be anything from a fire pit to a water feature or a piece of outdoor art. For example, an outdoor pizza oven not only looks great but also provides a fun and functional element for entertaining.
6. Adding functionality
Your deck should not only look good but also serve your needs. Consider adding an outdoor kitchen or barbecue setup if you love to cook and entertain.
Creating shaded areas is essential for comfort, especially during hot summer days. A large umbrella, for example, can create a shaded and comfortable outdoor living area. Don't forget to incorporate storage solutions into your deck decor to keep the area tidy.
7. Seasonal deck decor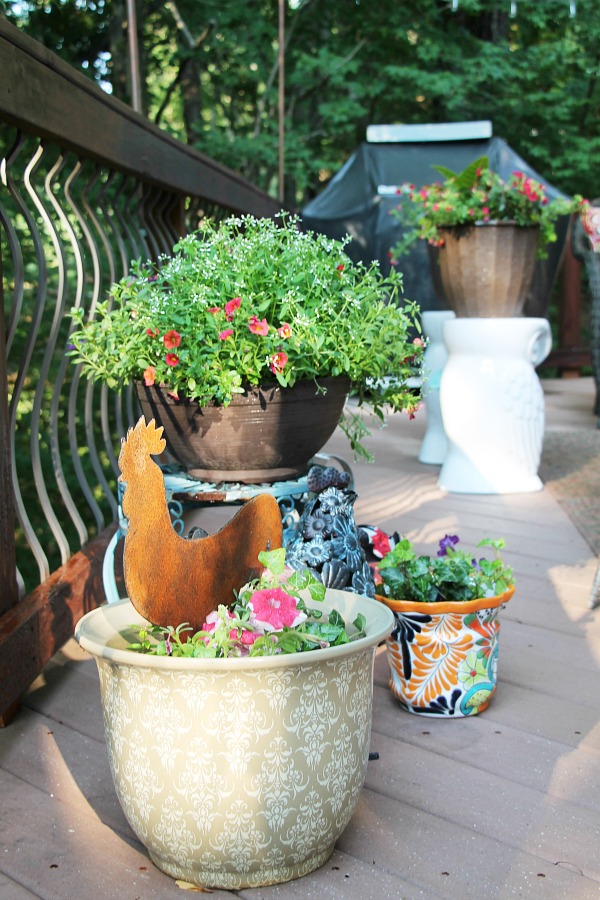 The beauty of deck decor is that it can change with the seasons. As the seasons change, so can your flower pots. This not only keeps your deck looking fresh and interesting but it also allows you to engage with the space in a dynamic way.
8. Maintaining your deck decor
Proper maintenance will keep your deck looking its best year-round. This includes regular cleaning and seasonal checks for any necessary updates or repairs.
Specific elements, like your Trex decking, will have their own care requirements, so be sure to follow manufacturer instructions to keep them looking good for years to come.