Lemon snowball cookies
 I'm very happy to be back here at Debbiedoo's with what I think just might be the perfect recipe.
Lemon Snowball Cookies. 5 ingredients. Super quick to mix up…and each cookie is bursting with buttery, lemony goodness.
I found this recipe on the blog  Avenue Hotel Bed and Breakfast. I revised it just a bit. 

The original recipe said to roll the cookies in powdered sugar after baking. That's just too much mess for me. So I came up with the flour sifter trick and it worked like a charm.
I also added fresh lemon juice. When I mixed up my dough it was a little dry. The lemon juice really brightened the taste and took care of the dry dough.
Lemon snowball cookies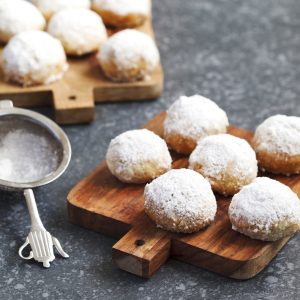 Lemon snowball cookies
Ingredients
1

c. butter

¼

t. salt

omit if using salted butter

1

c. powdered sugar - divided

2

t. fresh grated lemon peel

2

c. all purpose flour
Instructions
Instructions

Preheat oven to 350.

In mixing bowl beat butter and salt (if using) until fluffy.

Mix in ½ c. powdered sugar and lemon peel.

Add the flour, mixing until well combined.

If dough is a bit dry, quarter your lemon and squeeze juice of one quarter into dough.

Form into 1 in. balls or drop onto cookie sheet with teaspoon cookie scoop.

Bake 12 minutes. Cookies should be very light brown on the bottom.

Let cool on baking sheet for 3 min. after removing from oven.

Move cookies to a piece of newspaper.

Put remaining ½ c. powdered sugar in a flour sifter and generously sprinkle on slightly warm cookies.

Let cool. Sprinkle with edible glitter or sanding sugar if desired.
These little cookies are super simple to make and delicious with coffee or a glass of milk. I've said this before on my own blog, but I've been known to eat dessert for breakfast.
You may enjoy Debbiedoo's all things LEMON post HERE. Everything from home decor, recipes, wreaths and more.
These would make an awesome breakfast too! Here is my Citrus Dessert collection if you would like to browse around. 
I'd also love for you all to follow me over on Pinterest. I post recipes at least once a week. I try to only share dishes that are easy, use basic ingredients already in your pantry, and quick. Once in awhile I will throw in something to challenge you but not very often! All my recipes can be found on my Pinterest board, Recipes by OSP.
Thanks to Debbie for having me over!