Hi there everyone! Today, I have a special guest star or "stars" I should say, sharing their Lake Wylie home and garden. If you are a regular here, you know that we live in a Lake Community. Although, we don't actually live in a lake home, we certainly get to enjoy the amenities the community has to offer. That is with a little help from our friends.
Meet Cathy, and her Mom Merrilee.
Her home is on Lake Wylie. I know I have mentioned her a time or two before here on my blog. Her gardens were in full bloom with the Azaleas at the time I took these photos. Cathy graciously allowed me to snap some pics and share with y'all, her gardens and a tip or two.
Cathy and I have been friends since our boys were in the 4th Grade together. Alex and Joseph are now graduating from High School come June. Boo hoo for us! We have had many great times together and I am sure even when the boys are gone there will more good times to share and memories to be made.
Cathy, gets her green thumb and passion for gardening from her Mom Merrilee. Some Mom's actually pass down that trait and talent as I mentioned in my last post with Balsam Hill. Every year about this time, since I have known Cath her Mom flies in from Arkansas to visit and help Cathy with her 99,000 garden pots. I admit, mine are pretty pitiful in comparison. Some people just naturally have it, and some do not.
Come see what a real gardeners home looks like.
We like to call Cathy's home the resort and spa. I forgot to snap a picture of the hot tub. We have enjoyed many days and evenings out in this beautiful setting on the lake. The deck was an addition to her home about a year or so ago. It is very spacious now and great for entertaining.
Terra cotta pots galore filled with petunias, gerbera daisies,and more.
When firepit not in use, put a pot on it.
The trumpet vine is one of my favorites. Requires full sun and Cathy said could live all year round in a warmer climate like Florida for example. The beautiful tubular flowers range in color from yellow to orange or red. Blooming on the trumpet vine plant takes place throughout summer and into fall, though blooming may be limited for those planted in shady locations.
The next few shots are from her upper deck, more pots
And an herb garden too! Cilantro anyone? These herbs obviously like full sun. I believe her deck is mostly full sun for at least 4-6 hours.
So much to look at around here, your head never stops twisting and turning. You have to have a lot of patience for all this gardening. You know, that's not me:)
Let's take a stroll down to the yard.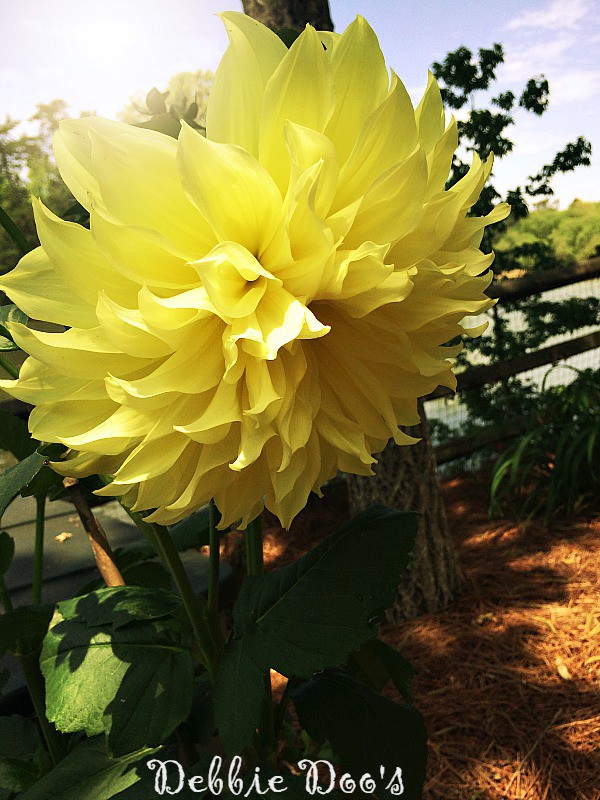 This flower is called a dinnerplate dahlia
There are many variations of the dahalia flower. This one however, is the big one. This group includes the "Dinnerplate Dahlias', while that name is not an official one. Flowers are fully double and the plants are tall. Flower size is the largest, up to 12 inches across. Plants grow up to 60′ (5 feet) tall. Cathy's dinnerplate dahlia has quite a few buds getting ready to open soon. Simply gorgeous!
Peony. The traditional floral symbol of China, the state flower of Indiana, and the 12th wedding anniversary flower, peonies are known as the flower of riches and honor.
Cathy has Azaleas in just about every color. Shade tolerant, they prefer living near or under trees. I love the pink. The blooms do not last very long, about three weeks if your lucky. When they are in full bloom the yard is a burst of beautiful color.
View from the dock. And there I see Miss Merrilee up there on the top deck:) And of course, you have to have a boat if you live on the lake. We enjoy those rides as well. That is when I am not getting sea sick. Just a little wave might get to me. No worries, you will find me sitting here, sipping on a frosty beverage while they are out there enjoying the chop of the lake.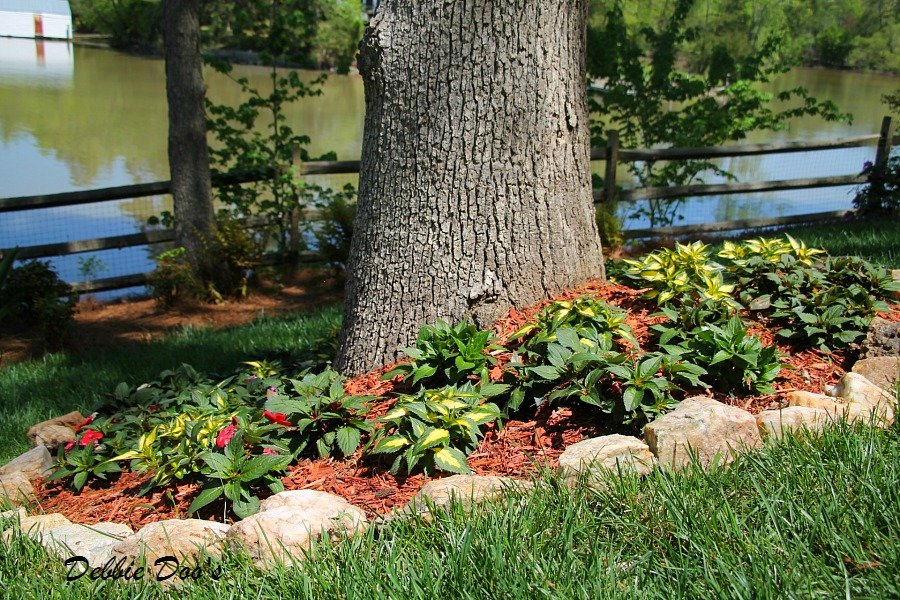 Tree lined with Sunpatiens. Sunpatiens can't be beat for easy care and non-stop color. Aside from regular watering, Sunpatiens are virtually maintenance free. Plant them, step back and you will be delighted with the results!
The rock border is quartz that Cathy and her husband found out in one of their Woods ventures. They like to go out on the 4 wheeler for the day and go play in the woods.
This is perfect for around the tree and to keep the mulch from getting all scattered about the lawn when it rains.
Not typical to see a cactus around these parts. Leave it to Cathy to find one in the woods and dig it up. She planted it in a very sunny area and it appears to be doing very well.
Fern alley. Another free woods find. Cathy collects rocks too. Rocks, shells, any old artifacts she can find, she loves to collect. Did I mention she has moved 16 times in the past 20 years and a lot of her finds, in fact all that I know of, come with her. Poor movers, I have seen her buckets full of "stuff"!
I believe this plant is called a Kangaroo paw. These perennial plants are noted for their unique bird attracting flowers. The tubular flowers are coated with dense hairs and open at the apex with six claw-like structures. Very pretty, and a vibrant variation of red and orange.
One more pot before we go. I love the natural aged look of this pot. Just from keeping the pot out in the elements year after year it took on this natural aging process.
I also wanted to mention that Cathy gets most her flowers and plants from Proven Winners. She said you can find Proven winners at places like Home depot as well. Just look for the little tag. I would say, her gardens and pots are proven to be winners! You can check out their website. Proven Winners partners with the top plant breeders around the world to ensure their varieties are vigorous, healthy, vibrant, and unique. They also have a lot of tips on where and what to plant based on the region you are in.
Isn't this little moss granny shoe adorable!? I believe she found that at a local nursery here. Thanks for stopping by today. Hope you enjoyed Cathy's Lake Wylie home and garden tour. You can check out my Carolina home and gardens from last year. Still working on this year's version. I can guarantee it will look nothing like Cathy's. Poor, poor pitiful me. I think I might have to fly Merrilee down next time.
Enjoy the cute video I made too!
If you are not a regular here, I sure would love to see you back again. I share all things Heart, home, and a recipe on occasion.