The cats out of the bag!
FINALLY, My Mom shared her It's really good, really delicious chocolate cake recipe!
For years, my Mom has been making this chocolate cake, and for years I thought it must be so difficult and I can't even attempt to make it.
You know, I really am not into baking much.
Well, the secret is out.  It really is not difficult at all, and when I share with you this truly MOST delicious chocolate cake recipe you may want to keep it a secret for  years to come with your family.  
For many birthday's and holidays this would be a huge request, Please Mom can you make the chocolate cake.
Her homemade Apple pie is nothing to sneeze at either.  I can't give you that recipe though, because she does NOT measure a thing.
I just know she uses a lot of Apples, and they have to be Cortland apples.
Back to the cake.  It's extremely heavy, in weight, you pick up this cake and it feels like a lead sinker.
However, eating it, it is light and fluffy and totally feels calorie free
NOT!
A bundt pan is a must! or tube pan is fine too.
Chocolate frosting is a must! I think, but it is optional.
Now, here is the recipe.
Enjoy!!
You can sprinkle with green or red, or whatever color sprinkles per holiday you like.  I only had black ones, so I popped those on for the photo.
Follow me around if you like!
Thank you so much for visiting with me today.
If you are new here, welcome! I am also very excited to share my new stencil line with you.
Thank you for your visit today!
I share all things, thrifty home decor, crafts and a recipe or two on occasion.
I have also created my own custom apron. "I work by the flour" logo on linen deep front pocket. My husband was the witty one with that slogan:)
Sold on Amazon Debbiedoo's custom apron
.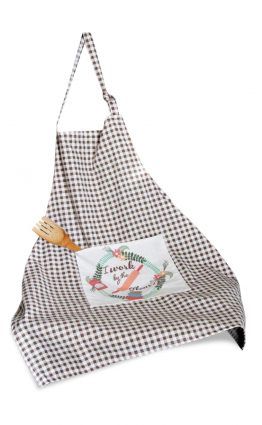 If you would like to commit to becoming a subscriber, I would love for you to join me.
It's really good, really delicious chocolate cake
Moist, delicious and a sure to please a crowd!
Ingredients
in

Duncan hines or Betty Crocker chocolate cake mix with puddingthe mix.

12

oz. pack of chocolate chips.

½

cup

of Daisy brand sour cream.

4

eggs.

½

cup

of warm water.

1

teaspoon

of vanilla.

Cool whip and chocolate frosting

however the chocolate frosting is optional.
Instructions
Start off with a bundt pan, or tube pan. Spray lightly with Pam. Take a traditional Chocolate cake mix with pudding in the mix, Duncan Hines or Betty crocker makes these. The pudding in the mix is crucial. Mix all of the above by hand, minus the cool whip and chocolate frosting. Mix until well blended. Add the mix to your pan bundt or tube.

Bake at 350 degrees for 50 minutes.

Cool for 20 minutes and top with frosting and cool whip.

Serve immediately and refrigerate when done. O M G! That's all I can say about this cake. Try it and let me know how you love it!
Reader Interactions